In Praise of Selfish NFL Players
Stars like Antonio Brown are supposed to sacrifice for their team's sake, but teams don't repay the favor.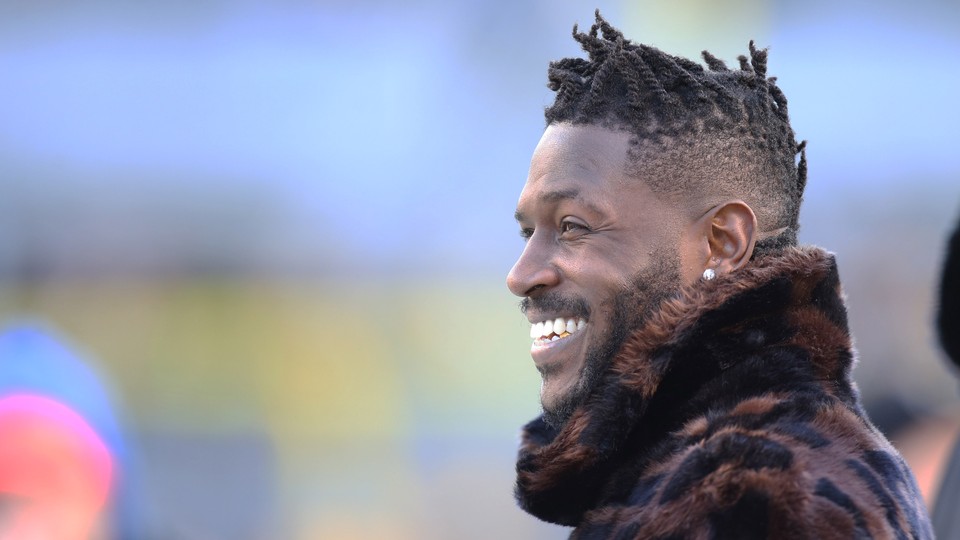 The idea that NFL players might put themselves before their team is a scary proposition for the league. Because if the players really start understanding their own value, they just might get what they're actually worth.
The wide receiver Antonio Brown did. After months of friction with the Pittsburgh Steelers, where he was a key piece of the offense, and with the quarterback Ben Roethlisberger, Brown pushed his way out of the team. Last week, the Steelers dealt him to the Oakland Raiders.
For this, Brown has been categorized as selfish and petulant. "To be able to play with an all-time quarterback like he's able to play with, I don't think he understands how good he has it," the respected veteran wide receiver Larry Fitzgerald said at the MIT Sloan Sports Analytics Conference earlier this month, before the trade materialized. "It can get tough out there." The additional $30 million in guaranteed salary that Brown received from his new team has been cast as a reward for abandoning his old one. "Antonio Brown quit on his teammates & exhibited highly erratic behavior," the NFL analyst Ross Tucker tweeted, "and as a result got a $20M raise with $30M guaranteed. Great lesson for all the kids out there."
NFL players are expected to sacrifice everything—from their body to their mental health—for the game and for their team. Yet there are more and more signs that players are starting to understand their leverage. Their increased awareness might be born out of professional jealousy. Brown's contract with the Steelers contained no guaranteed money over the next three seasons. NFL players look over at their NBA brethren and see that they have guaranteed contracts—and far more say-so with their team and in league matters.
There is also a wide salary disparity between the leagues. In 2019, the Detroit Lions quarterback Matt Stafford is slated to make $29.5 million, the highest salary in the NFL. But that's not even Mike Conley money. Conley, the Memphis Grizzlies point guard, is making a little more than $30 million this season.
It's noteworthy that a few weeks before his trade, Brown appeared on LeBron James's HBO talk show, The Shop. The point of the The Shop is to create a keep-it-a-buck vibe; guests like Brown can have candid conversations with other black superstar athletes and entertainers who face similar problems. The most revealing conversation during Brown's appearance on the show came when Brown, James, the rapper 2 Chainz, the actor Jamie Foxx, and the NBA's Anthony Davis spoke candidly about realizing their own power.
"As the CEO of my own business, I got the power," said Davis, who also is dealing with serious criticism after telling his team, the New Orleans Pelicans, in late January that he wished to be traded. "I'm doing what I want to do and not what somebody's telling me to do," Davis added.
Davis's feeling of empowerment owes something to James, who—through the way he's handled his own free agency, his production company, and other Hollywood ventures—has given this generation of superstar athletes a blueprint for controlling their own careers. NBA players like Davis and James, unlike Brown under his Steelers contract, have what many would call "screw you" money.
"The NFL is different from the NBA because not every guy is making that top dollar," Brown said on The Shop. "So you might get a guy who, he's a good player, but he's not getting paid as much. So his opinion doesn't matter that much because he knows: 'Shit, I don't have that much value, so I'm not [about to] fuck up what I got.'"
The way Brown left the Steelers was messy—but justifiable. During the final week of the season, there were reports that Brown didn't practice following a spat with Roethlisberger. That resulted in the wide receiver being benched for the Steelers' finale against the Bengals. That, Brown said on The Shop, is when he realized that his relationship with the Steelers had permanently changed. And so he acted accordingly, demanding a trade.
Not every player can do what Brown did, because not every player has Brown's record-breaking abilities. He's the first player in NFL history to have six straight seasons with 100 receptions or more. His talent all but ensured that another team was going to want him, regardless of his issues in Pittsburgh.
"I was proud of him," said the former NFL star wide receiver Terrell Owens, who had such a vicious contract battle with the Philadelphia Eagles that it resulted in Owens being suspended for multiple games before being ruled inactive for the rest of the 2005 season. "He used his productivity to create leverage."
Brown went to extremes, but the fact is: He dictated his own terms, which is something we're starting to see more of in the NFL. Brown's former teammate Le'Veon Bell sat out the 2018 season because he didn't want to sign a franchise tag with the Steelers, which would have paid him $14.5 million last season. Bell clearly didn't want to play for the Steelers anymore, and he also wanted more long-term security. He took a gamble by betting that he was worth more on the open market than what the Steelers were willing to pay.
Last week, Bell signed a four-year, $52.5 million deal with the Jets that comes with $35 million in guaranteed money. He isn't the highest-paid running back in football, and he'll be making slightly less next season than what he would have made had he signed Pittsburgh's franchise tender.
But those who see Bell's contract as a loss are missing the bigger point. Regardless of the outcome, Bell decided that playing another season without a long-term deal wasn't worth putting additional miles on his body. He openly challenged an NFL financial power structure that routinely exploits players.
Those who have criticized Bell and Brown likely ignored the other big free-agency news that happened last week. The Kansas City Chiefs cut their veteran edge rusher Justin Houston halfway through his six-year, $101 million contract. That move was hailed as smart and shrewd because Houston has been bombarded with injuries the past couple of seasons.
Nobody is criticizing the Chiefs for not holding up their end of that deal. Teams are usually applauded for doing what's in their own best interests, but players aren't often given the same consideration. Not even by fans, who should be able to relate to a labor force that just wants what's fair but who always seem to side with owners and organizations over players.
Perhaps that's why the best course of action for NFL players is to ask for neither permission or forgiveness when it comes to doing what's best for themselves.