The End Is Nigh for Netanyahu
Israel's prime minister faces possible indictment in three criminal cases—just in time for national elections.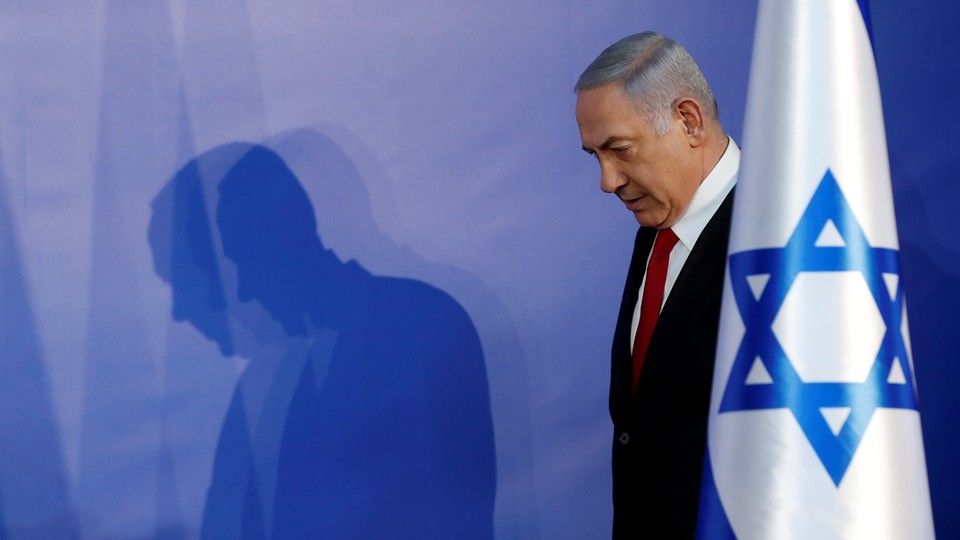 With just 38 days to go until national elections in Israel, Attorney General Avichai Mandelblit has announced his decision to indict Prime Minister Benjamin Netanyahu in three criminal cases, including one charge of bribery, subject to a standard hearing with Netanyahu and his attorneys. The cases against Netanyahu involve, at the less-severe end, allegedly asking for and receiving, over years, gifts of cigars and rosé champagne from multimillionaires, and at the most severe, allegedly granting regulatory favors worth millions to the owner of a digital-media outlet in exchange for favorable coverage. Netanyahu has not been indicted, let alone convicted, yet. He could still win the elections on April 9. And he is far too savvy a politician to count out. All else being equal, however, he likely won't be Israel's prime minister for very long.
The announcement is a major blow to Netanyahu, who had it all planned out—or so he thought. The coming elections were designed in no small part to try to prevent just these indictments from being handed down. As Israelis prepared for national elections, journalists and analysts would parse public-opinion numbers and dissect the chances that this time—this time—Netanyahu would lose. And then, Netanyahu believed, he would win. He would win because he was a better campaigner than his rivals and more willing to do whatever it takes. He would win because he is genuinely more experienced than any of his challengers. His campaign, showing him on giant billboards shaking Donald Trump's hand and boasting that he was in "a league of his own" when it came to international affairs, is effective because in many ways it's true.
What other Israeli could do battle with one American president, Barack Obama, over the Iran nuclear deal, then appear to have won the fight when another, Donald Trump, withdrew from the deal? Or parade alongside Vladimir Putin in Red Square on Victory Day, getting Russian license for Israeli strikes in Syria; exchange bromantic tweets in Hindi and Hebrew with Narendra Modi of India; and hop over for a visit with Sultan Qaboos of Oman, in a sign of the growing alignment of interests between Israel and the Gulf States? All these on the backdrop of a successful economy and—by Israeli standards—a relatively calm security situation on the home front. All in all, many Israelis are quite happy with the way he's run their affairs for 10 consecutive years.
Like all best-laid plans, however, this one seems to have gone awry. The first crack came when the centrist opposition managed, against its own instincts, to unite. It presented a credible challenger to Netanyahu, Benny Gantz, a recent chief of staff of the Israel Defense Forces. Gantz can take on Netanyahu's strongest card, his image as Mr. Security. Ehud Barak, another former chief of staff, defeated Netanyahu in 1999, and Yitzhak Rabin, chief of staff in the Six-Day War, defeated Netanyahu's predecessor on the right, Yitzhak Shamir.
Former generals in the political center typically burst onstage with great fanfare. Like the centrist parties they lead, however, they tend to fade fast. Their popularity stems from their military credentials, and the fact that they are untarnished by politics. Indeed, Gantz lacks any political experience at all. In the military, Gantz's nickname was Benny-chuta, an Aramaic term for "easygoing," "in no rush"; he was known to be generally liked, if rarely admired. But all that can vanish quickly—a former-general politician, at the end of the day, is a politician. He must voice positions many will dislike and encounter political enemies he must overcome without any actual shots fired. The bubble invariably bursts.
Gantz, however, seems to possess a talent as rare among generals as it is among politicians: the ability to remain quiet. To keep the bubble inflated through the elections, Gantz and his advisers held off on his official entry into politics until elections were actually called. Following a successful speech to launch his campaign, he has granted barely any interviews and voiced few decisive opinions. When he managed to unite the center under his leadership—including two other former chiefs of staff, from the right and left, and Yair Lapid, the former standard-bearer of centrist politics—he emerged as the obvious alternative to Netanyahu. The question is whether he can make it to April 9 before he loses this appeal.
In truth, Netanyahu's plan was more of a script for political theater than an electoral strategy. Netanyahu seemed almost assured of winning an election for the fifth time. Instead of targeting the public or Gantz, he aimed his performance at a different general, one who rose through the ranks of the judge advocate general's office, rather than the paratroopers or special forces: Attorney General Mandelblit.
The theatrics were meant to drive home Netanyahu's popularity, and the renewed mandate he had received from the voters—even after the investigations and much of their content were publicly known (but before any announcement of indictments). With the reaffirmed faith of the Israeli people, Netanyahu would then turn to Mandelblit—his former cabinet secretary and handpicked attorney general—and ask, Will you really depose an elected and a reelected prime minister? Do you really want that responsibility? If, after the elections, the Trump administration revealed its long-awaited peace plan, the stakes would be even higher. The whole point of the play was to stave off an indictment.
Now not only does Netanyahu face the personal threat of indictment on serious felonies, but the political maneuver itself is in jeopardy. If Gantz was a real political competitor of Netanyahu's before the attorney general's announcement, his chances have now risen further. The first polls out following the announcement show a slim lead for the center-left camp. If these results hold, Netanyahu's path back to the prime minister's residence on Balfour Street in Jerusalem would be blocked.
Netanyahu could certainly still win, however. The initial polling suggests most of the voters that Netanyahu's Likud Party has lost are defecting to other parties within the right-wing camp that will support him after the elections. More fundamentally, Netanyahu enters the elections with a clear advantage, because the right-wing bloc he leads is in command of Israeli politics. Since the Likud Party first came to power, in 1977, it has held the prime minister's office for no less than 31 of those 42 years. The left-wing Labor Party has held the post for only eight, and a former Likudnik, Ehud Olmert, held the post for another three. (Olmert left office amid corruption charges that landed him in prison.)
To face the charges, moreover, Netanyahu has done what he has done superbly since he was first prime minister in the 1990s—divide and conquer. His message to voters is the flip side of what he had hoped Mandelblit would hear: that the legal system was about to undermine the will of the people, to depose a popular leader over trumped-up charges and rob the voters of their sovereignty. A left-wing cabal of journalists, jurists, and academics could not overcome Netanyahu at the ballot box, his campaign claims, and so they have sought other means to replace him. Of course, many in the legal system, including Mandelblit and the former chief of police, were picked by Netanyahu, and were never members of the political left, but the notion that "they" are out to get Bibi is strong among the supporters who form his political base. And his base, and that of the Likud, is large.
If Netanyahu indeed wins, his next task will be to seek immunity in the new Parliament, the Knesset. The "French Law," as Israelis refer to it, would grant a prime minister immunity from prosecution while in office, in order for him or her to focus on leading the country. After an electoral victory, parties that wished to join Netanyahu's coalition would be asked to support such a law. Netanyahu, so long as he stays prime minister, would remain immune. As Yossi Verter has pointed out in Haaretz, such a law might extend immunity to the Israeli president as well. Netanyahu could opt to run for president (a largely ceremonial post elected by the Knesset) in two years, for a seven-year term. It would be nearly another decade before an indictment could be brought forward. This would not be an original Netanyahu move, of course. Julius Caesar beat him to it, going from consul in Rome to proconsul in Gaul to shield himself from prosecution.
Passing the French Law would be difficult, however. Netanyahu would need to lead the right-wing bloc to an electoral victory, garner enough support to be named prime minister, and then persuade his allies to pass an unpopular and highly questionable law. Just a year or two ago, it seemed difficult to imagine how Netanyahu's grip on power would end. Now the question seems to be less whether he'll be forced from office, and more when.