The Most Important—And Neglected—Moment of the Michael Cohen Hearing
It wasn't what the president's former attorney said. It was how Elijah Cummings responded.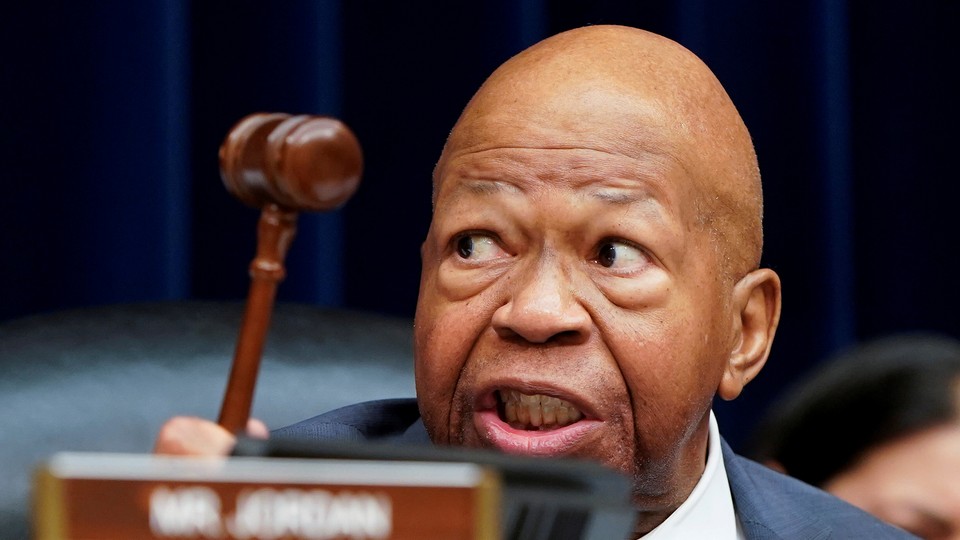 About the author: Quinta Jurecic is a contributing writer at The Atlantic, a senior editor at Lawfare, and a fellow at the Brookings Institution.
Michael Cohen's long-awaited testimony before the House Oversight Committee offered a tour of the grimier corners of American politics. Over six hours, Donald Trump's former fixer told Congress stories of the president's cruelty, greed, and possible criminal conduct. President Trump, he said, had lied to the American people about many things—most notably, his involvement in payments to Stormy Daniels and Karen McDougal, whose stories of affairs with Trump the then-candidate had sought to keep secret. He had signed checks reimbursing Cohen for those payments in the White House. He had made clear to Cohen that he expected his lawyer to lie before Congress regarding how long negotiations to build Trump Tower Moscow went on. The various entities incorporated in his name might have committed all manner of alleged fraud. The president, Cohen said, is a "racist," a "con man," and a "cheat."
So it was unexpected when the hearing ended with a moment of grace. Closing out the day, Chairman Elijah Cummings spoke directly to Cohen: "You come saying I have made my mistakes, but now I want to change my life," he said. "And you know, if we … as a nation did not give people an opportunity after they've made mistakes to change their lives, a whole lot of people would not do very well."
After a long and ugly day, Cummings offered something of a benediction. It was a gift of forgiveness—not just to Cohen, but to the nation as a whole. It was a vision of a possible future.
Cohen's testimony was in many ways a high-wire act. His goal was to drive home the ugliness of the man elevated to the role of president of the United States—what former FBI Director James Comey, also testifying before Congress, described tersely more than a year ago as "the nature of the person."
As the committee's Republicans repeatedly pointed out, Cohen was a man who had pleaded guilty to lying to Congress trying to appear as a credible witness before that same body. He was also presenting himself as reformed and remorseful while detailing his own ugly conduct alongside that of the president. In a surreal exchange with Representative Jackie Speier, he estimated that he had "probably" issued about 500 threats on Trump's request over the decade they worked together. This comes out to about four threats a month—including Cohen's 2015 warning to the reporter Tim Mak to "tread very fucking lightly."
But however much Cohen tried to present himself as redeemed, he also came in front of the committee ready for a fight. Time and again, he hit back when Republican members of the committee tried to challenge his credibility. "Shame on you," he told Jim Jordan, after the committee's ranking member suggested that Cohen's "remorse is nonexistent." When Representative Paul Gosar called Cohen "a pathological liar," Cohen leaned forward and cut him off, asking, "Are you referring to me or the president?" He seemed cheered by Gosar's irritation.
If at some moments Cohen wanted to be seen as a reformed man, he came across at others as his old pugilistic self. Instead of weakening the power of his testimony, as the Republicans might have hoped, that strengthened it. He was effective in part because of his scrappy eagerness to talk over hostile questioners and point out their hypocrisies in defending the president. Sitting in front of the microphone, Cohen tried to cast himself in that very American role: the underdog.
"I did the same thing that you're doing now for 10 years," he told the committee Republicans at one point. "I protected Mr. Trump for 10 years. Look what's happened to me." His own halting steps toward redemption—his self-reflection on his less-than-savory side—enabled him to zero in on the weak points of the president's allies. He knew those men intimately because, for 10 years, he was them.
It was in this context that Cummings made his closing speech. He spoke to Cohen as if a father to a son—a bestower of mercy. "I don't know why this is happening for you," he said. "But it's my hope that a small part of it is for our country to be better." He went on:
Let me tell you the picture that really, really pained me. You were leaving the prison, you were leaving the courthouse, and, I guess it's your daughter, had braces or something on. Man, that thing—man, that thing hurt me. As a father of two daughters, it hurt me. And I can imagine how it must feel for you. But I'm just saying to you—I want to first of all thank you. I know that this has been hard. I know that you've faced a lot. I know that you are worried about your family. But this is a part of your destiny. And hopefully this portion of your destiny will lead to a better, a better, a better Michael Cohen, a better Donald Trump, a better United States of America, and a better world. And I mean that from the depths of my heart.
As he spoke, Cohen began to cry.
In the grip of the #MeToo movement and countless other moments of reckoning, the United States has seen a great many apologies, most followed by demands for public forgiveness. Extending mercy can often seem like a cop-out, less an act of grace than an effort to avoid acknowledging the pain of those who have been wronged. In the closing hour of the hearing, Democratic Representative Rashida Tlaib criticized Republican Representative Mark Meadows's effort to prove that Trump is not racist by bringing a black administration official, Lynne Patton, to stand silently behind him as he spoke. Meadows, outraged, demanded that her comment be struck from the record. As Kashana Cauley wrote in The New York Times, the tangle was "a microcosm of where we are right now in America on race"—a demand for absolution from the white congressman without any real recognition of the harm he had caused by treating a black woman as a prop.
"I could see and feel your pain," Cummings told Meadows, in an effort to return the committee to calm. Later, in his closing speech, he said to Cohen, "It's very painful. You made a lot of mistakes, Mr. Cohen. And you've admitted that." What he offered to Cohen was forgiveness—not wiping the slate clean, but acknowledging Cohen's wrongdoing and offering him a chance to build something outside it.
The philosopher Hannah Arendt has been much quoted lately on the matter of falsehoods in politics—an issue on which Cohen had plenty to say. But in her treatise The Human Condition, she also described the central role of forgiveness in political life. "Without being forgiven," she wrote, "released from the consequences of what we have done, our capacity would … be confined to one single deed from which we could never recover." People would remain "victims of consequence." The act of forgiving, in her view, is the necessary counterpart to the promises people make to one another—on which society is founded—because it allows the spontaneous possibility of moving beyond the pain of a broken promise. But that also means holding onto the knowledge that the promise was broken in the first place.
"It's hard," Franklin Foer wrote of the Cohen testimony in The Atlantic, "not to feel a little like Cohen." Cummings's speech was remarkable in part because it wove Cohen's personal suffering and wrongdoing together with the suffering of the nation and the wrongdoing of those currently in power. "It sounds like you're crying out for a new normal—for us getting back to normal," Cummings said to Cohen. "It sounds to me like you want to make sure that our democracy stays intact." Notably, he defined the metrics by which to measure the health of that democracy broadly. "We can do more than one thing," he told Republicans complaining about the time devoted to Cohen's hearing, underlining the committee's other recent hearings on access to prescription drugs, voting rights, and corruption.
If Cohen saw himself in the Republican congressmen he faced across the dais, then Cummings was speaking to them, too, in offering the possibility of redemption—though they might not have heard it. Imagining the questions those in the hearing room would face years from now, Cummings asked: "In 2019, what did we do to make sure we kept our democracy intact? Did we stand on the sidelines and say nothing?" After the end of this presidency, the country will have to take stock of how to move forward. Cummings offered one model of how to do so: with a keen awareness of the pain that it caused, but also with grace.