Democrats Need to Learn From Their Al Franken Mistake
The country lost an opportunity to model how fair procedures can work in a #MeToo case.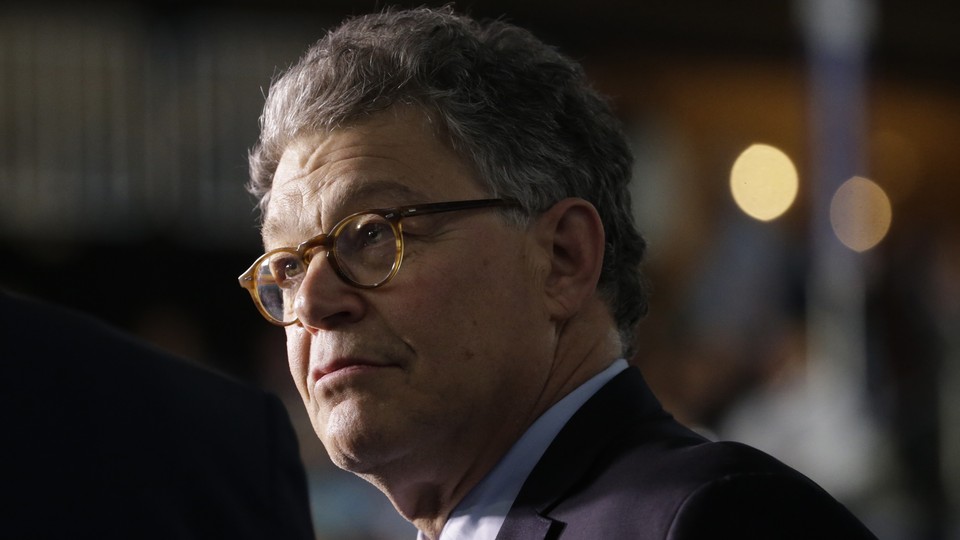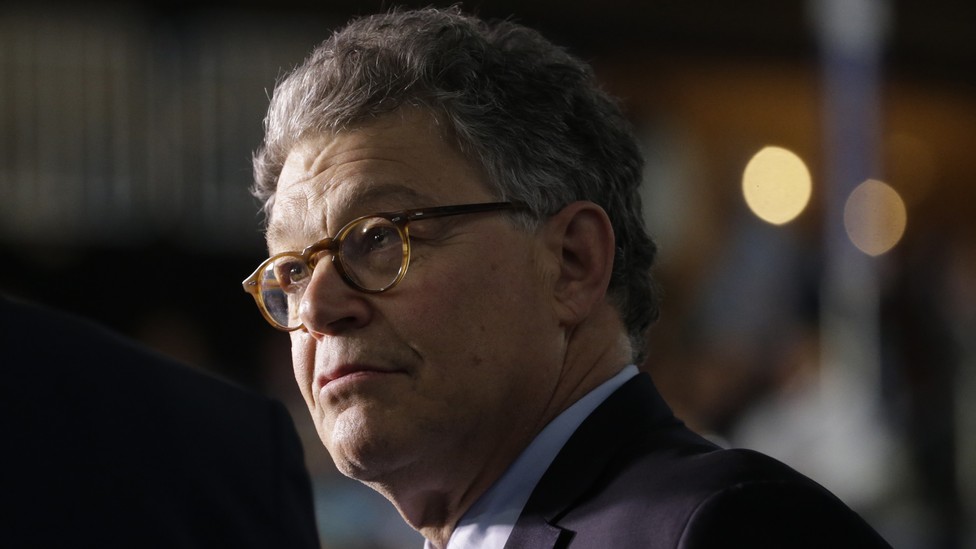 Al Franken, the former Democratic senator from Minnesota, should never have been pressured, even bullied, into resigning from office. The accusations against him were not properly vetted. Their seriousness was not properly weighed. Nevertheless, the frenzy that followed the accusations resulted in his Democratic colleagues making it impossible for him to continue as a senator.
His departure from the Senate—he officially resigned on January 2, 2018—continues to rankle and reverberate. The lessons of this debacle remain unlearned, and the consequences of Franken's case continue to play out, in the presidential race and beyond. The Democratic reaction to the Franken allegations and the precedents it set will present a danger to the Democratic Party until it reconsiders the episode, and thinks about ways to stop such unfair and swift destruction from happening.
After years in the public eye on Saturday Night Live, as a best-selling author, and as a radio host, Franken remade himself into a successful, high-profile politician. He championed women's causes and was a devastatingly effective questioner of officials in Donald Trump's administration. With a former reality-television host in the White House, it had become plausible that Trump could be challenged by an opponent who used to be a comedian.
It all began to unravel on November 16, 2017, with the release of a photo taken on an airplane during a 2006 USO tour, two years before Franken was elected to the Senate. It showed Franken's USO co-star, Leeann Tweeden, asleep in a chair, dressed in a helmet, fatigues, and a body-armor vest. Franken is leering into the camera, his hands spread above Tweeden's breasts—his hands appear to be hovering, not making contact.
I found it an inoffensive burlesque of a burlesque—they were, after all, on a USO tour, which is a raunchy vaudeville throwback. But I recognized that my reaction belonged to the pre–#MeToo world. That's the world Franken was still in when he issued this initial perfunctory apology: "As to the photo, it was clearly intended to be funny but wasn't. I shouldn't have done it."
Franken was quickly engulfed by the post–#MeToo world. Just weeks prior to Tweeden's release of the photo, The New York Times and The New Yorker published what became Pulitzer Prize–winning stories about decades of sexual misconduct and career threats against women by the film producer Harvey Weinstein. This was swiftly followed by accusations of appalling workplace behavior by a parade of prominent men. Many immediately lost their reputations and their jobs.
The photo of Franken caused a national convulsion. Michelle Goldberg of The New York Times wrote that it was "utterly dehumanizing," and initially called for his immediate resignation. Seth Meyers, the talk-show host and SNL alum, said it was "horrifying." Franken quickly understood the stakes, and issued a self-flagellating self-denunciation: "I feel disgusted with myself … It's obvious how Leeann would feel violated by that picture. And, what's more, I can see how millions of other women would feel violated by it."
Tweeden also released a written account of her experience on the USO tour 11 years before, describing a skit in which she and Franken kiss onstage. She wrote that Franken insisted on rehearsing the kiss over her objections, then when she acceded, he "mashed his lips against mine and aggressively stuck his tongue in my mouth." She felt further humiliated, she wrote, when she later discovered the photograph, which she said showed he had "groped me, without my consent, while I was asleep."
Over the next three weeks, like a series of aftershocks, seven more accusers came forward. (Time created a timeline of the accusations that includes Franken's responses.) The accusations can be divided into two general groups. Three women accused him of unwanted kissing. This includes Tweeden, who's said she twice voted for George W. Bush; an elected official in New England who "long admired Franken's politics"; and a former Democratic congressional aide. The elected official said that in 2006, Franken tried to kiss her onstage at an event; she turned her head, and the kiss landed on her cheek. The former congressional aide said that after a radio-show taping, also in 2006, Franken tried to kiss her goodbye; she ducked, and he missed.
Five women said that, while being photographed in public with Franken, he touched them inappropriately. One is an Army veteran, Stephanie Kemplin, who said that after a USO show in 2003, he rested his hand on her breast for up to 10 seconds before a photo was snapped. Two are unnamed women who said that at political events in 2007 and 2008, Franken touched their rear ends while posing for photos. One, Lindsay Menz, who voted for Donald Trump, says Franken grabbed her rear end while her husband photographed them at the Minnesota State Fair in 2010. And Tina Dupuy, a Democrat, wrote in The Atlantic that when she asked Franken to pose for a photograph with her, he put his hand on her waist and squeezed, twice. Franken declined a request for comment on these claims. He has previously denied some, said he didn't remember others, and said some are inconsistent with his conduct.
Eight accusers! The number itself feels conclusive, and it ended up being treated that way. The atmosphere was so feverish that, when women colleagues from SNL and former Senate staffers stepped forward to defend Franken, the Washington Post editorial writer Molly Roberts dismissed them by writing, "There are plenty of people the Zodiac Killer did not murder."
The assertion that all accusers virtually always tell the truth would eventually come to be embodied by #BelieveSurvivors, a hashtag embraced by Democrats. (I warned here of the perils of this blinkered slogan.) There's no doubt that multiple accusations raise the issue of serial predation, with each particular claim seeming to reinforce the others. But when passions run high, it is crucial that those most empowered to tamp down the mob don't become part of it, and that the bedrock values of fairness and unbiased assessment remain untrammeled.
Of course, for some of the accused in #MeToo, such as Harvey Weinstein and Les Moonves, copious documentation alleges gross sexual violations committed in the workplace and threats they issued to women who might dare to speak out. (Weinstein and Moonves have denied that the encounters were nonconsensual.)
They have appropriately lost their careers. Others, such as Bill Cosby and Larry Nassar, have been tried and convicted of committing sexual crimes. They appropriately find themselves in prison.
But the Franken situation became a test case for the parameters of #MeToo. It raised important questions, and produced disturbing answers: What kind of misbehavior deserves a professional death penalty? Any. How much proof is necessary? Accusations suffice. What investigative and adjudicative processes are the accused owed? None.
As the accusations mounted, a blindsided Franken lurched from apology, to denial, to self-defense. I wrote in Politico at the time that Franken's tortured responses "made it sound as if either Franken knew he had done inappropriate things and wouldn't admit it, or he believed he hadn't but couldn't say so—proclaiming his innocence would mean casting aspersions on his accusers' truthfulness," an unacceptable stance for a progressive.
Crucially, Franken and numerous other senators asked for the Senate Select Committee on Ethics to conduct an investigation. A preliminary inquiry was soon under way, a process Franken said he welcomed, because he was confident he would be cleared.
The Senate is the rare workplace in which an established set of procedures addresses such violations. The inquiries are conducted by staff (or sometimes outside attorneys) with subpoena power. They are intended to provide an unbiased examination, and recommend proportional punishment—if appropriate. One of the greatest misfortunes of the Franken case is that this process was abruptly terminated in favor of political posturing.
As a result, the country lost an opportunity. The Senate could have modeled how fair procedures can work in a #MeToo case outside the criminal-justice system, illustrating the necessity of restraint and patience when volatile issues are being adjudicated. It should be a source of shame to Franken's erstwhile colleagues who called for his premature departure that they flouted the basic principles of fairness that underlie the constitutional oath they take.
On the morning of December 6, 2017, Politico published its account of the anonymous Democratic Hill staffer who said that, prior to his election, Franken tried to kiss her goodbye after her boss appeared on Franken's radio show. "It's my right as an entertainer," she reported he said. (Franken said this was "categorically not true" and "preposterous.") Soon after, Senator Kirsten Gillibrand of New York became the first of Franken's colleagues to call for his resignation. "Enough is enough. The women who have come forward are brave and I believe them," she wrote in a Facebook post. "While Senator Franken is entitled to have the Ethics Committee conclude its review, I believe it would be better for our country if he sent a clear message that any kind of mistreatment of women in our society isn't acceptable by stepping aside to let someone else serve." (Dupuy's Atlantic story broke later that day.)
Fellow Democratic senators quickly entered the scrum as they fought to be next in line to proclaim outrage and demand he should go. Kamala Harris: "Sexual harassment and misconduct should not be allowed by anyone and should not occur anywhere." Patty Murray: "Respecting women as equals and not as objects is critical." Bob Casey: "We can't just believe women when it's convenient." Maria Cantwell: "Senator Franken's actions are disturbing, egregious, and demonstrate a pattern of serious misconduct and abuse."
In all, 35 Democratic senators called for Franken to leave office—including the minority leader, Senator Charles Schumer of New York. The following day, Franken spoke on the Senate floor, announcing he would be resigning. In that somewhat defiant speech, he asserted his innocence. He said that in responding to the charges, he wanted to treat his accusers with respect and take their allegations seriously. This, he said, "gave some people the false impression that I was admitting to doing things that in fact I haven't done." He asserted, "Some of the allegations against me are simply not true. Others I remember very differently." He said the portrait that had emerged of him in the past few weeks was false. "I know who I really am."
The discomfort with Franken's departure came quickly. A few anonymous senators told Politico they regretted joining the pile-on. Patrick Leahy publicly lamented not urging that the ethics process continue. In response to the criticism she's received for her lead role in Franken's ouster, Gillibrand says that the choice to resign was his alone. This is true, but that decision has to be seen in the context of the high-pressure atmosphere. When you're being compared to a serial killer and your colleagues are promising to ostracize you and competing to denounce you, it's hard to make the best strategic choices. One of the most disturbing aspects of #MeToo is that watching someone get destroyed in real time has become something of a sport.
Gillibrand has remained steadfast in asserting that Franken needed to go. On a recent presidential campaign trip to Iowa she said, "I know Democrats are very sad about Al Franken; I'm sad about Al Franken. But the truth of this issue is very clear: He had eight credible allegations against him that were corroborated in real time, by the press that were investigating it." But that exaggerates the certainty regarding the complaints against Franken. Gillibrand is a prominent advocate of #BelieveSurvivors, which rests on the assumption that accusations are prima facie credible. As for her claim that the press corroborated all the accounts, she is mistaking publishing an accusation for confirming it. In some cases, reporters did find that the accuser had told other people contemporaneously. But that hardly constitutes the standard of certainty that should be required before calling for the end of someone's career.
Gillibrand herself has just been caught up in her own #MeToo controversy, with Politico reporting that a young female staffer resigned last year after she alleged that her accusations of being sexually harassed by a male staffer, who served as Gillibrand's driver, were mishandled. The male staffer was initially rebuked. After Politico contacted Gillibrand about the story and additional allegations, the office opened a new investigation, and the male staffer was fired. "She kept a harasser on her staff until it proved politically untenable for her to do so," the female staffer told Politico. (When asked for comment, a spokesperson for Gillibrand pointed to her remarks at a recent MSNBC town hall.)
Then there is the question of the gravity of the accusations. Gillibrand addressed this directly in her Facebook post. She acknowledged that Franken was no Harvey Weinstein or Roy Moore or Donald Trump. But, Gillibrand wrote, "We should not have to be explaining the gradations between sexual assault, harassment and unwelcome groping … None of it is ok and none of it should be tolerated."
Of course, sexual misconduct is not acceptable. But in every other realm of life, we differentiate between offenses that are major and minor and mete out punishment on a sliding scale—such differentiation is built into our criminal-justice system. Our punitive culture, with its ever-expanding promise of  "zero tolerance," however, is broadening the definition of what won't be tolerated beyond reason and imposing harsh penalties on those whose offenses don't merit it.
Questions have been raised about some of the accusations, especially concerning how they surfaced and their seriousness—like many, I have been left with feelings of doubt. The final accusation, lodged by Tina Dupuy, for example, was that at a January 2009 Barack Obama inaugural party, she saw Franken, and asked to have a photo taken with him. (He was in the midst of a contested Senate election, and was eventually seated in July.) She wrote, "We posed for the shot. He immediately put his hand on my waist, grabbing a handful of flesh. I froze. Then he squeezed. At least twice." Dupuy had an encounter that was uncomfortable for her, but I don't think she's describing what an objective person would see as a sexual violation. I think The Atlantic should not have published it.
I asked Dupuy about her account. "I was clarifying he was a creep. I didn't say what happened to me was horrible. I don't feel secure about my body and I don't want people touching me without permission," she said. (In the photo, she has her arm across Franken's back; his hand is not visible.) She added that she wanted to speak out on behalf of the other accusers. "I would have never said anything, but I was the corroborating witness for seven other women."
For argument's sake, take all the accusations at face value. What should have happened to Franken?
A pair of utilitarian cases were made by some Democrats at the time: one that he should stay, and one that he should go. Some argued that Franken might have behaved unacceptably, but because they agreed with him on the issues, his personal behavior should get a pass. (Think of it as the Bill Clinton defense.) Others insisted that he had to be jettisoned so that Democrats could look morally pure in the campaign against Roy Moore—the Republican candidate for Senate from Alabama, who was accused by multiple women of dating and sexually violating them when they were teenagers and he was a district attorney. (The Washington Post won a Pulitzer for its meticulously documented stories on Moore.)
But it is no more moral to excuse unacceptable behavior for a larger purpose than it is to destroy people in the name of some greater good. The proper solution was the one Franken himself sought: Ask the ethics committee to investigate him.
The committee's jurisdiction is, generally, limited to senators' behavior while in office, which would have placed several allegations beyond its purview. But perhaps the intense public interest would have led the committee to examine every accusation. It might have decided that none could be substantiated, so the matter would have been closed. But suppose that it concluded some, or even all, were convincing.
In 2018, the committee received 138 complaints, dismissed 120, and—for the first time in six years—actually took a formal action. It issued a letter of admonition to Senator Robert Menendez, following his mistrial on public-corruption charges. If, after an investigation, the committee upheld the allegations against Franken as they have been described in the public record, I believe the appropriate punishment would have been a letter of admonition. Such a letter would have been chastening and embarrassing. Then the final decision about whether Franken deserved another term in the Senate would have been put where it belonged, with the people of Minnesota in 2020, when he would have been up for reelection.
I am not the only one—nor the only woman—to feel that Franken's case was mishandled. Politico reported that a Change.org petition urging Franken to reverse his resignation announcement garnered more than 75,000 signatures. And a Facebook group was formed called Feminists for Franken, spearheaded by Emily Jane Goodman, a retired justice of the New York Supreme Court. The group wrote of its mission on Franken's behalf, "We believe it is crucial to make distinctions and to respond proportionally."
There continues to be deep national unease about what happened to Franken. The USA Today columnist Kirsten Powers recently apologized for joining the fray calling for him to leave, and wrote, "As a baseline rule, a person losing his job should not be the default punishment for noncriminal behavior or behavior where there hasn't been an impartial investigation."
The blowback for Gillibrand has become so persistent that in her presidential bid she has gone on the offensive, alleging that she is being victimized by "sexist attacks." Some prominent Democratic fundraisers, including George Soros and Susie Tompkins Buell, have said Gillibrand's actions have left them reluctant to support her. Gillibrand wrote in a Facebook ad, "People who are used to buying power and influence don't like to be challenged. Wealthy mega-donors pulled money and tried to intimidate us into silence."
Silence? Gillibrand, as a presidential candidate, is getting continuous media coverage. Heard from Al Franken lately?
Leading Democrats have demonstrated repeatedly, especially since #MeToo began, that they now hold due process, and the concept that the accused are innocent until proven guilty, to be passé manifestations of "rape culture." But gutting basic civil rights represents a danger for their party.
A series of new polls show that a majority of Americans don't thrill to such rushes to judgment. Indeed, the public is concerned about the direction of #MeToo. A Morning Consult poll from last October found that 57 percent of adults are as "equally concerned for young men facing possible false allegations as they are for young women facing sexual assault." And a poll last year from the anti-polarization group More In Common found that 51 percent of Americans "believe that too many ordinary behaviors are labeled as sexual harassment." People are afraid that some misunderstood encounter from years ago could derail their life or the life of a loved one. There is now a critical mass of men accused on campus and beyond, and people fear that they or someone they love could be destroyed not for behavior that deserves extreme punishment, but for behavior that doesn't.
As a society, we are in danger of losing a sense of proportion, and a belief in forgiveness. We lack established, fair procedures for evaluating claims of sexual violation outside the criminal-justice system. We need to slow down, be less certain, and think about how to weigh accusations in each case. This means embracing the bedrock principles that both accuser and accused must be treated fairly, and that hearing only one side is insufficient. When people are accused and punished unjustly, a backlash inevitably ensues. When that happens, the crucial and urgent cause of addressing sexual misconduct is undermined.