In Defense of Harvey Weinstein's Harvard Lawyer
Ronald S. Sullivan Jr. is upholding a vital civic good.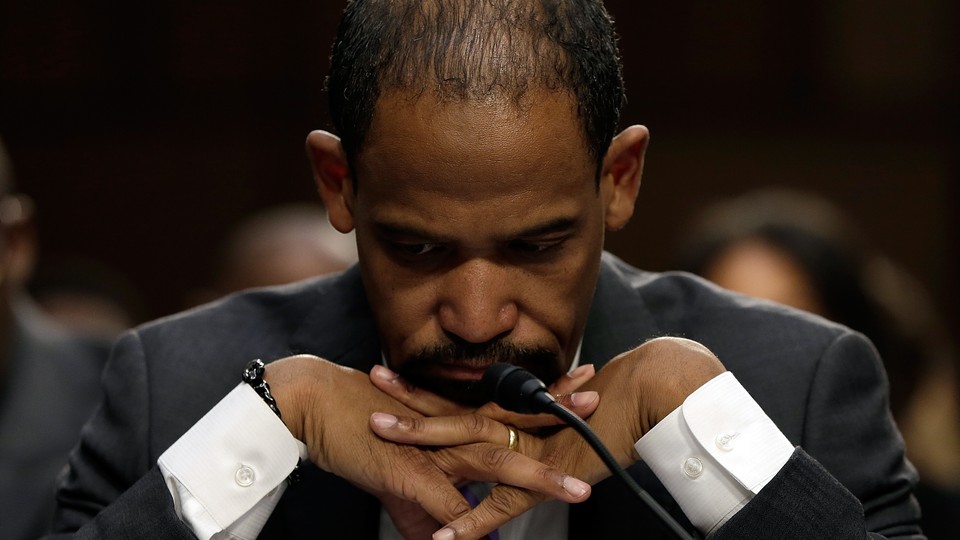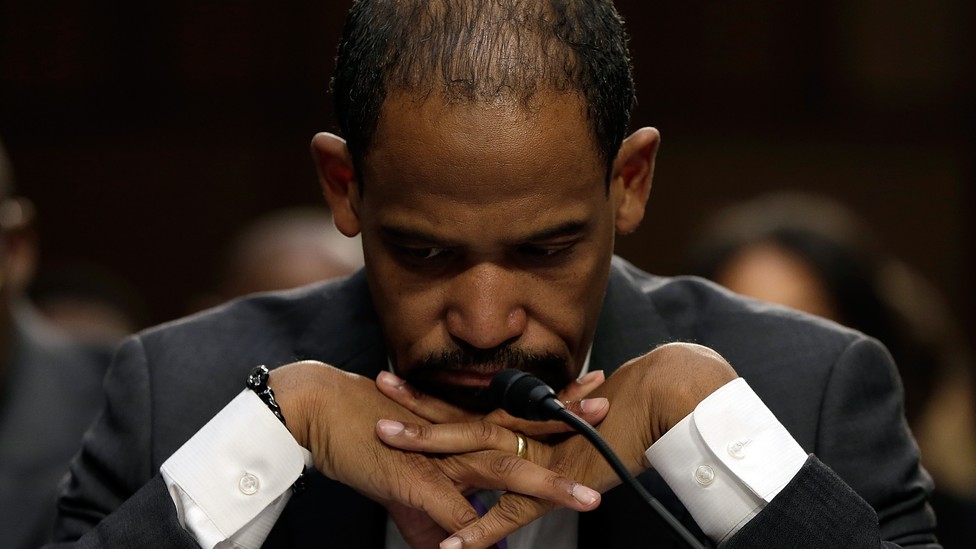 The law professor Ronald S. Sullivan Jr. is among the most accomplished people at Harvard. He has helped to overturn scores of wrongful convictions and to free thousands from wrongful incarceration. A sought-after defense attorney and the director of Harvard's criminal-law clinic, he became the first African American in the institution's history to be appointed as a faculty dean, a pastoral role that includes residing at Winthrop House among its undergraduates. But a vocal faction of students now want to force his resignation, an escalating controversy covered most thoroughly in The Harvard Crimson.
According to the Crimson, vandals spray-painted the doors of Winthrop House this week with Down w Sullivan!, Our Rage is Self Defense, Whose Side Are You On?, and Your Silence is Violence. An online petition has circulated among those who want to end his role in residential life. Protesters assembled on campus to publicly show their displeasure. And Harvard administrators launched a "climate review" among the undergraduates in his charge, invoking procedures for "when climate concerns arise in a faculty-led unit."
Sullivan faces this "clamor of popular suspicions and prejudices" because he agreed to act as a criminal-defense attorney for an object of scorn and hatred: Harvey Weinstein.
His detractors should know that by undertaking to represent such a client, Sullivan is participating in a tradition older than the nation itself. The British soldiers who opened fire on a crowd of Bostonians in 1770, killing five, were among the most reviled men in the 13 colonies. Harvard alumnus John Adams, a patriot with aspirations for political office, agreed to defend them at trial, even though he knew that he was risking not only his reputation, but the safety of his family, because aggrieved Bostonians felt that their safety was implicated.
"In the Evening I expressed to Mrs. Adams all my Apprehensions: That excellent Lady, who has always encouraged me, burst into a flood of Tears, but said she was very sensible of all the Danger to her and to our Children as well as to me, but she thought I had done as I ought, she was very willing to share in all that was to come and place her trust in Providence," he later wrote. Though he went on to sign the Declaration of Independence, and serve as vice president and president of the United States, he counted bolstering the principle that even people accused of heinous crimes deserve a vigorous defense as "one of the most gallant, generous, manly and disinterested Actions of my whole Life, and one of the best Pieces of Service I ever rendered my Country."
Throughout U.S. history, criminal-defense attorneys have endeavored to conserve and apply that principle. And they've been subjected to attacks for so doing.
"Little more than half a century ago, mainstream lawyers were frightened away from defending alleged Communists who faced congressional witch hunts, blacklisting, criminal trials, and even execution," Harvard Law's Alan Dershowitz wrote. "Sen. Joseph McCarthy and the millions of Americans—including many lawyers, law professors, and bar association leaders––who supported this attack on 'communist lawyers' made it impossible for decent lawyers who despised communism but supported civil liberties and constitutional rights for all to defend accused Communists without risking their careers."
Defense attorneys for Communists made many feel angry and unsafe.
More recently, lawyers who defended War on Terror detainees and later sought employment in the Barack Obama administration's Department of Justice were smeared by prominent figures including Liz Cheney and Bill Kristol, who dubbed them "the al-Qaeda seven" and implied that they shared the enemy's values.
Defense attorneys for al-Qaeda terrorists made many feel angry and unsafe.
In 2016, during the second presidential debate with Hillary Clinton, Donald Trump attacked his rival as unfit to lead because she once acted as the defense attorney for a man accused of raping a 12-year-old. (She thought he was guilty.) Defense attorneys for child predators make many feel angry and unsafe.
Now Sullivan is defending a man who makes many at Harvard feel angry and unsafe. The Change.org petition started by a Harvard student and signed by scores more suggests that some are now disgusted by the dean and law professor.
As they put it:
For those of you who are members of Winthrop House, do you really want to one day accept your Diploma from someone who for whatever reason, professional or personal, believes it is okay to defend such a prominent figure at the centre of the #MeToo movement? Regardless of Dean Sullivan's intentions, his role as a community leader, and as someone who should first and foremost value the safety of the students he lives with in Winthrop House, should always come first … he should step down as Winthrop House Dean immediately.
These students might not realize it, but they are creating a disincentive for ambitious young legal academics to undertake the defense of any potentially controversial client, including indigent men who stand accused of rape or sexual assault. That raises the odds of wrongful convictions, especially among the poor.
The Harvard religious-studies professor Diana Eck took a more forgiving approach. She told the Boston Globe that defending unpopular clients is noble and "extremely important."
Yet she went on to say that "for our part, we also expect there to be choices made in the interests of our students and the community of students that we try to nurture."
If there is an inherent tension between upholding an "extremely important" civic norm––legal representation for even the most reviled—and nurturing undergraduates, it seems to me that Harvard ought to prioritize conserving the norm. But is it really inherently "incongruous" for Sullivan to defend a man like Weinstein in a criminal rape trial and endeavor to promote a safe environment for students, including victims of sexual assault, as a faculty dean?
Catharine MacKinnon, Harvard's James Barr Ames Visiting Professor of Law, emailed:
The issue is not whether Ron can represent reviled clients accused of crimes and still be the faculty dean of a college. Of course he can. The issue is substantive: whether siding with a credibly accused multiple perpetrator of sexual assault is consistent with being the person to whom sexually abused students can feel comfortable confiding in, in an institutional position of reporting such abuse. This is an equality question for Ron to consider and also for the college to consider.
To me, Sullivan isn't "siding with" Weinstein any more than liberal attorneys who represented members of al-Qaeda at Guantanamo Bay were "siding with the enemy." (Had any of them been faculty deans at Harvard, I doubt anyone would have felt unsafe confiding to them that a terrorist plot was afoot.) Nevertheless, the subjective feelings of students do have some relevance here.
As MacKinnon put it:
Under these conditions, the students are entitled, as they have said, not to feel safe reporting their abuse to him, resulting in compromised access to their education on the basis of sex. Whether this outcome is consistent with his role as Faculty Dean of a college is for Harvard to decide.
Students are indeed entitled to their feelings; and deans do serve at Harvard's pleasure. But it isn't clear to me that a student's equal access to education is compromised by virtue of feeling uncomfortable reporting a sexual assault to a given dean, especially when there are many other Harvard officials in whom he or she can confide. In fact, Sullivan appointed Resident Dean Linda D. M. Chavers to serve "as the house's 'point person' for sexual assault issues," the Crimson reports. "Students will also be able to seek assistance from house tutors—all of whom have been briefed on resources for sexual misconduct issues—and … the Dean of Students Office and the Office of Sexual Assault Prevention and Response."
The Harvard Crimson's editorial board put its case against Sullivan this way:
We condemn his choice to represent Weinstein and urge him to address the tension between the two roles more directly than he previously has. As faculty dean, Sullivan has a primary responsibility to his students, namely in representing Winthrop House and fostering a "close-knit community" within the College. This includes upholding the College's efforts to combat sexual assault on campus. By choosing to represent Weinstein, Sullivan has jeopardized his ability to keep the trust of an alarmingly large group of students.
One powerful retort to that way of thinking appeared in the Boston Globe, which in its coverage of the controversy quoted a Harvard Law grad taught by Sullivan:
"Do you really think that lawyers are an extension of the criminals they represent?" she asked. The woman … said Sullivan advocated for her personally, encouraged her to pursue an assault charge, and offered to handle her case pro bono. He has done the same for other women at Harvard, she noted, often taking up the case of the accuser rather than the accused.

And, she noted, in law school he was known for encouraging students to practice both sides—as prosecutor and defense—often trading the roles himself. "It's completely flawed to suggest that attorneys can't step into and out of roles and representations and keep them separate," said the woman, who went on to become a sex crimes prosecutor.
The woman's account suggests that Sullivan does deserve the trust of victims and underscores the dubiousness of judging him on the basis of a single client he represents in a career full of them, rather than his behavior over decades in academic life.
The Harvard law professor Lawrence Lessig echoes the argument that it's possible to be a survivor of sexual assault and feel comfortable with Sullivan's choice.
"I was raped repeatedly as a boy," he wrote to me. "I would have no problem with Sullivan representing the man who raped me. That's because I have a clear sense of how vicious and arbitrary the criminal justice system can be. That knowledge leads me to believe that we should encourage adequate representation, not scorn excellent representatives. Defending a criminal defendant is not to defend a crime. That understanding is fundamental to a just criminal justice system."
A less personal retort, this one responding directly to the Crimson editorial, was offered in an unpublished letter to the editor shared with me by the Harvard law professor Randall Kennedy. He rejected the notion that there is an incongruity between defending a man accused of sexual misconduct as an attorney and promoting a comfortable environment for undergraduates as a faculty dean. "The skills, capacities, and dispositions that would help to make a person a valued defense counsel are also the skills, capacities, and dispositions that would help to make a person a valued Faculty Dean," he argued. "These features include poise, close listening, mastery of relevant information, and a willingness and ability to safeguard the rights of all sorts of people, including outsiders, the ostracized and, indeed, the villainous." He proceeded to ask:
The position advanced by the Editorial Board would presumably disqualify any lawyer who represents or has represented people accused of sex offenses.

Does that mean that a latter day Bella Abzug or Thurgood Marshall would be disqualified as a prospective Faculty Dean?  Both represented defendants charged with rape.
Writing in The Chronicle of Higher Education on the same subject, Kennedy mused that this episode "displays the intensity of the anger at sexual malfeasance and the institutional indifference that has allowed such misconduct." He asserted—and I concur—that "anger is warranted" as "sexual harassment and assault are all too prevalent and prohibitions against them remain all too ineffective." And he urged overdue reforms. Yet he cautioned that "anger, untethered from principles, is sometimes woefully misguided."
The computer-science professor Harry Lewis adds that residential life at Harvard ought to teach "how to engage in a spirit of civic optimism with people whose decisions and actions you find disagreeable." He thinks a society in which members play multiple roles "holds together peacefully and productively only through the exercise of reason applied to deep but sometimes competing commitments to individual freedom and to the common good," requiring "sublimation of one's own emotions … empathy toward others," and rejecting the view "that discord is intolerable and personal comfort is supreme."
More than any student discord, I was alarmed by the administration's decision to investigate the climate at Winthrop House in response to this controversy (and perhaps also fallout from Sullivan's defense of a colleague accused of sexual harassment). Rachael Dane, director of media relations for the Faculty of Arts and Sciences at Harvard, took issue with my use of the word investigation in an email correspondence. She wrote: "I think it is important to emphasize that we are not undertaking an investigation. We are using ordinary processes to collect information from the entire Winthrop Community."
The Harvard professor Jeannie Suk Gersen emailed me her concerns with such "processes":
Professor Sullivan has chosen to represent and defend persons whom many people would not defend. Strong disagreement with those choices is of course part of the exploration of differences of principle and opinion that we'd hope for in a university. That is not shocking or troubling, and a university should support that debate. What is shocking is that Harvard is undertaking an official "review" of the "climate" arising from Professor Sullivan's professional choice to represent particular clients. The review is not based on an allegation that Professor Sullivan has violated any university policy.

It is based on some students' demands that Professor Sullivan be removed as faculty dean because they are disturbed and distressed by his professional choice.

Announcing a "climate review" holds out a not at all veiled threat of removal from the faculty dean position based on what the climate review will reveal. We can kid ourselves that this is simply about a resident dean position that is "pastoral," and that the university would of course not proceed this way regarding regular teaching faculty positions. But that distinction is illusory, since faculty members are also mentors, advisors, role models, and supportive figures, who, by virtue of their position, are part of the Title IX reporting apparatus.

Faculty members are now on notice that based on positions we take, clients we represent, or causes we speak out on, our university may determine that the "climate" is so negatively affected by some students' reaction to work that it must take "action," perhaps including removal. What are the chances that, seeing this, other faculty will dare defend such a reviled person or make a highly controversial argument inviting blowback, if there's a real chance of triggering an official "climate review"? We are witnessing a major illiberal turning point in universities, but this moment is remarkable because it's the Harvard administration acting in its official capacity, not just some stray voices.
The Harvard professor Janet Halley calls Harvard's actions "deeply disturbing." She explained in an email:
The right to counsel even for the most despised defendants, the basic role of counsel in our legal order, the presumption of innocence, academic freedom, and the right of University employees to assist persons accused in the University's Title IX proceedings—are all implicated here. A small minority of students has asked the University to throw all these fundamental values out the window; it is deeply shocking to watch University administrators accede to these demands.  Finally, the "climate survey" technique is a dangerous precedent as a matter of employment rights and as a threat to academic freedom. It's a thinly veiled version of the heckler's veto. The space for genuine intellectual controversy within the Harvard community has been narrowed by the University's cowardly proceedings in this case.    
The Harvard law professor Scott Westfahl, however, defended the idea of a climate review, also by email:
I don't think the 'climate' review meaningfully threatens defense attorneys generally or related social norms. As an educator, I see this as a great teaching moment that will hopefully help our community appreciate that from John Adams, Harvard Class of 1755, to Ron Sullivan, Harvard Law Class of 1994, we have produced graduates who courageously advocate for the accused even when it is most unpopular to do so.
In his view, "We are all better off as a result," and he noted, "I completely support the right of Professor Sullivan, an extremely talented defense lawyer, to take on a very difficult case. Should Mr. Weinstein be convicted, there will be absolutely no doubt that he received a fair hearing with the best possible defense counsel." He added that he draws a distinction between representing Weinstein at trial and hiring investigators for Weinstein, as previous attorneys did. There's a difference, he noted, "between fact-finding and unethical intimidation."
Harvard Deans Claudine Gay and Rakesh Khurana declined to comment for this article, and an attempt to reach President Lawrence Bacow failed.
---
More is at issue here than the idea that every accused criminal, no matter how heinous, deserves a zealous defense.
Victims of a given crime are not rendered "unsafe" or re-victimized by mere proximity to an attorney who has defended someone accused of that crime.
Representing clients accused of heinous crimes does not render a lawyer unable to provide "pastoral guidance." (Students can of course choose to ignore or avoid guidance from people whose moral intuitions and values differ from their own.)
Harvard faculty members who are also defense attorneys should not be subject to climate investigations just because they represent unpopular clients.
Harvard should of course tolerate the viewpoints that a defense attorney who represents a heinous criminal is therefore creepy, or acquires the stink of the attendant crime, or cannot be trusted to counsel and mentor undergraduate students. And liberals should be forgiving of undergraduates who toy with those civically dangerous positions as they wrestle with a fraught subject that even adults who know better find hugely challenging to confront with circumspection.
But Harvard should never adopt those viewpoints, and should teach students why generations of principled attorneys suffered and sacrificed to oppose them. Even those who seek to exclude defense attorneys from polite society are not necessarily bad people. But they fail to grasp how much they risk as they work to further weaken the norm against punishing the lawyers of the reviled.
As Andrew W. Liang put it in the Crimson, if enough attorneys "feel the need to think twice … there will be no distinction between a trial by public opinion and a trial in a court of law. The onslaught of negative publicity for a lawyer will be so costly that few good attorneys will want to defend those who—for one reason or another—have been presumed guilty by a public majority. Such individuals will find no advocate … and the integrity of our legal system will cease to exist."
Emails responding to this article from any perspective are encouraged—write to conor@theatlantic.com and note if you don't want your name shared if your letter is published.