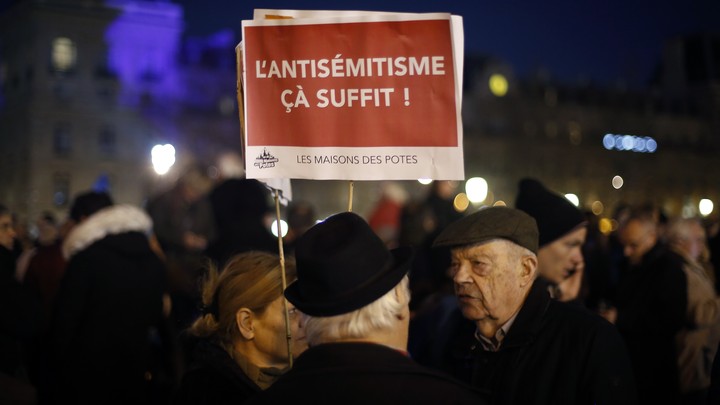 The week began with Alain Finkielkraut taking his mother-in-law to Sunday lunch in Paris. As he returned to his apartment on the Left Bank, he crossed through a crowd of "yellow vest" protesters. They recognized the well-televised philosopher. Despite the fact that he has professed sympathy for their grievances in his punditry, his presence enraged them. A viral video captured young men bedecked in the canary-colored uniform of the movement spewing insults at the slovenly 69-year-old: "Dirty Jew!" "Tel Aviv! Back to Tel Aviv!" "France is ours!"
Only last week, France reported a 74 percent increase in the number of offenses against Jews, and German police announced a 60 percent rise in violent anti-Semitic attacks.
Ben Judah: Europe's ubiquitous anti-Semitism
When I woke up on Monday morning and first watched the Finkielkraut footage, I found myself angry. And as the anger dulled, a sensitivity remained. Reading the newspaper, I saw echoes of the Finkielkraut fracas, well, everywhere. I started a file of the stories that featured incidents and allegations of anti-Semitism. As the statistics so devastatingly demonstrate, the growing ubiquity of anti-Semitism can't be wished away as stray episodes of fringe behavior. The surge of hatred is increasingly the stuff of everyday reality. My aggregation is hardly comprehensive—and the week has two days to go. Still, the headlines tell a story:
Sunday, February 17
"Vandals Smashed Brooklyn Synagogue Window During Dinner: Rabbi" (New York Post)
"French Court to Investigate Anti-Semitic Insults During Protest" (Reuters)
"Students at Oxford College Call for Kosher-Meat Ban" (The Times of Israel)
Monday, February 18
"Seven Lawmakers Quit Britain's Labour Party Over Brexit and Anti-Semitism" (The Washington Post)
"Anti-Semitic Attacks Fuel Continuing Rise in Hate Crimes in New York" (The New York Times)
"Summit Canceled as Israel and Poland Row Over Holocaust" (The Guardian)
Tuesday, February 19
"Protesters Rally Against Anti-Semitism in France After More Graves Vandalized" (CNN)
"Va. Democrat Who Was Attacked for Remarks Against Israel Wins Election for House Seat" (The Washington Post)
"Labour MP Apologizes for Suggesting Israel Funds Independent Group" (The Guardian)
"8th Lawmaker Quits U.K.'s Labour Over Anti-Semitism and Brexit" (The Washington Post)
Wednesday, February 20
"U.S. Hate Groups Have Seen Ideas Enter Mainstream in Trump Era, Report Finds" (The Guardian)
"French TV Cuts Facebook Live Feed From Jewish Cemetery After Anti-Semitic Abuse" (Reuters)
"Ukraine Mall Displays Nazi Swastika on Staircase" (The Jerusalem Post)
"Ilhan Omar Apologizes to U.S. Jewish Leaders for 'Benjamins' Remark" (Haaretz)
Thursday, February 21
"More Than 200 Students Vote Against Approving Jewish Club at U.K. University" (Forward)
"Essex University Lecturer Accused of Anti-Semitic Facebook Posts" (The Guardian)
"Aussie Government Bans Man Who Said Jews 'Bankrolled' Hitler" (The Jerusalem Post)
"For U.K.'s Labour, Anti-Semitism and Corbyn Are as Divisive as Brexit" (The New York Times)
"Macron Says Anti-Semitism Is at Worst Level Since World War Two" (CNN)
We want to hear what you think about this article. Submit a letter to the editor or write to letters@theatlantic.com.