Trump's Weak Case Against Investigating Trump
The president claimed in his State of the Union address both that bipartisan legislation is impossible if he is subjected to partisan investigations—and that he has already signed several important bipartisan bills into law.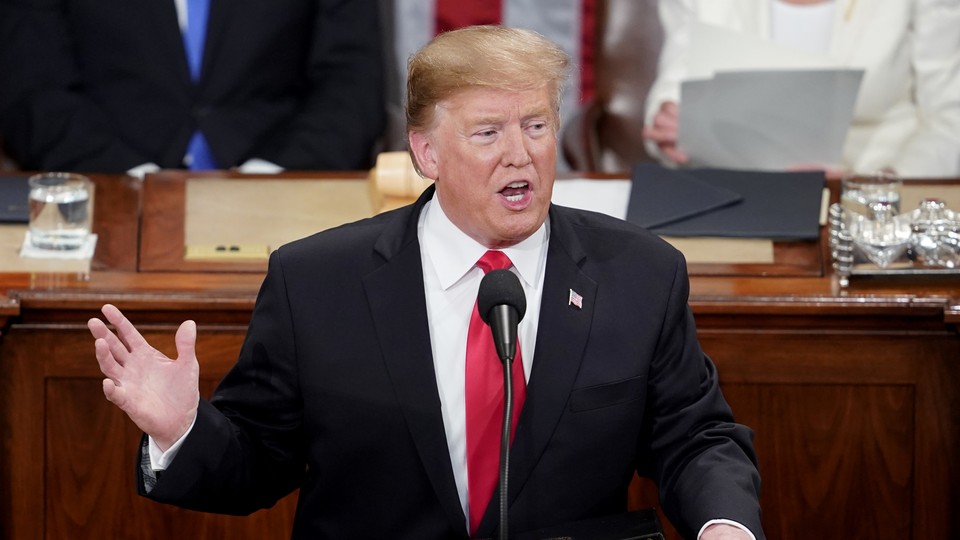 One argument President Donald Trump set forth Tuesday in his State of the Union address concerned the many ongoing investigations he faces.
"An economic miracle is taking place in the United States," he said, "and the only thing that can stop it are foolish wars, politics, or ridiculous partisan investigations. If there is going to be peace and legislation, there cannot be war and investigation. It just doesn't work that way. We must be united at home to defeat our adversaries abroad."
The clear implication: America cannot prosper so long as the investigation into Russian interference in the 2016 election, or federal prosecutors in New York, or congressional committees have Trump and his associates in their crosshairs. And, therefore, these investigations should end.
But the rest of Trump's speech blatantly contradicted that logic.
Various investigations have been going on for his entire presidency. And in his telling, his tenure has been characterized by an "economic miracle" and multiple pieces of important bipartisan legislation.
"In the last Congress, both parties came together to pass unprecedented legislation to confront the opioid crisis, a sweeping new farm bill, [and] historic VA reforms," he said. "After four decades of rejection, we passed VA accountability so that we can finally terminate those who mistreat our wonderful veterans."
Weeks ago, Trump added, "both parties united for groundbreaking criminal-justice reform. They said it couldn't be done." And, he argued, "we passed a massive tax cut for working families and doubled the child tax credit. We virtually ended the estate tax, or death tax, as it is often called, on small businesses, for ranches, and also for family farms. We eliminated the very unpopular Obamacare individual-mandate penalty. And to give clinically ill patients access to lifesaving cures, we passed, very importantly, right to try."
Trump can't have it both ways. If even a fraction of the bygone achievements that he claims are valid, it follows that Special Counsel Robert Mueller's probe and other investigations do not, in fact, preclude legislative progress. The investigations need not end for the sake of American prosperity. Even bipartisan compromises can be reached amid what Trump calls "ridiculous partisan investigations." It might be better for Trump if the Mueller probe ends, but there is no evidence that it would be better for the people. His weak argument should be summarily and universally rejected.