Progressives Risk Killing More Than the Amazon Deal
Cities can't afford to stop growing—but they can grow differently.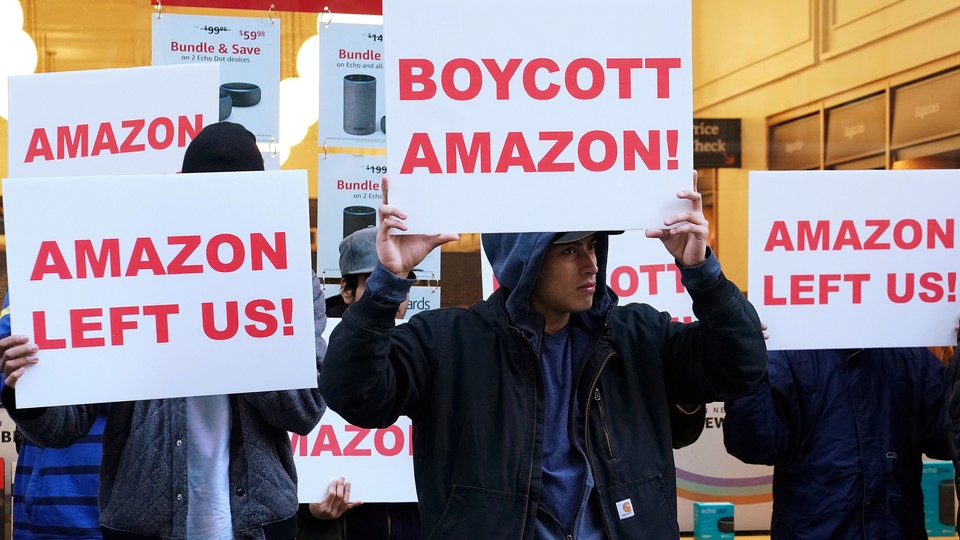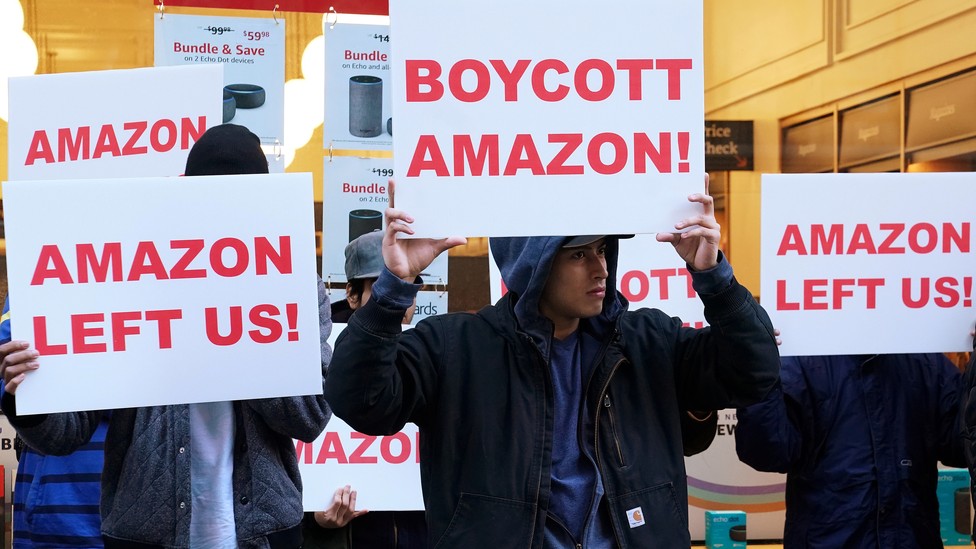 The failed attempt to bring Amazon's second headquarters to New York was a debacle, exposing a rift among progressives so large that it occupied half of last Sunday's Meet the Press broadcast. When a local economic-development deal garners that kind of national press attention—when the head of the Democratic National Committee is grilled about it by Chuck Todd—it is clear that this is about much more than local tax policy and a helipad.
I offered conditional support for Amazon's arrival in New York when the deal was announced in November, while acknowledging the need to fix the deal's problems. I was immediately labeled by the denizens of Twitter "a corporate shill," "paid by Bezos," or, my personal favorite, "a writer from Breitbart." So convinced are some of my fellow progressives of their own rectitude that they offer no more room for dissent than the modern GOP.
Polemics trumped policy in almost every conversation about Amazon. Every poll showed that majorities favored the deal? The polls were rigged! The fact that the promised $3 billion wasn't being diverted from other public uses, but was actually an abatement against $27 billion of future taxes? Still corporate welfare! The fact that thousands of union construction and service jobs were lost, and the calls for Amazon's own workforce to unionize are seldom applied to other New York City retailers? Doesn't matter—Jeff Bezos is rich and evil!
As a lifelong progressive New Yorker and an architect, I have witnessed hundreds of heated land-use battles, but never anything like this before. I suspect that is because we've never had the likes of the current occupant of the Oval Office before. I'm not blaming President Donald Trump, who had nothing to do with the Amazon deal and seems to have as much antipathy toward Bezos as any progressive. But the president has polarized the nation to such an extent that all national politics are now hyper-local. Issues such as health care, the minimum wage, taxation, paid family leave, and, yes, land use are understood to be solvable or symbolic at the local level as a redress to decades of failed neoliberalism.
But the dangers of conflating national and local policy are legion. New York competes with other cities and regions. As the co-chair of a competitiveness committee that looked at this very issue for the independent Citizens Budget Commission, I can say that we are not faring that well. Even prior to the Trump tax cut, New York had been in fierce job-growth competition with the Washington, D.C., metro area, with the San Francisco Bay Area, with Seattle, and with places such as Boulder, Colorado, and Austin, Texas. Our tax receipts are growing at a slower rate than they did in the past, all while our subways, schools, and social services are in dire need. And what is far more daunting is that the recent GOP tax bill leaves blue states heavily disadvantaged.
It's understandable to want to excoriate Amazon for the national contest it held, and to decry the race to the bottom and point out that in many European nations, such competitions are illegal. We should change national policy on this front, but in the meantime, any city willing to unilaterally disengage does so at its peril. So rather than re-litigate the death of the Amazon deal, it is useful to glean some takeaways and possibilities for the progressive movement going forward, given the economic system in which we live.
Progressives need to talk about jobs and economic development; we can't just operate on the assumption that this is a rich nation with ample resources that simply need redistribution. ("There's … plenty of money in this city. It's just in the wrong hands!" Mayor Bill de Blasio said in January, to a chilly reception.) The rich are undertaxed at the national level, where cuts to the top rates have starved basic government services and contributed to a spiraling national debt. But if raising federal tax rates might help, for cities in blue states, it makes little sense to raise local taxes and further disadvantage their economic competitiveness. This is why local growth is often viewed as the better path toward increasing revenue, with the caveat that the impact of that growth needs to be addressed.
When progressives do speak about economics, we tend to favor the small over the large. Small businesses generate most new jobs and are highly sensitive to social policies that might make sense at a national level but become perilous at a local level. Furthermore, all small-business owners, myself included, know that we live in a business-to-business ecosystem that relies on the strength of both large and small companies. New York thrives because the pizza parlors supply the banks, which supply their lines of credit; the hairdressers get paid by the coders who program their newfangled registers; and the graphic designers work for all of the above. It is never one or the other; we all need each other, and we cannot afford to be blasé in the face of losing one another.
Furthermore, some seem to believe that cities such as New York and San Francisco will thrive regardless of the policies we enact. Witness Representative Alexandria Ocasio-Cortez, who referred to Amazon's potential 25,000 to 40,000 new jobs in New York City as "scraps." To put this in context, when New York hit its nadir in the late 1970s, it had lost just over 300,000 jobs. I understand that Ocasio-Cortez's larger meaning was that New York should not yield to unjust corporate demands. But a more reasonable negotiating process with Amazon could have yielded many of the benefits progressives sought, such as more investment in infrastructure, more local job commitments, and more outreach to some of our poorest residents, many of whom supported the plan.
And some progressives believe that growth itself is bad. The Oxford economist Kate Raworth argues for non-growth-oriented urban economies she calls "doughnut economics." But we shouldn't conflate the typical growth-at-any-cost tactics one associates with, say, stadium-construction deals with the Amazon deal. New York's population is growing on its own and therefore must have concomitant growth in jobs, infrastructure, schools, and housing.
Yet some progressives have fought against every change, even new bike lanes and streetcars. And in New York's housing sector, this no-growth sentiment has become so pronounced that the de Blasio administration's admirable efforts to build and preserve affordable housing for a broad swath of low-income residents across the city has come under ruthless assault. It's a new progressive paradox. Cities such as New York and San Francisco are growing and thereby becoming less affordable, yet reactionary progressive policies tend to be the roadblock to solving or at least mitigating the problem.
It's not that we should stop growing, but instead we have to grow in a different direction. And perhaps that is the lesson progressives can extract from the death of the Amazon deal and the potential life of the much-discussed Green New Deal. While exactly what a Green New Deal would look like remains unclear, green, transit-oriented urban growth is clearly part of the equation. Now let's find a way, with less heat and more light, to make it part of the progressive conversation.