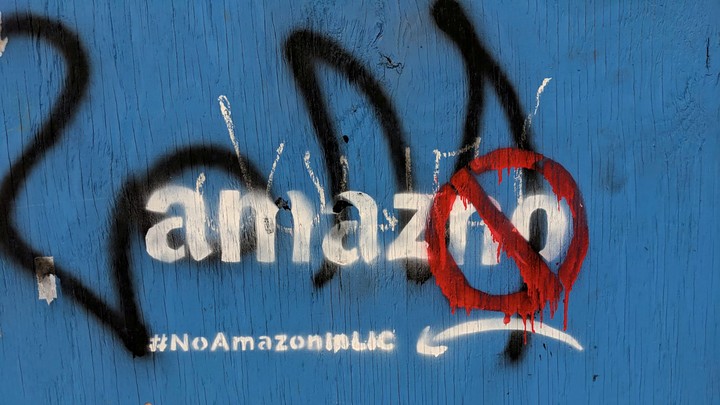 A piñata hangs from a tree in Diversity Plaza in Jackson Heights, Queens. It is decorated with the face of Amazon CEO Jeff Bezos, and by the end of Thursday night it will meet the fate of all piñatas. It is here to celebrate a major victory for grassroots activism in New York City. Earlier in the day, Amazon announced that it would not build its planned headquarters in Queens, with or without $3 billion in tax incentives. After months of intense opposition from a coalition of dedicated progressive groups and local politicians, the tech giant has folded.
"This is the best Valentine's Day present ever," says one woman in the crowd. Volunteers hand out chocolate kisses. It is February 14 and you can feel the love. Activists fall into one another's arms, bestowing congratulations. Many are women. Most are young people of color. The faces here tonight contradict the media's claim that the Amazon opposition is mostly made up of white, upper-class NIMBYs. As the crowd grows in number, Fahd Ahmed, an immigrant from Pakistan and a grassroots organizer, starts off the speeches. "We just beat the richest man in the world," he shouts. The crowd cheers. They are jubilant and they should be. Together they helped bring down a Goliath that few imagined would fall. As Ahmed says, "It is a turning of the tide."
Since the 1970s, the tide in New York City has moved in one direction—rising to lift the fortunes and freedoms of the rich while ushering in hyper-gentrification and displacement for the working class. Leveraging the fiscal crisis of the time, New York's leaders abruptly turned away from the city's burgeoning social democracy toward the radical capitalist ideology of neoliberalism, a model of governance that focuses on privatization, deregulation, fiscal austerity, small government, and trickle-down economics. New York was reorganized into a competitive city, fighting a Darwinian battle with other cities around the globe for world-class businesses, mega-developments, and tourist dollars.
The new strategy required giving large tax breaks and other incentives to big businesses and real-estate developers, especially those that promised something shiny in return. One of the first and biggest recipients of New York's corporate-welfare program was Donald Trump, the ultimate developer of glitz in the greed-is-good, over-the-top era of the 1980s. Without the multimillion-dollar giveaways he reaped for the Grand Hyatt Hotel and Trump Tower, would he have built his fortune and celebrity to such powerful heights? It is perhaps cosmic justice that four decades later the movement to turn back the neoliberal model is fueled by righteous anger unleashed by Trump's election to the presidency.
At Diversity Plaza, the speeches end with a chant of "We are the revolution!" and people are leaping with fists in the air. A mariachi band begins to play. A man blows bubbles overhead and people dance on the snow-wet pavement. The defeat of Amazon has ignited a sense of possibility, and it seems as if everyone is talking about a major shift in the collective consciousness of the city. Under a lamppost, in the phosphorescent glow of a Bangladeshi buffet, I talk with Ahmed. As the executive director of Desis Rising Up and Moving, he helped organize tonight's event. "This is a loss for the neoliberal approach to the city's physical and economic development," he tells me. "Politicians have felt the change in the wind."
He's quite right that local politicians are starting to respond to the people's demands. At a city-council hearing in January, Speaker Corey Johnson slammed Amazon executives while protesters held a banner that read Amazon delivers lies. State Senator Michael Gianaris, recently appointed to the Public Authorities Control Board, pushed back against Governor Andrew Cuomo and demanded an end to the Amazon deal. Congresswoman Alexandria Ocasio-Cortez was an early opponent of the plan. When news broke of Thursday's decision, she tweeted, "Anything is possible."
In cities where unfettered global capitalism and hyper-gentrification have taken hold, making neighborhoods unlivable for all but the wealthy, activists might start looking to the anti-Amazon fight for strategies. Lena Afridi, the director of economic policy at the Association for Neighborhood and Housing Development and an immigrant born in Karachi and raised in Queens, sees this broad coalition, led by women, people of color, and immigrants, as a model for progressives everywhere. "This will have an international impact," she tells me. "People all over the world are watching Queens. And it's beautiful."
Over warm cups of butter tea at a nearby Tibetan restaurant, the anti-gentrification activists Beatriz Rodriguez of #SaveNYC and Kirsten Theodos of TakeBackNYC agree that there is something powerful about Queens that Amazon did not anticipate. The borough holds the Guinness World Record for "most ethnically diverse urban area on the planet," and with diversity comes healthy dissent and resistance. "The people here really struggle," Rodriguez says. "They are being displaced all the time. They left other countries to come here and get pushed around again? That's why they have that fight."
"It's not like a lot of Manhattan," Kirsten adds, "which is so whitewashed. For the people in Queens, it's about survival." And where there is a fight for survival, there cannot be complacency. There must be progress.
Progress, in this case, means looking to the past. Many New Yorkers now believe the party line that to have a functional city, you have to welcome big development, and to have jobs, you have to give away billions in taxpayer money to corporations. But not too long ago, New York was a rambunctious and progressive city. Its unbridled spirit, what came to be known as "New York values," was built by a confluence of immigrants, people of color, artists, early LGBTQ communities, and a strong working class. They brought democratic socialism, built strong unions, and fought for human rights.
Samuel Stein, an urban-studies instructor at Hunter College and the author of Capital City: Gentrification and the Real Estate State, also sees the Amazon defeat as a watershed moment—and he expects pushback from the establishment. "Some will say that the successful fight against Amazon's HQ2 marks the death of New York and the triumph of negativity and fear over progress and development," he says. "They will say it shows that we can't do big things anymore. I say: Bullshit. This is not the death of New York City; this is its resuscitation. If it is the end of anything, it is the end of an era in which people feared the developers, and the beginning of a time in which developers fear the people."
If those developers were here at Diversity Plaza, they might at least feel nervous. Boodoosingh, a Tassa drumming group, is pounding out a percussive rhythm so powerful you can feel it in the marrow of your bones. Its ancestral beat, calling back to Trinidad and Tobago, to colonized India and ancient Persia, intensifies and rises until it feels like an exorcism, a ritual cleansing. The people in the crowd are moving together, bouncing on their toes, dancing with arms in the air. A spirit is reverberating through the people and it will not stop. Behind the drummers, the head of Jeff Bezos looks on from the piñata. After the music, Ahmed announces, "This is our city. A new New York is rising." Someone hands a broomstick to a boy in the crowd and points him toward the piñata. The people gather close, urging the boy to hit it hard. He aims and takes a whack. Then another. Bezos's head spins. The boy keeps at it. Another whack and the piñata splits open, spilling out a glittering burst of confetti. The crowd cheers and the dancing continues into the night.
We want to hear what you think about this article. Submit a letter to the editor or write to letters@theatlantic.com.
Jeremiah Moss
is the author of
Vanishing New York: How a Great City Lost Its Soul.
He works as a psychoanalyst in New York City.