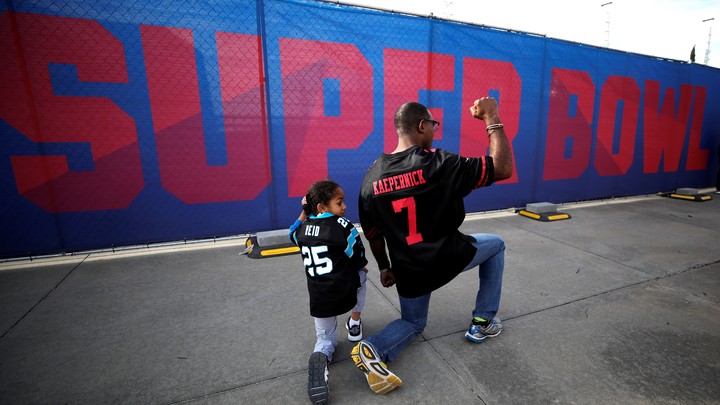 Heading into Super Bowl Sunday, the NFL probably believed that it had Donald Trump exactly where it wanted him. Which is to say, it had him quiet. But the NFL discovered that no amount of bootlicking will control the president's mouth.
The president had mostly ceased his fiery, public rebukes of the NFL and its handling of Colin Kaepernick's protest. Trump's broadsides were theatrical and effective, and showcased his political muscle. Nothing usually frightens the NFL, but the president had successfully punked the most powerful sports league in America into silencing player protests, while simultaneously exacting long-awaited vengeance on the NFL for subverting his numerous attempts to become a franchise owner.
You might think the NFL's strategic behind-the-scenes groveling and appeals to the president's ego would have bought the league even more leeway with Trump, but on Sunday, Trump couldn't resist throwing a jab at the league on its holy day.
During his pre–Super Bowl sit down with CBS's Face the Nation interviewer Margaret Brennan, Trump said he would never encourage his son Barron to play the sport, because it is "dangerous." If the NFL is going to sell out to Trump, it should have at least checked the fine print to make sure the president wouldn't remind millions of viewers about the NFL's link to head injuries and CTE.
Read: Trump's divisive and relentless politicization of the NFL
"The helmets have gotten far better but it hasn't solved the problem," Trump said. "So, you know, I hate to say it, because I love to watch football. I think the NFL is a great product, but I really think that as far as my son—well, I've heard NFL players saying they wouldn't let their sons play football. So it's not totally unique, but I would have a hard time with it."
This is quite a reversal for Trump, who had a different opinion of the NFL back in 2016, probably because it suited his political interests and played to his tough-guy persona. After a woman fainted at one of his campaign events in Lakeland, Florida, and later returned, Trump said, "That woman was out cold, and now she's coming back. See, we don't go by these new, and very much softer, NFL rules. Concussions—'Uh oh, got a little ding on the head? No, no, you can't play for the rest of the season.' Our people are tough."
"Football has become soft like our country has become soft," Trump declared at another 2016 rally. "The outcome of games has been changed by what used to be phenomenal, phenomenal stuff. Now these are rough guys, these are rough guys. These guys—what they're doing is incredible, but I looked at it and I watched yesterday in particular. So many flags, right? So many flags."
But that was then. In the intervening two years, the league has squandered its credibility and dignity just to keep the president from throwing temper tantrums about the sport. And now, on Super Bowl Sunday, Trump points out the dangers of playing football.
There are countless examples of how Trump's loyalty runs only in one direction. The revolving door at the White House is perfect proof of that. Appeasing Trump's ego doesn't seem to be a sound long-term strategy, because Trump seizes on opportunities to gain political capital, paying no mind to collateral damage.
Conor Friedersdorf: How NFL players can avoid playing into Trump's hands
Trump has gotten everything he's wanted out of this tenuous truce with the NFL. The Los Angeles Times reported that the NFL ingratiated itself with Trump after the New England Patriots owner Robert Kraft reached out to the president, a longtime friend, for assistance in forcing Canada to stop airing American Super Bowl ads so that broadcasters could sell ads for the Canadian market, maximizing the league's revenues. Just how important the matter was or how much the NFL actually needed Trump's help are open questions, but when Trump renegotiated the North American Free Trade Agreement with Mexico and Canada, he was able to fix the NFL's problem. Naturally, Trump couldn't wait to brag about coming to the NFL's rescue, puffing up his image as a master negotiator.
"I did them a big favor in negotiating the USMCA [United States–Mexico–Canada Agreement], which is basically the replacement to NAFTA, which is one of the worst trade deals ever made," Trump told CBS. "And I said to Canada, 'Look, we have a great American company known as the NFL,' and they were being hurt and treated unfairly—the NFL—by Canada for a long time. And I said to Prime Minister [Justin] Trudeau, who was very nice about it and really understood it, 'I hope you can settle the difference immediately and fast.' And they did. So I did the NFL a big favor, as a great American company, and they appreciated it. And Roger Goodell—this is a dispute that has gone on for years. Roger Goodell called me and he thanked me."
The NFL has gotten Trump to play nice for now, but that does nothing to erase the perception that the NFL willingly torpedoed Kaepernick's career because it was frightened of Trump, nor has it quieted the interest or support for Kaepernick, who remained a dominant story line during Super Bowl week.
Goodell faced a new round of questions at his annual pre–Super Bowl press conference about why Kaepernick remains unsigned by a NFL team. The NFL commissioner insisted that Kaepernick would be in the league if a team thought he could help them win. Given the number of quarterbacks in the NFL who have had opportunities to play despite being less accomplished and talented than Kaepernick, that line is hard to buy.
Kaepernick's supporters, including Cardi B, LeBron James, and the director Ava DuVernay, used Super Bowl week to prod the NFL about its treatment of Kaepernick. The hashtag #ImWithKap was trending as massive coverage of the Super Bowl began. The former quarterback posted photos on social media of James, John Carlos, Harry Belafonte, Angela Davis, Steph Curry, and Kevin Durant wearing his apparel. The NFL may have temporarily silenced the president, but Kaepernick's message and influence are proving to have staying power.
Read: Colin Kaepernick's shadow still looms over the NFL
After Cardi B and Rihanna both cited Kaepernick in turning down the chance to perform at the NFL's halftime show, the NFL made the unusual move of canceling the customary press conference for Maroon 5. Maybe the band didn't want to answer questions about why they had chosen to perform at halftime when other superstars had passed on the opportunity. Considering that the halftime performance by Maroon 5 and the secondary performers Travis Scott and Big Boi was universally regarded as lackluster, those artists have to be wondering if the extra scrutiny was even worth it.
With news that ratings for this year's Super Bowl hit a 10-year low—something that should be attributed to the game being the lowest-scoring Super Bowl ever, moderate national interest in the Rams, the lingering bad taste from the huge blown call in the NFC Championship Game, and Patriots fatigue—Kaepernick's supporters can view their online campaign as an indication that they made a dent in the NFL machine.
But this is why it never made sense for the NFL to yield to Trump. The narrative that NFL ratings were down because of the player protests and Trump urging his supporters to stay away from the league was always overblown.
The reason league ratings rebounded this season isn't because Trump stopped blasting the NFL, or because players stopped kneeling. It's because the matchups in marquee time slots got better. The Dallas Cowboys, who played in two of the top-five most viewed regular-season games, won the NFC East and went to the playoffs. The Kansas City quarterback Patrick Mahomes exploded into stardom. The nearly 12,000 points scored by NFL teams this season were the second most in league history, and the 73 games that were decided by three points or fewer were a league record.
The issues the NFL experienced prior to this season—injuries and lackluster games—were always cyclical and temporary. They weren't worth the league permanently sacrificing its decency.
We want to hear what you think about this article. Submit a letter to the editor or write to letters@theatlantic.com.