Gavin Newsom's Big Idea
The California governor is pulling the plug on a boondoggle and focusing on a plan that could secure the future of his state.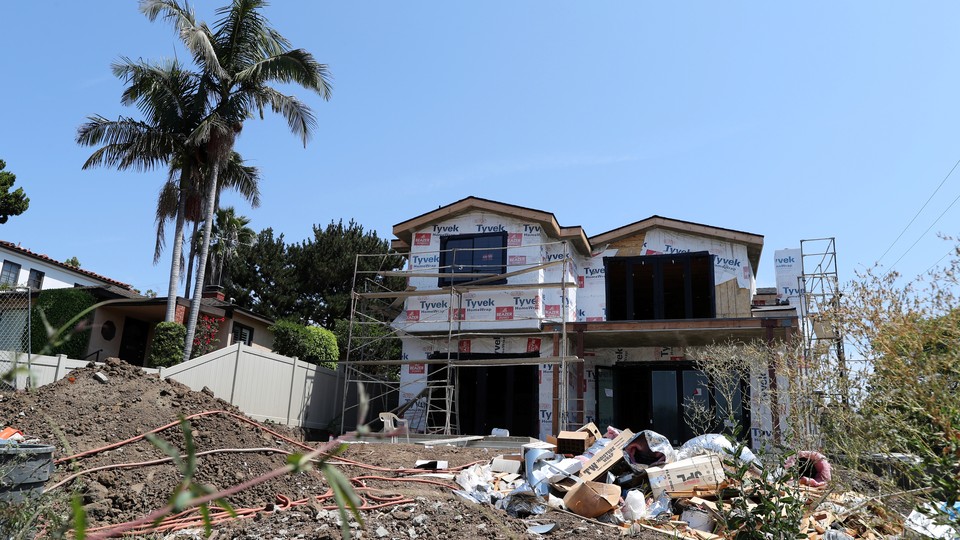 Not long ago, Gavin Newsom, the governor of California, was dismissed as a showboating opportunist who cared more about climbing the political ladder than he did about the finer details of public policy. But his decision to abandon the dream of a high-speed train that would ferry passengers from Los Angeles to San Francisco, at least for now, suggests that he's made of sterner stuff. Lamented by romantic environmentalists, for whom high-speed rail has long served as an emblem of ecological virtue, and cheered by critics on the right as a rare reversal for California's ascendant left, the decision to pare back this misbegotten project is best understood as a wise strategic retreat from a governor with far larger ambitions for his tenure.
To the surprise of hardened cynics, myself included, Newsom has moved swiftly since his inauguration to address the state's housing crisis, championing initiatives that have the potential to transform the face of urban California. Between now and 2025, he has called for the construction of 3.5 million new housing units, or an average of 500,000 a year. Considering that California has built an average of 80,000 new homes per year over the past decade, this is a pretty lofty goal. Newsom is envisioning a building boom that would surpass that of the postwar era, and that is exactly what the state would need to make up for lost time. This effort will require every ounce of his political capital, and it made the choice before him clear. Newsom could either fight tooth and nail for a bullet train for the classes, or devote his energies to building housing for the masses. So far, he seems to have made the right call.
California's high-speed rail project was, from the very start, a textbook example of getting your priorities wrong. Nothing about passenger rail is remotely objectionable per se, and the diversion of some travelers from California's overburdened airports, and from carbon-intensive air travel itself, would be a welcome development. The question, as ever, was whether the benefits of high-speed rail were large enough to justify the mounting cost of construction, which was expected to surpass $77 billion.
This is a sum that could finance a dramatic expansion of mass transit throughout the state's largest metropolises, or a network of "driverless roads" that could unlock enormous efficiencies in moving people and goods. Alternatively, $77 billion could underwrite the spread of innovative technologies such as mass-timber construction, modular permeable pavements, and, well, you name it. If California's goal were to achieve the biggest bang for its environmental buck, building high-speed rail would be far from the top of the list. It would make far less sense than, say, using those same funds to lower housing costs in cities in California, where the average carbon footprint is considerably lower than in more humid U.S. cities that are further east.
Even leaving environmental considerations aside, completing the high-speed rail project meant securing a right-of-way through the South Bay, home to some of the country's most affluent, and most effective, opponents of development. That effort had met with limited success, to put it mildly, and the potential political dividends from kicking up that hornet's nest were always slight: There you go; now you have a train you will use rarely, if at all. Watch as it rumbles by your hideously congested freeway. As of now, the plan is to complete the high-speed route currently under construction in the Central Valley, where it will serve as a monument to the armies of shortsighted elected officials, overpriced consultants, and delusional local boosters who inflicted it upon California, where a large and growing share of the population can't afford decent housing.
Which leads us back to Newsom's housing crusade. Given the political clout of California's homeowners, many of whom can be expected to resist even the most modest densification of single-family-home neighborhoods, the governor's housing effort is fraught with danger. Overcoming their objections will be exceedingly expensive, because it will require spending generously on measures designed to curb congestion, and cementing a pro-growth coalition of Silicon Valley employers, construction workers, public-sector employees, and renters desperate for relief. And Newsom's off to a decent start.
In recent weeks, the Newsom administration has, among other things, proposed spending $1.75 billion to incentivize housing production, boosting housing targets for local jurisdictions, and more controversially still, giving those housing targets new teeth by threatening to deny transportation funds to jurisdictions that fail to meet them. A small coterie of California lawmakers is devising proposals of its own to capitalize on Newsom's enthusiasm, some of which are very ambitious indeed.
Yet much more needs to be done, as evidenced by the fact that cities and counties throughout the state have only set aside enough land for 2.8 million new homes to be built. There is simply not enough zoned land to reach Newsom's target of 3.5 million new housing units, even if everything went swimmingly. To achieve his objectives, the governor will have to make the case not just for casitas, or accessory dwelling units that can be added to existing homes, or for the occasional smattering of duplexes and townhomes in postindustrial corners of the state where NIMBYs are few and far between. He will have to make an affirmative case for a new way of life, in which Californians embrace multi-family dwellings, walkable neighborhoods, and, sacrilegious though it may sound, trading their private automobiles, or at least their second private automobiles, for increased reliance on buses, bikes, and of course, electric scooters.
Is Newsom up to the challenge? I can't really say. Because I don't share his ideological proclivities, I'm inclined to be skeptical. What I do know is that the billions of dollars he might otherwise have wasted on a doomed high-speed rail project could be more productively spent bribing NIMBYs into becoming YIMBYs.