The Lessons Southern Baptists Need to Learn
America's largest Protestant denomination is reeling from a sexual-abuse scandal. Can its leaders push through needed reforms?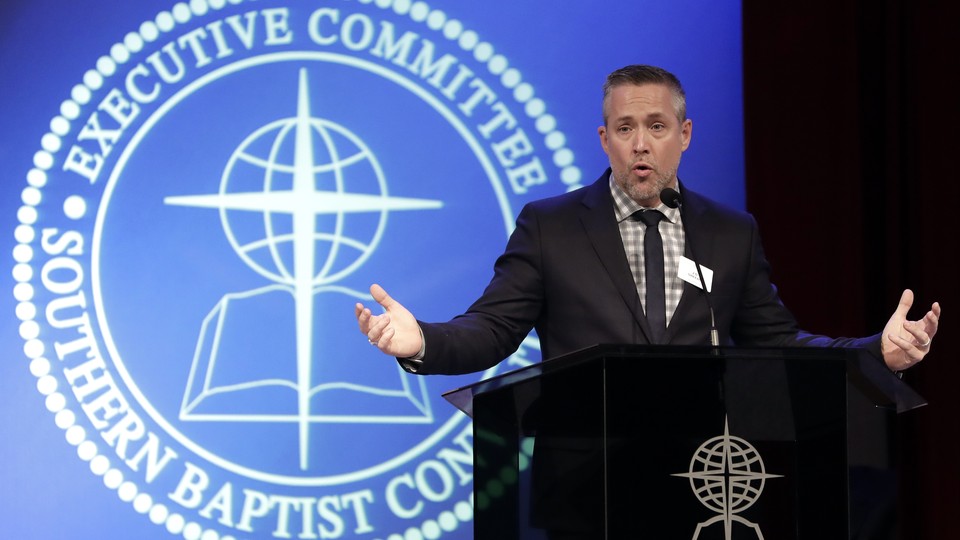 America's largest Protestant denomination has seen better days. Last week, an investigation of the Southern Baptist Convention by the Houston Chronicle and San Antonio Express-News reported more than 700 cases of sexual abuse perpetrated by nearly 400 church leaders going back to 1998. After being accused, many perpetrators found new congregations where they could repeat their offenses against new victims. For more than a decade, denominational leaders have ignored Southern Baptists' pleas for an SBC sexual-offender registry.
The news comes 17 years after The Boston Globe broke the story on widespread sexual abuse in Roman Catholic churches. The slow, sometimes dismissive response of many Catholic leaders contributed to a slew of high-profile resignations, payments of tens of millions of dollars in settlements, and a precipitous decline in membership. According to the Pew Research Center, the total number of Roman Catholics in America has dropped by more than 3 million since 2007—more than any other religious group.
The 15-million-member Southern Baptist Convention cannot afford to sustain similar losses. The denomination has been plagued in recent years by numerous public controversies and, by its own account, has suffered "a downward trend in both church membership and baptisms" for at least a decade. Fortunately, the Catholic Church has provided the SBC with a case study in how not to respond to such revelations. Baptist leaders have an opportunity to learn from those missteps and respond differently.
One of the gravest miscalculations any organization in such a situation can make is, well, miscalculation. Many cases of sexual abuse are not reported to authorities at the time a crime is committed, so initial reports are often just the beginning. After the Globe's 2002 story ran, Catholic leaders largely underestimated the scope of the problem. As hundreds of additional cases of abuse have surfaced in the subsequent years, the bishops' credibility has eroded. If you can't trust what your church leaders say, you may stop showing up to hear them preach.
The true threat to Southern Baptists is not what we know; it's what has yet to be revealed. If this scandal follows the pattern of other denominations, we can reasonably expect more cases to surface in the coming months and years, which will pose an ongoing challenge to the convention. The response should begin with a thorough and public investigation of the nature and scope of the problem itself. In this case, the media has done for Southern Baptists what they should have done themselves. It's time for the denomination to get its own house in order, and that must begin with an understanding of the depth of the problem.
Any investigation should also focus on any failures on the part of denominational leaders to prevent these abuses. We already know that denominational leaders failed to develop a database that tracks sexual-abuse allegations in churches, despite repeated pleas from members to do so. The organization must admit its error—and correct it.
That may require restructuring the denomination's polity. Upon learning of the investigations, the interim head of the SBC's executive committee, D. August Boto, lamented the abuse but said the denomination "doesn't have the authority to force churches to report sexual abuse to a central registry." Boto was part of a group of leaders in 2008 that drafted an official rejection of reform proposals.
It's correct that Southern Baptist churches are autonomous, unlike Catholic churches, and are not under the authority of a hierarchy. And yet claims that the denomination's hands are tied in this matter will come as a shock to the many churches that have been censored or kicked out of the denomination due to their acceptance of LGBTQ people, ordination of women, or more progressive interpretations of the Bible. The denomination does actually possess the power to impose standards on its member churches, but heretofore protecting children from sex predators hasn't been prioritized to that level.
On Monday, Southern Baptist Convention President J. D. Greear suggested that the denomination amend its governing documents so that congregations showing "a wanton disregard for sexual abuse and for caring for the survivors are not in good fellowship with this convention." If it can be proven that a church covered up sexual-abuse allegations, he said, the group should seriously consider removing it from the denomination. But Greear's role is unpaid and largely honorific, so this is only a suggestion. Denominational messengers will have to decide whether to heed his advice at their annual gathering this summer in Birmingham, Alabama.
As the Catholic Church's woes demonstrate, leaders that are complicit in these crimes must be punished, not protected. Information from a series of lawsuits, including a recent one in Pennsylvania, where more than 1,000 offenses were uncovered, recount a pattern of downplaying or even covering up crimes in order to save face and defend the institution. Southern Baptists must repudiate this temptation and deal harshly and swiftly with any church leaders who do not effectively report or respond to allegations of even minor misconduct.
And what should be done to make amends with the many who have suffered incalculable physical and psychological trauma as a result of the denomination's failures? An unknown number of victims exist, and unfortunately, there are some wounds that time alone cannot heal. These survivors have endured physical and emotional trauma as a result of this scandal and the failures that created it. They need financial resources to cover their resulting mental-health-care costs. The denomination should establish a fund at its annual gathering that can be accessed to cover survivors' ongoing needs. Preventing future abuse is not enough; rectifying the past is the only way forward.
In addition to addressing all of the systemic and institutional components that contributed to this scandal, the denomination must also be willing to have an honest conversation about the way patriarchal power functions to protect those at the top. Critics claim that the church's theology creates an environment where women and children have limited agency and that there is often a culture of silence where challenging (all-male) leadership is seen as inappropriate and disrespectful. Ideas have consequences, and Southern Baptists must honestly explore whether their theological roots are bearing rotten fruit.
America's largest Protestant denomination has a small window to respond rightly to this situation if it hopes to maintain credibility. In a time of denominational decline, it has little margin for error; any Catholic bishop could tell you as much. The question facing the SBC now is whether its leaders are prepared to do what it takes to start the process of reform.