Roger Stone's Arrest Is the Signal for Congress to Act
Robert Mueller is looking for crimes. It's up to legislators to safeguard the country.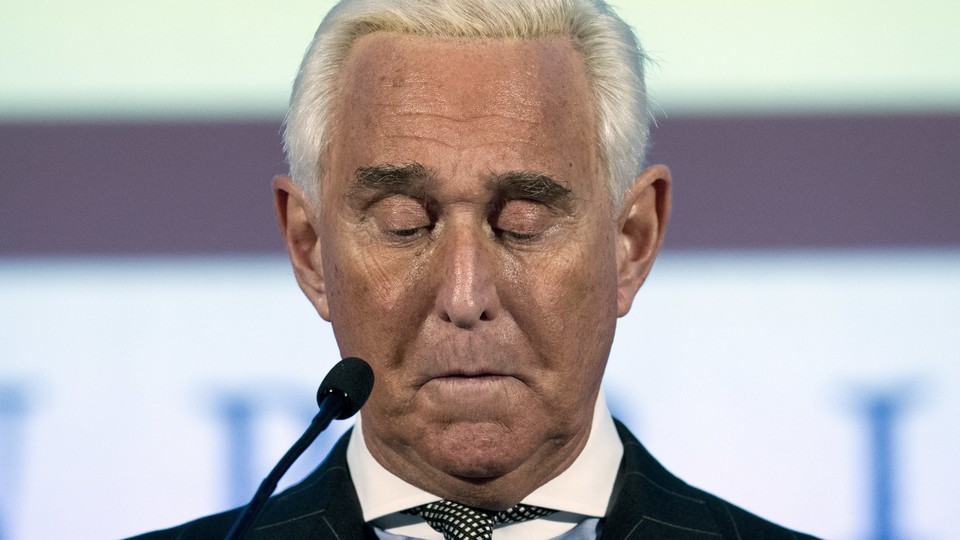 The indictment of Roger Stone moves the Trump-Russia story forward—but leaves the country stuck in exactly the same place.
Stone has been indicted for obstruction, making false statements, and witness tampering, but here's what he was lying and witness-tampering about: his repeated communications with WikiLeaks to further and enable Russia's interference in the 2016 campaign. On the basis of the indictment, it appears that the Trump campaign had advance knowledge that the October WikiLeaks dump was coming—and what its contents might approximately include. Via Stone, the Trump campaign coordinated messaging with WikiLeaks. Stone's link to WikiLeaks told him, "Would not hurt to start suggesting HRC old, memory bad, has stroke, neither he nor she well. I expect that much of next dump focus …"
But here's how we're stuck. We are now entering the third year of a presidency tainted from its start by clandestine assistance from Russia. That corrupt connection overhangs every strategic decision: the president's repeated threats to quit NATO; his refusal to implement congressionally voted sanctions to punish Russia for nerve-agent poisonings in the U.K. Only 31 percent of Americans feel confident that Russian President Vladimir Putin is not blackmailing their own president, according to the latest Marist poll.
Thanks to the Mueller inquiry, individuals associated with this election scandal are beginning to face justice. But also thanks to the Mueller inquiry, the nation remains as vulnerable as ever to the consequences of the scandal: a president beholden to a hostile foreign power.
When the Mueller probe was initiated almost two years ago, I worried here at The Atlantic:
A special prosecutor could wrap the investigation of the Trump-Russia matter in secrecy for months and years—and ultimately fail to answer any of the important questions demanding answers.
I worried because:
A special prosecutor … seeks crimes. The criminal law is a heavy tool, and for that reason it is thickly encased in protections for accused persons. The most important protection from the point of view of the Trump-Russia matter is the rule of silence. A prosecutor investigating a crime can often discover non-criminal bad actions by the people he is investigating. If those bad actions do not amount to crimes, the prosecutor is supposed to look away.
Today's Stone indictment pounds home that warning. Robert Mueller does not have a record of bringing frivolous charges. If Mueller convicts, Stone will then face a lengthy term in prison, perhaps alongside his former lobbying-firm partner, Paul Manafort. Mueller is likely moving now to the next step in the chain, and more indictments will ensue.
But how does this backward-looking justice serve the country now? The Mueller investigation has impressively suppressed all leaks. It has spoken only to slap down news reports it regards as incorrect and inflammatory, such as the BuzzFeed report last week that President Donald Trump had directly counseled his former lawyer Michael Cohen to lie to Congress. The result of this praiseworthy discretion is that the main thing the country has to worry about—Trump's obligations to Putin—remains wrapped in official silence. The prosecutorial mission is being carried out with textbook professionalism. Meanwhile, we are losing sight of the underlying purpose of the mission—to protect the country from a potentially disloyal president.
Through the election and to this day, the Russians have held damaging information about Trump, information that is only now being confirmed to Americans. In October 2016, it was an obvious inference that the Trump campaign was working with WikiLeaks. Now that obvious inference forms the basis of an indictment.
Many other inferences could be drawn today, but there is not yet public evidence to support them, and they are not yet lodged as formal criminal charges: financial connections between Trump and Russia, the sharing of operational campaign information, and other terrible possibilities, too.
The truth about these things is presumably known to Mueller and his team. To the extent that this truth is prosecutable, Americans will eventually learn more of it through further indictments and—if the next attorney general allows it to be released—a future Mueller report. Perhaps that will happen this year, or maybe next.
But now—now!—the country is in danger. Now—now!—it is headed by a president whose fundamental loyalty to the United States cannot intelligently be trusted. Waiting for Mueller has always been a slow option. That slowness more and more appears a danger that the country cannot safely risk.
It's time for Congress to step in, not with a view to punishing the guilty, but with a view to protecting the security of the nation from the guilty, whether they are ever juridically punished or not.