The Supreme Court Could Make Gerrymandering Worse
It likely won't rule partisan gerrymandering unconstitutional. Instead, it may disallow independent redistricting commissions.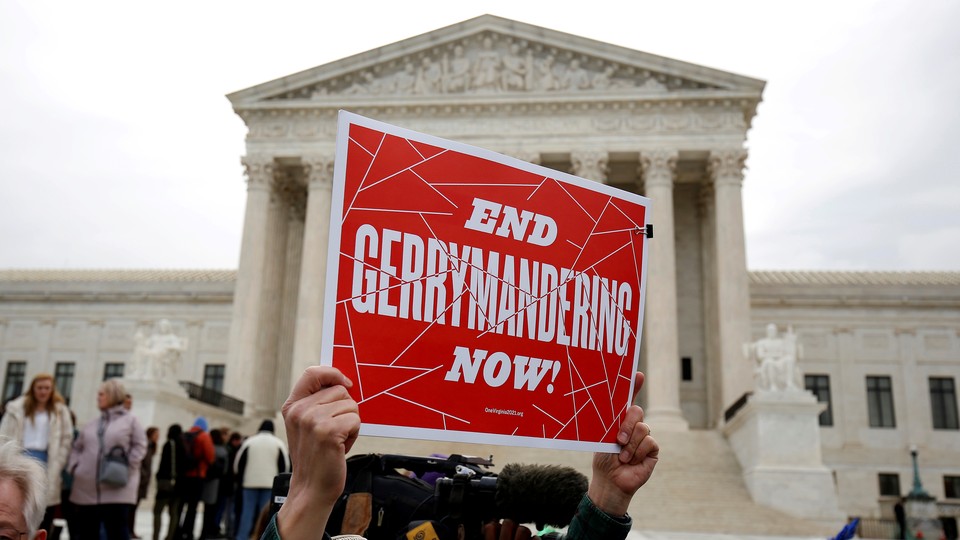 The Supreme Court's decision on Friday to take up partisan-gerrymandering cases from North Carolina and Maryland brought to mind a saying attributed to Judy Garland: Behind every cloud is another cloud.
The now firmly conservative Court likely took the cases not to announce that such activities violate the Constitution, but to reverse the lower courts that said they do. Down the road, the Court might do much more damage, including by preventing states from using independent commissions to draw congressional districts.
For years, the Supreme Court has ducked the question of partisan redistricting, failing to provide clear guidance on its constitutionality. Until he left the Court this summer, Justice Anthony Kennedy was the key swing vote on this issue. In 2004, he disagreed with conservatives that such cases present "political questions," which courts cannot hear given the lack of "judicially manageable standards." And he disagreed with liberals that any as-yet-proposed standards adequately separated permissible from impermissible consideration of partisan information in drawing district lines. But he suggested that the First Amendment's right of association could serve as the foundation of a ruling against gerrymandering.
Justice Elena Kagan took Kennedy up on that suggestion in a case the Court (sort of) decided last term, Gill v. Whitford. Plaintiffs argued that Wisconsin Republicans had drawn district lines to give them asymmetrical advantage over Democrats in state legislative elections. The Court, in an opinion by Chief Justice John Roberts, unanimously dismissed the case on standing grounds, sending it back to the lower court for further proceedings. But Kagan, in a concurrence joined by three other liberals, set forth a First Amendment, associational-injury theory of partisan gerrymandering that was designed to appeal to Kennedy. Kennedy did not bite and soon retired from the Court.
Although Kennedy's replacement, Justice Brett Kavanaugh, did not decide any gerrymandering cases as a lower-court judge, his general disposition lines him up with the other conservatives on the Court who believe that the judiciary has no business policing gerrymandering. In the Maryland and North Carolina cases the Court just took, both lower courts were willing to act as the police. Because of a procedural quirk, a decision by the Supreme Court not to hear these cases would have counted as an acknowledgment that the lower courts got the question right. So there's every reason to expect 5–4 reversals unless a conservative justice or two goes rogue, or gets cold feet.
That's not the only cloud on the horizon when it comes to the Court and redistricting. In a 2015 case out of Arizona, as I explained in more detail in a blog post for the Harvard Law Review, Kennedy joined in Justice Ruth Bader Ginsburg's majority opinion holding that voters have the right to use a ballot initiative to establish independent redistricting commissions. But the Arizona legislature convinced Roberts—along with three conservatives—that because the Constitution gives the power to set congressional election rules to state "legislatures," voters acting through the initiative process had unlawfully usurped legislative power. Roberts wrote an impassioned dissent.
A case raising this question could come back before the Court soon enough from one of the other states that has established these commissions. And, should Roberts choose to spend his capital in this way, he could well reverse the Court's very recent precedent.
This development would be profoundly troubling. It is one thing for federal courts to say that they have no business deciding how much politics is too much politics when state legislatures draw district lines. It is quite another to say that the voters of a state, acting through the powers they have under state constitutions, cannot come in and offer a solution to deal with an area of intense legislative self-interest. The Court would be ruling, in effect, that legislators may choose their voters, not the other way around, and that there's nothing voters can do about it.
Yet one more cloud in the districting arena: The Trump administration is enmeshed in a legal struggle, headed to the Supreme Court, over its attempt to put a question about citizenship status on the 2020 census. According to the Department of Justice, the question will help it enforce the Voting Rights Act. But opponents believe that the question will depress census responses in areas with large populations of undocumented residents, and thereby lower representation for these areas. (The Court will hear a case in February over whether plaintiffs can force Commerce Secretary Wilbur Ross and a Justice Department official to testify as to the government's true motive in adding the citizenship question.)
If the Trump administration gets its way on the census, one problem will lead to another: A recent Commerce Department notice stated that it would provide citizenship information to jurisdictions that wanted to use the data to draw new district lines after the next census. It's not clear if that's constitutional. In 2016, in Evenwel v. Abbott, the Court left open the question of whether states and localities must draw legislative districts with equal numbers of people—the traditional method—or of people eligible to vote. If the Court ends up favoring the latter standard, that would shift power away from cities and Democratic areas with larger noncitizen populations.
Ultimately, a citizenship question on the census could depress response rates in Democratic areas, reduce representation in Democratic areas, and lower population-related federal resources coming to these areas.
These days, no one expects the Supreme Court to lead the way on political reform. But it could do much worse than nothing; it could actually stymie political reform when it works its way through the democratic process.