Ron DeSantis Is Showing the GOP a Different Path Forward
As Trump continues to fixate on a border wall, the new governor of Florida is choosing to focus on more substantive issues.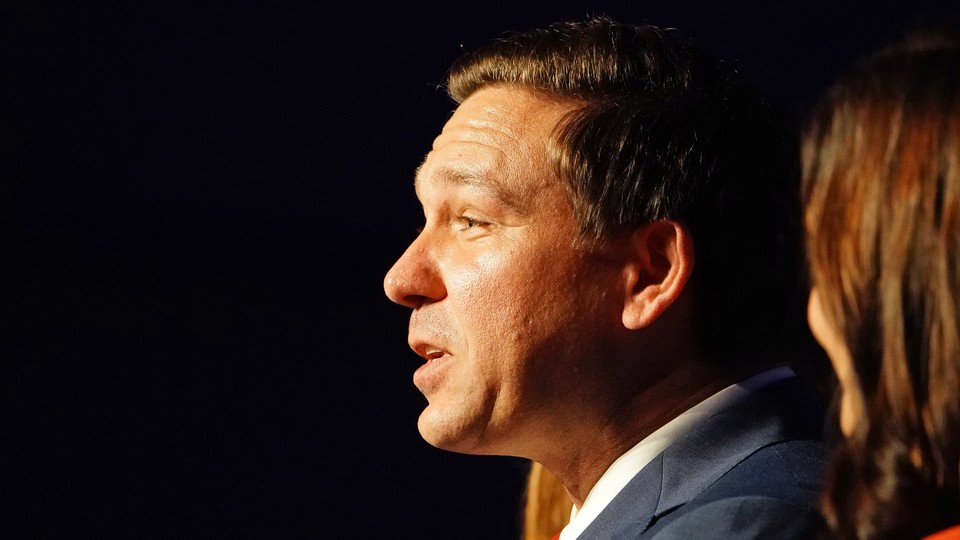 At every stage of his short career in Republican politics, Ron DeSantis, the newly inaugurated governor of Florida, has been exceptionally shrewd. It is therefore telling that as President Donald Trump's approval rating drifts downward, he has spent his first weeks in office pivoting from unadulterated Trumpist bombast to dulcet suburban moderation. Don't be surprised if other ambitious Republicans soon start following his lead.
First elected to Congress in 2012, DeSantis co-founded the House Freedom Caucus, which captured the insurrectionary mood of small-government conservatives in the Barack Obama years. Always quick to denounce out-of-control federal spending, he voted to shut down the federal government rather than acquiesce to omnibus spending bills brokered by the House GOP leadership on more than one occasion.
Then, after Ted Cruz and John Kasich exited the race for the 2016 Republican presidential nomination, DeSantis reinvented himself as one of Donald Trump's most devoted supporters, not least on Fox News, where he later became an indefatigable critic of Robert Mueller's investigation. Having recognized Trump's popularity among GOP primary voters—as demonstrated by Trump's massive victory over Marco Rubio in the 2016 Florida presidential primary—DeSantis was careful to align with the president in almost every respect, including immigration enforcement, an area where many leading Florida Republicans dissented from the party's restrictionist wing.
When DeSantis entered Florida's Republican gubernatorial primary, he mostly downplayed questions of merely statewide concern, choosing instead to emphasize national and indeed international matters, such as his commitment to the U.S. alliance with Israel, and his Trumpist bona fides, as immortalized in a campaign advertisement in which he playfully exhorted his small daughter to "build the wall" (with colorful toy bricks).
And the strategy worked, at least at first. DeSantis handily won the Republican gubernatorial nomination before going on to narrowly defeat Andrew Gillum, the decidedly left-of-center African American mayor of Tallahassee, in a general election that many saw as a glimpse of America's political future. But it is here that the story starts to change.
This being Florida, the 2018 election was marred by irregularities, and the counting of votes in the gubernatorial and Senate races dragged on for days. While Rick Scott, the then-governor of Florida, sought the president's help in pressuring his opponent to concede defeat, DeSantis wanted Trump to stay out of his own recount battle, reportedly out of a desire to defuse rising political tensions in a state that had become the country's premier political battleground. Denounced as a racist during his gubernatorial campaign for warning that Florida voters would "monkey this up," "this" being Florida's prosperity, by embracing Gillum and his program of higher minimum wages and more expansive social spending, DeSantis seemed keen to prove that he was more than a Trumpist caricature.
Since his inauguration, DeSantis has played against type, calling for a sharp increase in funding to protect the Everglades and to mitigate the effects of climate change, even as he remains studiously neutral on its causes; touting the diversity of his senior appointments, and claiming in particular that "if you look at my total appointments, I don't think there's any peer recently, at least in Florida, of the number of African Americans we've put in"; and adopting a more permissive posture with respect to the regulation of medical marijuana than his predecessor.
He's chosen a rising Florida Democrat, state Representative Jared Moskowitz, to head Florida's all-important Division of Emergency Management. Even his more conventional appointments seem geared toward broadening his electoral coalition. For example, DeSantis named an erstwhile rival, former Florida House Speaker Richard Corcoran, to serve as his education commissioner, perhaps out of a belief that Corcoran's advocacy for K–12 scholarship programs and the expansion of high-performing charter schools would consolidate his support among "school-choice moms." And he's given his Cuban American lieutenant governor, Jeanette Núñez, a former state lawmaker from South Florida and a close ally of Rubio's known for her more moderate stance, a very visible role, as if to signal that he's not all sharp edges.
One could chalk up DeSantis's rhetorical shift to the simple fact that governing a sprawling, diverse state poses a different set of challenges than representing a conservative congressional district. But there's more to it than that. Rather than simply react to new political currents, as he did when he embraced the Tea Party moment and, later, when he climbed aboard the #TrumpTrain, DeSantis is now trying to anticipate what will come next. Though campaigning as a Trumpist was enough to secure him a razor-thin margin of victory, Florida voters seem to want a pragmatic problem-solver who can deliver better public services at a lower cost, all while preserving the wonders of Florida's natural environment. To ensure his future political success, DeSantis has wisely decided to move in that direction.
This isn't to suggest that DeSantis has forgotten his conservative base. Despite the power of Florida's agriculture and tourism industries, he is forging ahead on a statewide E-Verify mandate and legislation curbing sanctuary jurisdictions, both of which he championed on the campaign trail. Though immigration advocates insist that E-Verify will damage the prospects of minority workers, regardless of their legal status, restrictionists point to tentative evidence that it might instead slightly boost the prospects of workers of Latin American origin with legal status, a possibility of great relevance to Florida's large and growing Latino electorate, which has recently grown through an influx of working-class Puerto Ricans.
In short, as Trump continues to fixate on a border wall, DeSantis is choosing to focus on a more substantive policy that he's pitching as a curb on unscrupulous employers, and he's doing it with at least part of Florida's Cuban American establishment in his corner. In time, DeSantis could try to carve out a position on the issue that is even more swing-state-friendly—more effective workplace enforcement, but less of a fixation on the wall; an increased emphasis on skilled immigration, but a greater willingness to budge on amnesty for the long-resident, unauthorized-immigrant population—an approach that will look increasingly attractive if Trump's political fortunes continue to decline, and if a Democrat is inaugurated as president in 2021. Something tells me that DeSantis is prepared for this eventuality.