'Doing All, With Nothing': The Coast Guard During the Shutdown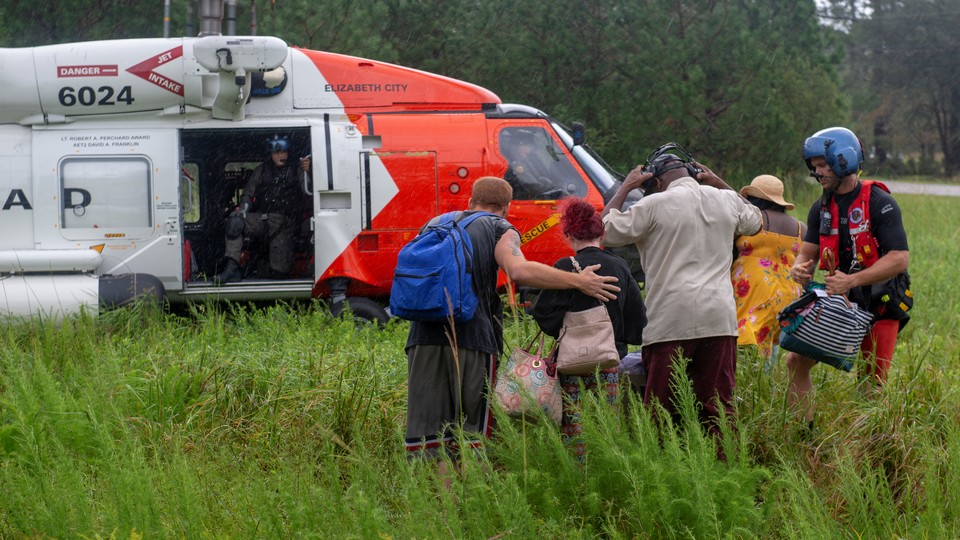 Editor's Note:
This article previously appeared in a different format as part of The Atlantic's Notes section, retired in 2021.
The U.S. Coast Guard is one of the five branches of the U.S. military—with the Army, Navy, Air Force, and Marine Corps—but since 2003 it has been organizationally part of the Department of Homeland Security.
The DHS budget is one of several being frozen or sequestered by the current government shutdown, which is now in its fifth week and the longest in history. Members of the Coast Guard are among the hundreds of thousands of federal workers not receiving pay.
A reader who is part of a Coast Guard family writes:
These are the men and women who are actually engaged in providing security to our country. These folks are literally first responders who create a virtual wall that we take for granted. Whatever we might think about airport security theater, there is no doubt about the amazing work done by the Coast Guard.

Now I've got a kid about to graduate from the Coast Guard Academy, plus I have been following the extraordinary efforts by communities, restaurants, churches, banks, insurance companies... and the Coast Guard itself, in an effort to support so many enlisted folks who are in serious trouble right now. My kid and her friends are fine but what's happening with many enlisted folks is simply horrible.

With that intro in mind, here's what I think is the core issue at hand: this shutdown is a Chickenhawk Shutdown. Like the Chickenhawk Nation, most people have no clue.

Congresspeople get paid. Retirees get paid. Active duty military get paid. IRS refund checks get processed (by people who expect to eventually get paid), and lots and lots of other services continue to be provided.
I'm stealing this notion from a friend who argues the problem is we don't actually have a shutdown. It's a semi-shutdown … a faux shutdown. The vast majority of the American public has no clue except maybe they've heard there's drama in Wash DC., or maybe they were on vacation but couldn't get in to see the Grand Canyon.

Too many people still accept the general idea that government doesn't do anything so who cares if they shut it down? (Some considerable number want to shrink it until you can drown it in the tub.) So when people hear there's a shutdown, and 90% see no impact, it just cements that misconception.
The reader then quoted a new article by the recently retired commandant of the Coast Guard, Admiral Paul Zukunft, in Proceedings, the magazine of the U.S. Naval Institute.The article is pointedly called "Breaking Faith," and in it Zunkuft says:
While the Department of Defense realized a new highwater mark in its 2019 appropriation, the Coast Guard was excluded from that package and has yet to see its appropriation for 2019 that began on 1 October.

To add insult to injury, the Coast Guard is no longer "doing more with less," but "doing all with nothing."

I have served shoulder to shoulder with our service members during previous government shutdowns and listened to the concerns of our all-volunteer force. This current government shutdown is doing long-term harm and is much more than pablum to feed the 24-hour news cycle.

We are now in uncharted waters given its duration and the hardship its causing, particularly at many Coast Guard installations that reside in high-cost communities along the U.S. coastline where service personnel already live paycheck-to-paycheck to pay the bills….

Mission-essential training is being deferred with egregious implications for a service that has as its motto: Semper Paratus—Always Ready….

The U.S. Coast Guard is a "service like no other" with the exception that Coast Guard men and women place service above self, exactly as do each member of the Army, Air Force, Navy, and Marine Corps.

Those three poignant words—service before self—on a grand scale need to guide our political leaders to avert the calamity confronting the world's best coast guard.