Sadism in the St. Louis Police Department
Three cops who expressed an eagerness to brutalize protesters unintentionally targeted the one person likely to get them arrested.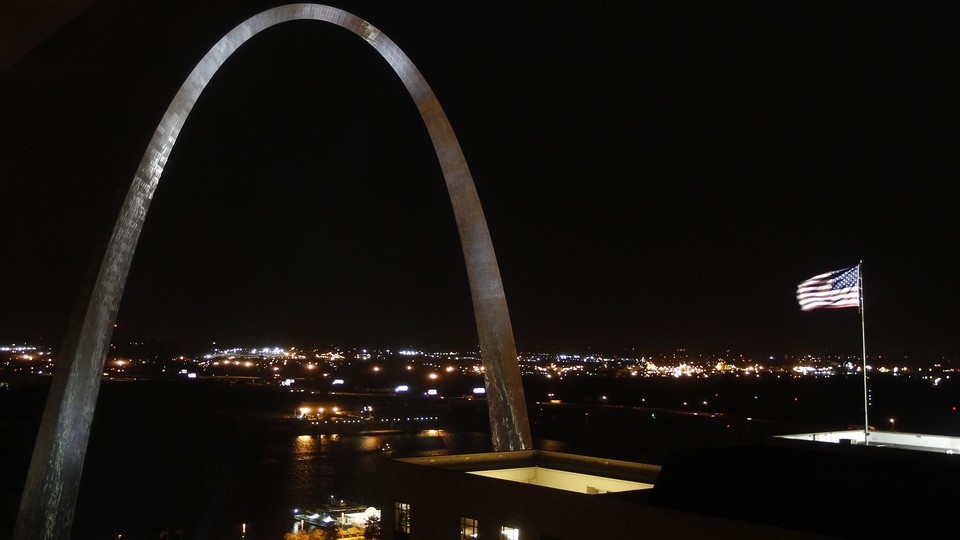 Last year, former police officer Jason Stockley was on trial in St. Louis, Missouri, for the shooting death of a black motorist named Anthony Smith.
He was acquitted, sparking street protests.
The St. Louis police activated what it calls its Civil Disobedience Team. Among the cops assigned to it were Dustin Boone, Randy Hays, and Christopher Myers, who sent texts to one another expressing their excitement and glee at the prospect of brutalizing protesters, according to federal prosecutors who reviewed their communications.
"Let's whoop some ass," Myers allegedly texted.
"The more the merrier!!!" Boone allegedly replied. "It's gonna get IGNORANT tonight!! But it's gonna be a lot of fun beating the hell out of those shitheads once the sun goes down and nobody can tell us apart!!!!" He went on to describe a fellow police officer as "a BIG OL black dude" who is "hands on," and who is "basically a thug that's on our side. It's he and I that just grab fuckers and toss em around." Later he described cops loading protesters onto prison buses while saying "Our streets," in unison, mocking their chant. He added, "Did everyone see the protesters getting FUCKED UP in the galleria????? That was awesome."
Hays allegedly explained, "It's extremely frustrating, but you'll eat yourself up inside if you don't just let it go and deal with it when it comes. And this one is easy because we both are good, going rogue does feel good, but I've been elected to be the driver of a Tahoe, so if I get involved tonight, shit has hit the fan." He added, "Remember we are in south city. They support us but also cameras. So make sure you have an old white dude as a witness."
On September 17, 2017, these men put their sadistic language into practice, according to an indictment filed against them last week.
"The defendants threw L.H. to the ground and then kicked and struck L.H. while he was compliant and not posing a physical threat to anyone," it states. "This offense resulted in bodily injury to L.H. and included the use of a dangerous weapon, that is: shod feet and a riot baton."
They most likely would still be on the street, with their badges, their guns, and the ability to inflict lethal force, if not for the fact that L.H. happened to be an undercover police officer. "We've had several incidents of protesters and activists being the victims of excessive use of force and police abusing their authority without ever seeing charges like this," Rev. Darryl Gray, a protest organizer, told The Washington Post.
An attorney who filed brutality lawsuits on behalf of 23 protesters told AP, "The text messages confirm our suspicions that these officers were using the anonymity of their SWAT uniforms and face masks after removing their name tags so that they could beat citizens with impunity."
Now four officers await an early December court date, where they are expected to plead not guilty. According to the indictment, Myers "did knowingly destroy and mutilate L.H.'s cellular phone, a tangible object used to record and preserve information." All three men allegedly conspired to influence the testimony of potential witnesses. One fellow officer, Bailey Colletta, was indicted for lying about the incident.
"St. Louis Circuit Attorney Kim Gardner said that her office has dismissed 91 criminal cases associated with four St. Louis police officers," the St. Louis Post-Dispatch reported, adding this striking detail:
Gardner stopped accepting cases from the four officers in question, "When we learned these officers were under investigation and the reason for the investigation," spokeswoman Susan Ryan said Friday. "That was in late August, early September," she said. A source told the Post-Dispatch that those cases had been issued between 2016 and this year.

Several were issued after the alleged assault on Hall took place, and well into the federal investigation into the incident, according to a source. That means the accused officers were on duty, actively making arrests and building cases while they were the subjects of a federal criminal investigation. It is not clear whether they were ever disciplined internally or put on administrative duty during the investigation.
St. Louis prosecutors seem to have all sorts of problems with St. Louis police officers––they keep a list of the ones they won't work with, but won't reveal those names to the public and the cops remain on the job.
Additional information about police misconduct during the Stockley protests may emerge as more than a dozen federal lawsuits filed against the police department make their way through the courts.
"The suits claim police violated the arrestees' Fourth and Fourteenth Amendment rights to be free from unlawful seizure and their First Amendment rights to assemble in public and express their views free from retaliation," the Post-Dispatch reports. "The suits also say police conspired to deprive them of their civil rights and that the city failed to properly train officers to avoid violating the rights of protesters or others."