What's Really Happening to Retail?
Manhattan's shuttered storefronts tell a larger American story: Only Amazon-proof businesses can now survive in brick and mortar.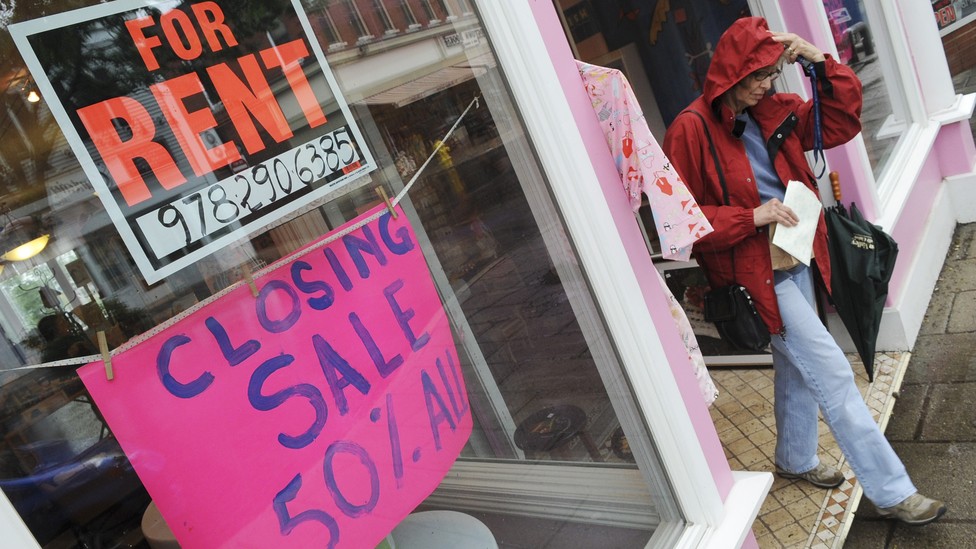 Updated at 4:28 p.m. ET on December 3, 2018.
What's really going on with retail in New York City?
According to some, the sky is falling. As one representative of the real-estate company Douglas Elliman told The New York Times, 20 percent of Manhattan's retail space is vacant. A separate survey from Morgan Stanley determined that a similar share of street-level retail space along the borough's most high-end corridors is "available," meaning that it's either vacant or seeking a new lease-holder. It's as if the global capital of capital is becoming a rich ghost town, as I recently wrote.
Or maybe this is an invented crisis. That 20 percent statistic? It's a complete fabrication, according to Rebecca Baird-Remba, a reporter for the Commercial Observer. Alternative estimates from the city and other real-estate companies peg the city's vacancy rate at 10 percent or even lower.
There are a couple of reasons for this retail Rashomon. First, Manhattan store vacancies aren't like GDP; there isn't one official and well-regarded measure. Instead, there are several means of quantifying the city's retail health, which makes it easy for partisans to pick and choose their favorite stats to fit a narrative. Second, it all depends on what one means by "New York." To a West Village denizen, the world is the West Village, and the world is a late-capitalist paradox of blighted affluence. To a resident of Hell's Kitchen, everything's just fine. Steven Soutendijk, the executive managing director of the real-estate-services company Cushman & Wakefield, recently walked 18 blocks along Ninth Avenue at my request, counting 246 storefronts in total and only 13 for-rent signs in vacant stores. A 5.3 percent vacancy rate doesn't sound like much to worry about—because it isn't.
Still, New York's storefronts—in some neighborhoods—are proof that the city isn't immune to the trends that are reshaping retail across the U.S. Obviously, there is the rise of online shopping, which is causing consumers to spend more time each year gazing at browser windows than into store windows. Just as important, the U.S. is in the midst of a correction: After the Great Recession, the country had way too many stores—10 times more shopping space per capita than Germany, and five times more than the U.K. Many of the stories about failing department stores and shuttered malls are more about the ramifications of overbuilding than The End of Retail. Americans don't need an order of magnitude more shopping space than Germans—especially when the world's biggest strip mall is in the cloud.
In the past two weeks, I've spoken with several people about what's happening to retail—not only in New York City, but also throughout the U.S. Everybody agreed that something important is happening. Not everybody agreed that it was making New York—or the U.S.—a better place.
In the biggest picture, the retail industry is working to figure out which Amazon-proof businesses belong in brick-and-mortar stores. For now, the answer seems to be restaurants.
As e-commerce stores have moved from entertainment and electronics into clothing and pharmacy staples, the biggest winner has been the one thing you definitely can't get from a warehouse: a hot meal—or an iced coffee. "Food & Beverage" has been the largest category of new retail leases for the past three years in New York City, according to data shared with me by Cushman & Wakefield. "Fast casual" restaurants that combine quick service with high-quality ingredients, like Sweetgreen and Chipotle, have grown by 105 percent in the past 10 years.
"This is a restaurant city, not a food city," said Mitchell Moss, a professor of urban policy and planning at NYU. "It's as if nobody knows or cares about cooking. Young people barely know how to make coffee." Tough words, but fair. The fastest-growing chain in New York City in the past decade was Dunkin' Donuts, with 271 new locations added since 2008. That's one new Dunkin' franchise in the city about every 12 days.*
In this respect, New York City is right in line with national trends. Since around 2012, restaurant spending has surged, especially among the young, rich, educated, and urban. For the richest 20 percent, restaurant spending has grown by twice as much as spending on food prepared at home since 2012. Americans between the age of 25 and 34 now spend about half of their food budget eating out, according to the Consumer Expenditure Survey. That is without precedent in American history. (In 1904, 90 percent of food was consumed at home.)
If the rise of restaurants is obvious in American wallets, it's equally evident on American payrolls. Since 2012, employment at "food service and drinking places" has grown by more than 20 percent, according to the Bureau of Labor Statistics—three times faster than employment in the overall retail sector. Supermarket jobs have barely grown at all in that period.
Restaurants are so critical to the future of retail that neighborhoods visibly suffer if they prove inhospitable to culinary culture. Maybe that explains what the hell is going on with New York's West Village: Local regulators in this historic neighborhood with strict zoning practice strict alcohol abstention. In September 2018 alone, the community board that oversees the West Village denied 20 alcohol licenses, or alterations to existing liquor and wine licenses, to new restaurants and cafes. Restaurants are hard enough to keep open with an overpriced bar. Without the margins from cocktails and wines by the glass, it's hard to afford rent in one of the most expensive zip codes on the planet.
The growth of restaurants in New York City has occurred alongside an explosion of high-end fitness clubs, like Equinox, SoulCycle, and Rumble. "Lafayette Street in Soho is filled with people who just go to the gym and then go get coffee, and then go back to the gym," Moss said. "Retail is being changed by a new focus on health, foods, body consciousness, and an obsessive attention to aesthetics." Once again, this puts New York in line with national trends. Exercise science has been the fastest-growing college major since 2011.
It seems that the future of urban life is paying exorbitantly for artisanal quinoa bowls with a cup of rare Brazilian coffee, and then paying even more to burn off the calories.
So far, this doesn't sound so wrenching. Fewer vintage clothing stores and more freshly assembled salads from fast-casual chains. What's the big deal?
Some people see a better world disappearing amid the upscaling of the city. "Let's not forget what we've lost," said Jeremiah Moss, the pseudonymous author of Vanishing New York: How a Great City Lost Its Soul. "New York was built by people who were fleeing, whether they were African Americans fleeing Jim Crow, immigrants fleeing their countries, or Americans fleeing America, because they were queer or eccentric. That alchemy creates a city of surprise, risk, sexuality, creativity, political radicalism, dissent, and variety. That's vanishing. Now it's stores and businesses catering to an upper-class demographic amid rapid gentrification, selling $7 coffees and artisanal shirts." Gone is the mosaic of eccentricities that illustrated New York streets in the 1970s and 1980s. In its place is Epcot, N.Y., a placeless place for the affluent, one of many global homes for Davos Man and Equinox Woman.
According to Jeremiah Moss, specific policies caused the disappearance of old New York—like tax breaks for big businesses, which have been a hallmark of city governance since the Ed Koch days (and up through HQ2). Moss says that several new policies could fix the problem. First, he is an advocate of the Small Business Jobs Survival Act, which would make it easier for small retailers to extend their lease in neighborhoods with rising rents. Second, he favors zoning laws that would limit the density of chain stores. He and others have also called for "vacancy taxes" that punish landlords who sit on empty storefronts for months at a time. All of these policies could help small businesses push back against the blandification of New York and the broader country.
But urban America's changes have also been driven by more positive structural factors, including the nationwide decline of crime that made cities safe for young, affluent graduates and the companies that wanted to employ them. As Aaron M. Renn, a senior fellow at the Manhattan Institute, has written, dozens of company headquarters have returned to New York City from their leafy Connecticut campuses in the past 30 years, lured by low crime rates.
A war is playing out in American cities between wealth and weirdness. The former encourages the pursuit of national trends and national brands—high-end fitness studios adjoining Sweetgreen franchises—for the purpose of maximizing profit on a per-lease basis. That spirit runs counter to the desire for diversity and experimentation, which requires policies that actively promote the survival of small companies in an economy that would otherwise eat them up.
"There used to be a bookshop in my old building that only sold books about chess," Moss said. "You need low rent to take that kind of risk, to do something that is unpopular. What exists now is a scramble for popularity, a pitch for the mainstream."
Critics often seem to see the recent past as superior to the emerging future, but the city has its optimists, too. Mitchell Moss, the NYU urban-planning professor, sees a surprising pathway for the city to reestablish its old-fashioned weirdness. "We're going to have a whole new industry," he told me. "Cannabis distribution centers. The retail market will be saved by the potheads."
Maybe both Mosses are right. Something is always being lost in New York. In any place where creative destruction is the norm, it is always the end of an era. New York's retail upheaval represents both the city's organic energy and the loss of something that is probably irreplaceable, even tragically so.
---
*  This article initially misstated the number of Dunkin' Donuts locations opened since 2008. We regret the error.