Manafort, Cohen, and Individual 1 Are in Grave Danger
Robert Mueller is closing in on the president and all his men.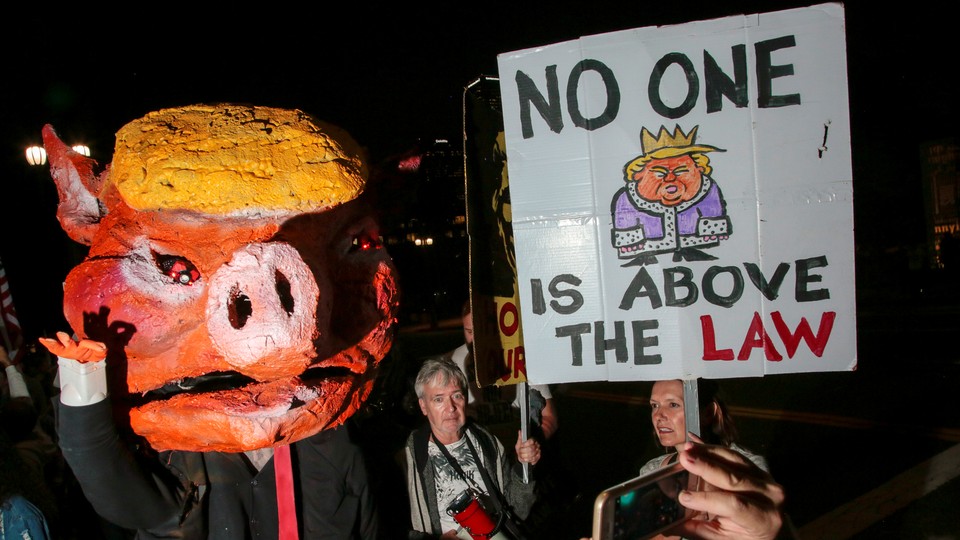 Federal prosecutors filed three briefs late on Friday portending grave danger for three men: the former Trump campaign chair Paul Manafort, the former Trump fixer Michael Cohen, and President Donald Trump. In an age when Americans usually get mere squibs of breaking news from Twitter, Facebook, and red-faced cable shouters, many started their weekend poring over complex legal filings and peering suspiciously at blacked-out paragraphs. The documents were stunning, even for 2018.
In brief No. 1, Special Counsel Robert Mueller's office argues that Paul Manafort breached his cooperation agreement with the government by lying to the FBI and the Special Counsel's Office in the course of 12 meetings. The brief oozes a level of confidence notable even among professionally hubristic prosecutors: Mueller says he's ready to present witnesses and documents, and that he gave Manafort's lawyers an opportunity to refute the evidence but they could not. Mueller is sure he has the receipts.
According to the brief, Manafort lied about his communications with the reputed Russian intelligence agent Konstantin Kilimnik, whom Mueller has scrutinized as a possible conduit between the Trump campaign and the Russian government. Although Mueller's brief is heavily redacted, it's clear that Manafort minimized the frequency, duration, and subject of his meetings with Kilimnik. Mueller has emails contradicting Manafort's description of those meetings, which—we can infer from the unredacted snippets—related to the Trump campaign's interactions with Russian interests. Mueller also asserts that Manafort lied about some of the payments he received and about an investigation in another district—possibly, based on the context, the Southern District of New York investigation of Michael Cohen and the president. Finally, and of great concern to the White House, Mueller claims that Manafort lied about his contacts with the Trump administration before his guilty plea, and that text messages, documents, and witnesses prove that he was in contact with administration officials.
In brief No. 2, the U.S. Attorney's Office for the Southern District of New York asks a federal judge to sentence the former Trump attorney Michael Cohen to a "substantial term of imprisonment"—meaning between three and four years. Last week, Cohen's lawyers filed a brief lauding their client's cooperation with the Special Counsel's Office, the Southern District of New York, and the New York attorney general, downplaying the significance of his crimes and asking the court to sentence Cohen to probation. Such gambits are tricky: Defense lawyers must thread the needle between praising their client's cooperation and seeking leniency enough to sway the judge, but not doing this so effusively that they trigger a prosecutorial rebuttal. Here, Cohen's lawyers' pirouette turned into a disastrous face-plant.
The prosecutors' rebuttal of Cohen's sentencing brief is one of the more livid denunciations I've seen in more than two decades of federal criminal practice. The Southern District concedes that Cohen provided some information to it, to the special counsel, and to the New York attorney general. But Cohen refused to cooperate fully; he declined to engage in a full debriefing about everything he knew or to commit to ongoing meetings, and he only spilled about the things he'd already admitted in his plea. That's not how cooperation works. In this game, you either cooperate fully or you shut up; there is no middle ground. It's not surprising that Cohen's stance angered the notoriously proud Southern District prosecutors.
The New York prosecutors blast Cohen's "rose-colored view of the seriousness of his crimes," accusing him of a "pattern of deception that permeated his professional life." Prosecutors portray Cohen as stubbornly obstructing his own accountant to cheat at taxes, even refusing to pay for accounting work that raised inconvenient issues he wanted suppressed. When it comes to Cohen's campaign-finance violations, the prosecutors' fury leaps off the page. Cohen, they say, schemed to pay for two women's stories (Stormy Daniels and Karen McDougal, we now know) in violation of campaign-finance laws in order to influence the 2016 election, and did so "in coordination with and at the direction of Individual-1"—that is, the president of the United States. As the brief puts it:
While many Americans who desired a particular outcome to the election knocked on doors, toiled at phone banks, or found any number of other legal ways to make their voices heard, Cohen sought to influence the election from the shadows. He did so by orchestrating secret and illegal payments to silence two women who otherwise would have made public their alleged extramarital affairs with Individual-1. In the process, Cohen deceived the voting public by hiding alleged facts that he believed would have had a substantial effect on the election.
If the Southern District's fury at Cohen is notable, its explicit accusation that President Trump directed and coordinated campaign-finance violations is simply stunning. The prosecutors' openness suggests that they are sure of their evidence and have mostly finished collecting it. It's a sign of a fully developed, late-game investigation of the president's role, one that may soon make its way to Congress.
And that brings us to brief No. 3: Special Counsel Mueller's separate sentencing brief in Cohen's lying-to-Congress case. He does not recommend a sentence but informs the court about the nature of Cohen's assistance to his office. Mueller discloses that Cohen has "taken significant steps to mitigate his criminal conduct" by pleading guilty to lying to Congress and meeting with the special counsel seven times to discuss his own conduct and other "core topics under investigation." That includes information about multiple cases of contact between other Trump-campaign officials and the Russian government, and about Cohen's contact with the White House in 2017 and 2018, suggesting an ongoing inquiry into obstruction of justice. Most significant, the special counsel indicates that Cohen "described the circumstances of preparing and circulating his response to the congressional inquiries, while continuing to accept responsibility for the false statements within it." That statement suggests that the special counsel believes that someone in the Trump administration knew of, and approved in advance, Cohen's lies to Congress. That's explosive, and potentially impeachable if Trump himself is implicated.
The president said on Twitter that Friday's news "totally clears the President. Thank you!" It does not. Manafort and Cohen are in trouble, and so is Trump. The special counsel's confidence in his ability to prove Manafort a liar appears justified, which leaves Manafort facing what amounts to a life sentence without any cooperation credit. The Southern District's brief suggests that Cohen's dreams of probation are not likely to come true. All three briefs show the special counsel and the Southern District closing in on President Trump and his administration. They're looking into campaign contact with Russia, campaign-finance fraud in connection with paying off an adult actress, and participation in lying to Congress. A Democratic House of Representatives, just days away, strains at the leash to help. The game's afoot.