A Kinder, Gentler Republican President Is Dead
And so is everything he represented about the office.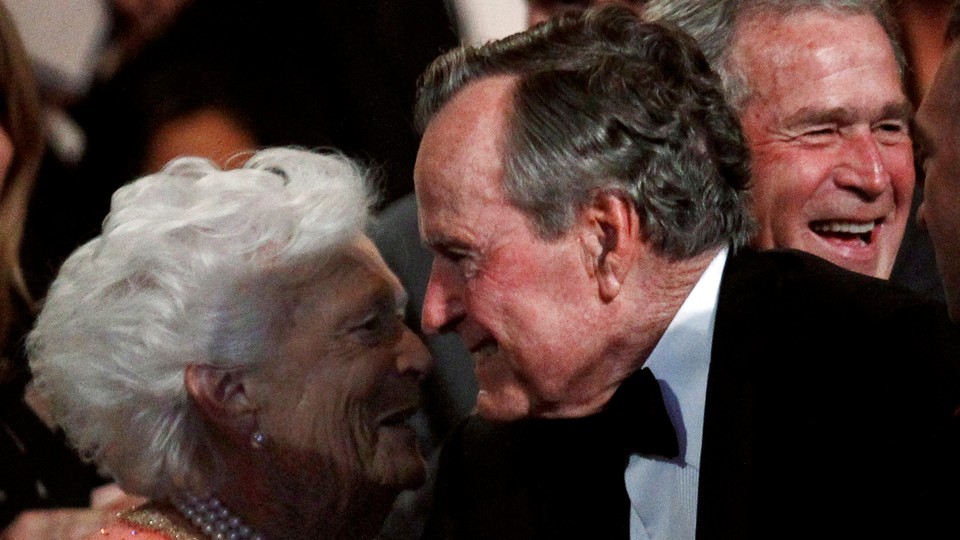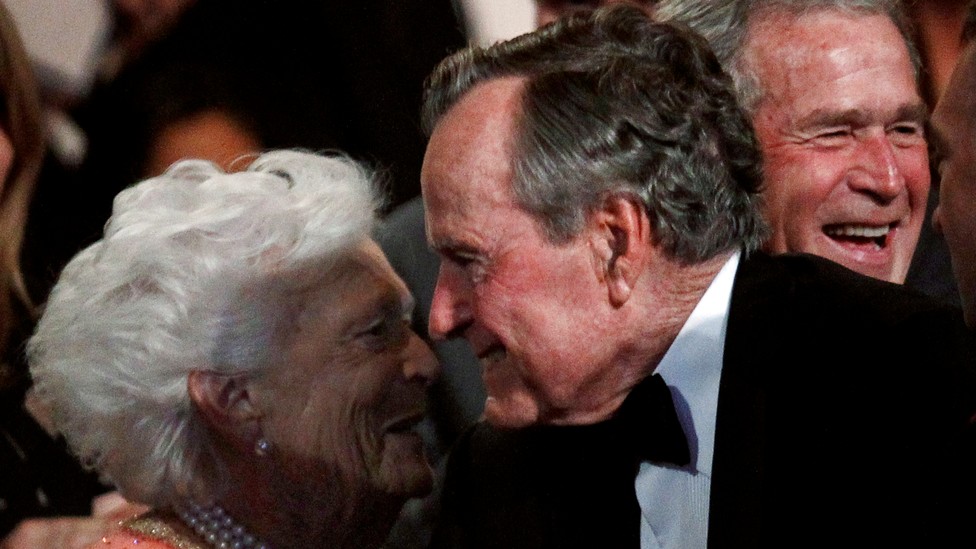 He was the last of his kind—the sort who could hold his office without embarrassment or apology, who wore his wartime heroism lightly, who took his duty seriously, but never himself. In contrast to the incumbent of the Oval Office, he looms in memory as the valiant remnant of a Periclean age.
So people can be forgiven if they forget that, in his prime, George Herbert Walker Bush was mocked as a stand-pat, in-box president, a "lap dog" who lacked "the vision thing," who had put his "manhood in a blind trust" in eight long-suffering, loyal years as Ronald Reagan's vice president, a man whose political skills were so shaky that he once read aloud his own stage directions: "Message: I care!"
The cartoon was a crock, of course. As one of the Navy's youngest aviators in World War II, he had flown 58 combat missions in the Pacific and survived the ditching of his plane under enemy fire. In his 1988 campaign to win the third term that Reagan was barred from seeking, he destroyed Governor Michael Dukakis of Massachusetts by impugning his patriotism with an assault that ranked as among the most vicious in all of modern American politics.
And Bush justified those attacks as the necessary instrument—"campaign mode"—to achieve the means of governing responsibly. His sometime mentor Richard M. Nixon once wondered whether Bush was enough of a "nut-cutter" to get dirty jobs done. But in later years, it was also Nixon who warned, "You want to remember, every time you tend to write off George Bush, he makes the big play."
So he did, even if his syntax was garbled and his career a mix of expedience and elegance. In his first Senate race, in Texas in 1964, he abandoned his family's moderate Republicanism to join Barry Goldwater in opposing the landmark federal Civil Rights Act as an invasion of privacy rights. But he agonized in a letter to a Jewish friend and supporter: "What shall I do? How will I do it? I want to win, but not at the expense of justice, not at the expense of the dignity of any man—not at the expense of teaching my children a prejudice I do not feel."
Just four years later, as a member of Congress from Houston, he bravely supported the 1968 Fair Housing Act over the opposition of many of his constituents. And as president, he appointed Clarence Thomas to replace Thurgood Marshall as the sole black justice on the Supreme Court, cynically claiming that he was the best man for the job.
Yet he managed the end of the Cold War with consummate skill, and built a peerless coalition to oust Saddam Hussein from Kuwait. He signed the 1990 amendments to the Clean Air Act and pressed for the Americans With Disabilities Act the next year. And he broke his famous "no new taxes" pledge to compromise on the budget deal that let Bill Clinton preside over an economic boom.
And yet.
He was human in the ways that count. He may have been born, as Governor Ann Richards of Texas so famously taunted, "with a silver foot in his mouth," but he had superb manners, a fine sense of humor, and a touch of the poet. When I wrote a joint profile of him and his son for Vanity Fair in 2006, he declined to participate, but nevertheless sent a hand-signed note to me explaining his reasons—and a handwritten note to our children gently boasting about his speed in a cigarette boat off the coast of Maine.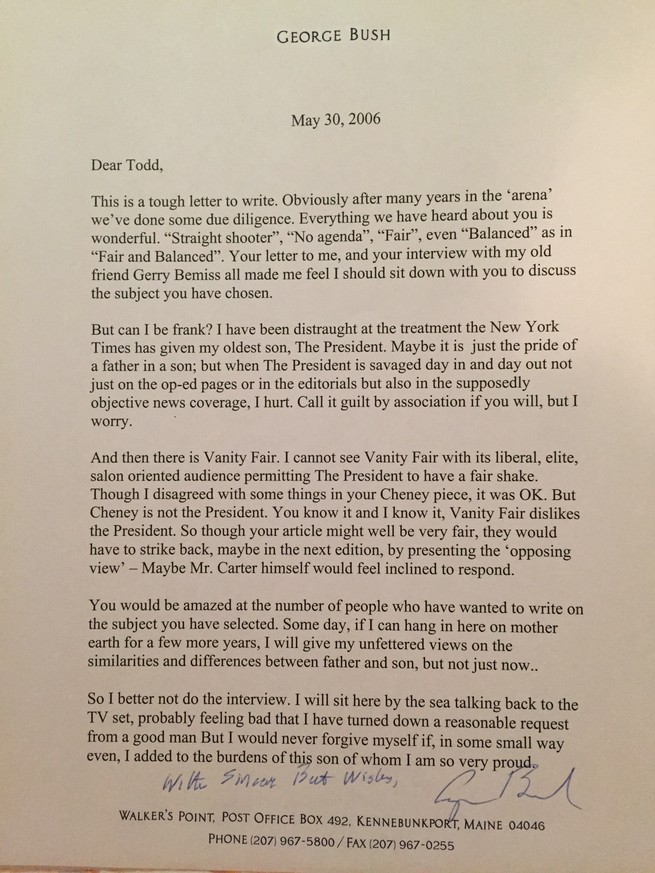 He was the sole Grand Old Party congressman to show up at Andrews Air Force Base to bid Lyndon B. Johnson, his fellow Texan, farewell when he left the White House in 1969. (So what if he happened to be courting LBJ's unlikely support for his planned Senate race in Texas the following year?) There was more than a little of Dana Carvey's imp in him. When New York magazine included him in a cover story on the "Ten Most Overrated Men" in Manhattan, in 1972 (he was then serving as the U.S. ambassador to the United Nations), he invited all the others—including Terence Cardinal Cooke and Arthur "Punch" Sulzberger, then the publisher of The New York Times—and the author of the piece for cocktails in his apartment at the Waldorf Towers, and had a ball.
And for a man so widely mocked as tongue-tied, he saw the world with a poet's eye. In the late 1950s, mourning the loss of his daughter Robin to leukemia, he sent his mother a letter that was found in her effects after she died: "There is about our house a need," he wrote. "The running, pulsating restlessness of the four boys as they struggle to learn and grow; the world embraces them … all this wonder needs a counter-part. We need some starched crisp frocks to go with all our torn-kneed blue jeans and helmets. We need some soft blond hair to off-set those crew cuts … We need a legitimate Christmas angel—one who doesn't have cuffs beneath the dress. We need someone who's afraid of frogs. We need someone to cry when I get mad—not argue. We need a little one who can kiss without leaving egg or jam or gum. We need a girl." (His daughter Doro was born the following year).
In his 50th-reunion yearbook at Yale, Bush summed up his life. "Yes, I am the George Bush that was once President of the United States. Now, at times, this seems hard for me to believe. All that is history and the historians in the future will sort out the bad things I might have done from the good things."
The sorting-out seems clearer, and kinder, and gentler with the passing of a quarter century. And the loss of this last-of-a-kind leader seems all the more poignant, too.