George H. W. Bush Was Decent Even to Rivals Like Me
His "kinder, gentler" personality did not fit comfortably into the Republican Party of the Newt Gingrich era.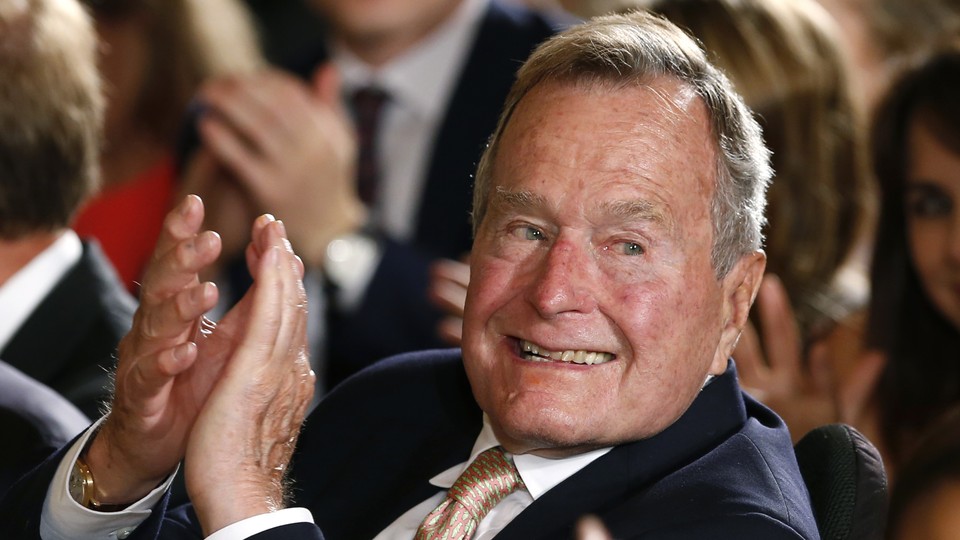 On a Wednesday morning in the United States Senate in February 1984, I was voting on President Ronald Reagan's plan to renew funding for the B-1 bomber, as I recall. The vice president was in the Presiding Officer's chair to cast the tiebreaker if necessary.
George H. W. Bush beckoned to me as the clerk was calling the roll. The night before, my campaign for the Democratic nomination for president had scored a somewhat stunning upset in the New Hampshire primary.
"That was amazing what you did last night," he whispered as reporters in the press gallery eagerly looked down on this scene. He wanted to know the next contest, and I told him the Maine caucuses were coming in a week or two.
"Barb and I have a house in Maine, and you're welcome to use it while you're campaigning there," he said. Shocked, I politely reminded him that I was campaigning for his boss's job and thus, indirectly, for his, and that it might cause him some awkwardness.
The lesson: Instinctively, he put hospitality over politics.
We'd first crossed paths professionally years before, in the late 1970s, when I was a member of the Senate Select Committee to investigate U.S. intelligence agencies, and Bush was director of the CIA. The committee was exploring excesses, such as assassination attempts and foreign-government overthrows, that predated Bush. But my recollection of that period is that he did all he could to protect the agency from scrutiny and criticism while generally complying, at least minimally, with committee requests for documents and information. (He'd succeeded William Colby, who had revealed to us the "family jewels"—internal agency studies of previous questionable activities—thus enraging career agency operatives.)
Thereafter, he became vice president, and our interactions were mostly limited to occasions such as the one during the 1984 Democratic primaries, when he would visit the Senate on the occasion of close votes.
Ideologically, like most Democrats, I differed strongly with him on Reagan-era initiatives to reduce, or even privatize, what has come to be known as the social safety net—Roosevelt and post-Roosevelt programs such as Social Security, Medicare, and others that assist needy elderly and working-class people.
Some people conveniently believed that, because Bush was humane and decent, he was not as conservative as his boss; some thought he was simply being loyal to Reagan by supporting the era's spending cuts. But of course he continued these policies, albeit with less fervor, during his sole term in the White House.
It was against this "small government" backdrop that I structured a second campaign for the presidency, in 1987. In addition, I was promoting an activist response to globalization, the information revolution, mass south-to-north migrations, and the changing nature of warfare. Prevailing conservative doctrines, it seemed to me, admitted little to no response to these new realities. And the history books will show that, while conducting a fumbling search for something called "centrism," we as a nation were losing precious time.
As others have noted in their reminiscences, Bush's "kinder, gentler" personality did not fit comfortably into the confrontational, divisive Republican Party of the Newt Gingrich era, which led us, perhaps inevitably, to the era of Donald Trump. That is why the kind, gentle appraisal of his personality and behavior—the consensus approach taken by obituary writers—seems both deserving and quaint.
George H. W. Bush will be remembered as a decent leader in a period of transition to an unhealthy, angry time.
It is telling that he seemed much more comfortable with Barack Obama than Donald Trump. In fact, I would not be surprised if he had offered his home to Mr. Obama during his 2008 or 2012 campaigns.