An Embarrassment of Glitches
A wealthy country should be able to conduct a national election with fewer problems than the United States experienced in the 2018 midterms.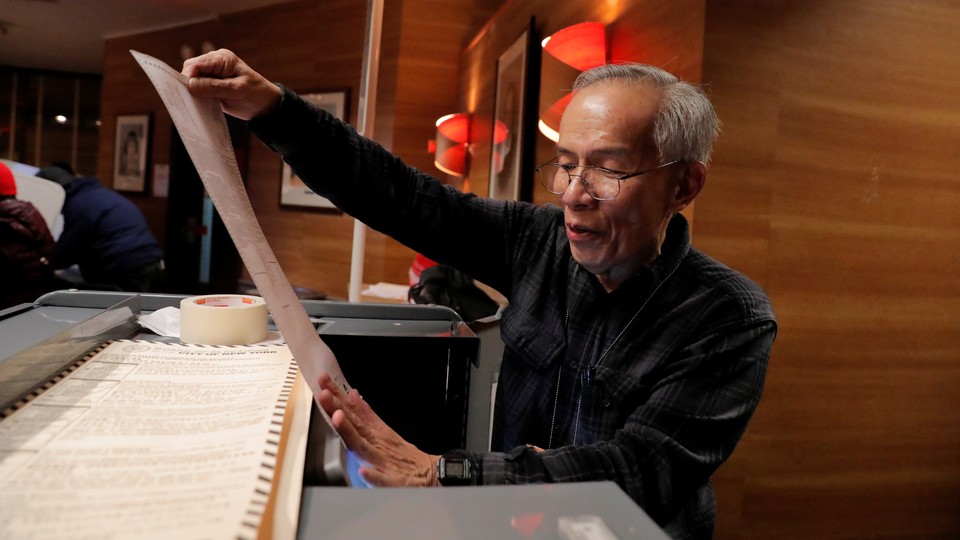 As voters headed to the polls Tuesday, the Associated Press reported an ominous statistic: "More than 40 states use computerized voting machines that are more than a decade old or are no longer manufactured." A voting machine that's been around that long is at least as old as the very first iPhone that Apple released way back in 2007.
In a high-stakes situation that requires many hundreds of people to use the same piece of technology without a glitch, would you rely on this old thing?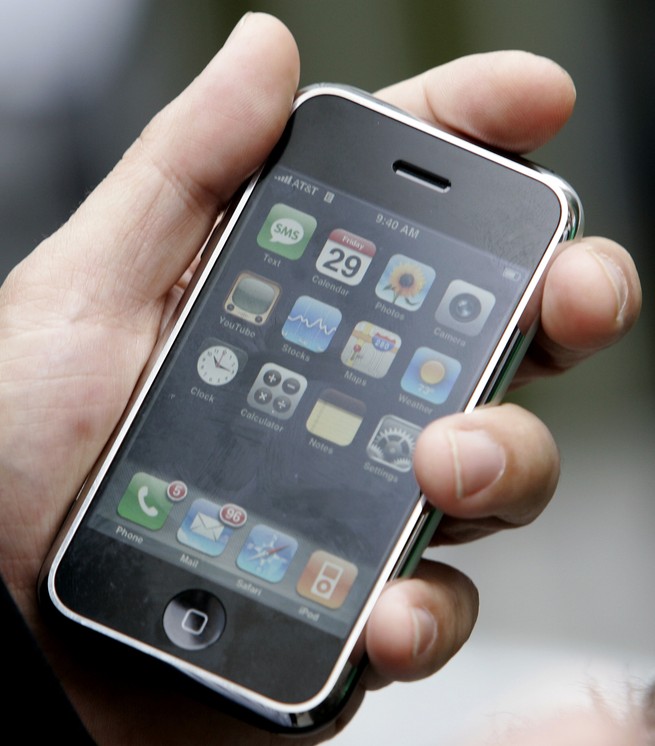 Many Americans went to polling places that relied on even older, less well-designed technology. They encountered impediments to voting. Individually, any one of the following stories could be forgiven in a country as big as ours. But taken together, they ought to embarrass a wealthy democracy.
Here's a partial survey of what happened:
In South Carolina, machines were changing votes—a "calibration issue," an election official told The State.
"In Georgia," The Washington Post reported, "voters waited more than four hours to vote at an elementary school in suburban Atlanta, where some voting machines were not working at the start of the day." (Problems were reported elsewhere in the state, too.)
The Detroit Free Press reported:
Michigan voters are being turned away from the polls, or left waiting in seemingly interminable lines, in various metro Detroit locations so far on Election Day.

Rex Nagy, a voter in Redford Township, said that his polling place at Pierce Middle School was relying on just one voting machine that he was told had not been tested before Tuesday morning. Everything was at a standstill while around 100 people waited for it to get fixed. From 7:50 a.m. to 9:30 a.m., Nagy saw about half the line leave to go to work, he said. Although Redford Township said the issue was resolved in around a half-hour, Nagy noted the line was still backed up.
According to USA Today, malfunctioning voting machines caused long lines at several precincts in Indiana.
Technical glitches were among the factors causing hours-long lines in Maricopa Country, Arizona.
In Hamilton County, Ohio, "voting machines unexpectedly rejected ballots that had not been completely filled out" in "Blue Ash, Colerain Township, Hyde Park, Walnut Hills, downtown Cincinnati, Monfort Heights and other locations," according to the Cincinnati Enquirer. And the Cleveland Plain Dealer reported that "a computer glitch at Geauga County polling places caused the system to mark some Election Day voters as having already voted by absentee ballot."
"Across New York City," the AP noted, "reports of broken ballot scanners surfaced at several polling places. Turnout was so heavy at one packed precinct on Manhattan's Upper West Side that the line to scan ballots stretched around a junior high school gym. Poll workers there told voters that two of the roughly half-dozen scanners were malfunctioning."
According to Politico, "Glitchy paperless voting machines are affecting an untold number of early voting ballots in Texas and Georgia, raising the specter that two of the most closely watched races could be marred by questions about whether the vote count is accurate."
---
Tuesday's problems were not unforeseeable––they were explicitly foreseen. In 2014, the Presidential Commission on Election Administration warned of an "impending crisis." The report inspired a nationwide survey conducted by the Brennan Center. In 2015, it produced America's Voting Machines at Risk. Its authors later warned in The Atlantic, "The problem of aging voting technology reaches nearly every corner of the United States. Unlike voting machines used in past eras, today's systems were not designed to last for decades."
Wired emphasized that 43 states "use systems that are no longer manufactured. Some election officials have resorted to scouring eBay for decommissioned equipment they can cannibalize to extend the life of machines. Georgia was in such dire straits over the lack of parts for its voting machines that it hired a consultant to build customized hardware that could run its Windows 2000-based election system software."
The 2014 report was a warning. The 2015 survey was a warning. Glitches in 2016 and 2018 were confirmation of a forewarned problem. And in 2020, when voting machines in many jurisdictions will be two years older than they are now, a glitch that alters the outcome of a race or significantly undermines faith in democracy will count as a preventable catastrophe. Acting now—spending now—is the likeliest way to prevent it.