Oversight Is the Biggest Winner of the Midterm Elections
The Democratic victory in the House provides an opportunity to drain the swamp, after two years of willful Republican cover for dodgy behavior.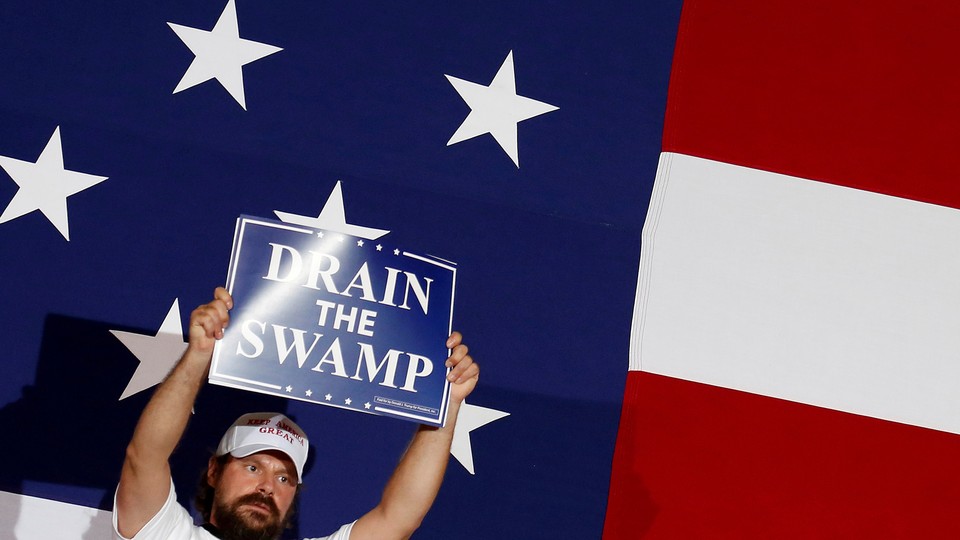 Oversight is the winner of the 2018 midterms.
For two years, as the press documented suspicious activity in all realms of President Donald Trump's life, many Americans wondered, "How corrupt is the president? How about his political allies, his business associates, his appointees, and the people who run his nonprofit foundation? Are they profiting off taxpayers or selling out the public interest?"
Special Counsel Robert Mueller afforded some hope of a partial answer. His investigation has so far ensnared Michael Cohen, George Papadopoulos, Paul Manafort, Rick Gates, and Michael Flynn, with still more indictments or guilty pleas possible before it's concluded. But Mueller has always been focused on probing foreign interference in the 2016 election, and elected Democrats could not fully probe Trump's other activities so long as the GOP held all of Congress and offered cover to their leader.
"For the last two years, I have implored House Republicans to help us gather the facts about the crisis of corruption in the Trump administration," a Democratic member of the Oversight Committee recently complained, citing 64 occasions when the GOP blocked subpoenas he sought to issue.
Voters changed all that Tuesday, giving Democrats a House majority and all the committee chairmanships and oversight tools that come with it. Now what?
Oversight Committee Democrats want private emails written by Ivanka Trump, Trump Organization documents pertaining to foreign payments, documents pertaining to sexual-assault allegations against Customs and Border Patrol employees, documents pertaining to putting a citizenship question on the 2020 census, a hearing to secure testimony from Steve Bannon, documents pertaining to allegations of political retaliation against the State Department, and much, much, much more.
Democrats on the House Ways and Means Committee intend to ask the IRS to turn over Trump's tax returns, Ari Melber reported on MSNBC Tuesday night, raising the prospect that the public will finally find out what exactly the president has been so determined to hide from us.
Other questions abound. What is the full financial relationship between Trump, his family business, and the autocrats who run the country of Saudi Arabia? What is the nature of the Trump Organization's ties to Iran's Revolutionary Guard? How credible are the sexual-misconduct allegations that more than 20 women made against Trump, and to how many women has he paid hush money?
At The New York Times, David Leonhardt and Ian Prasad Philbrick compiled their own list of credible corruption allegations against Trump.
Among them:
"Officials from foreign governments have realized they can curry favor with Trump by spending money at his properties. The list of governments includes Saudi Arabia, Malaysia, Bahrain, Azerbaijan, Turkey, China, India, Afghanistan and Qatar."
"In May, an Indonesian real-estate project that involves the Trump Organization reportedly received a $500 million loan from a company owned by the Chinese government. Two days later, Trump tweeted that he was working to lift sanctions on a Chinese telecommunications firm with close ties to the government—over the objections of both Republicans and Democrats in Congress. He ultimately did lift the sanctions."
"Trump suggested to Prime Minister Shinzo Abe of Japan during a meeting at Mar-a-Lago in February 2017 that Abe grant a coveted operating license to a casino company owned by Sheldon Adelson, who donated at least $20 million to Trump's presidential campaign."
There is much, much more on their list, too.
And don't forget the list that Republicans made of the matters that they expected their Democratic rivals to probe if they retook the House.
Axios published a partial version last summer:
Trump's tax returns
Trump-family businesses—and whether they comply with the Constitution's emoluments clause, including the Chinese trademark grant to the Trump Organization
Trump's dealings with Russia, including the president's preparation for his meeting with Vladimir Putin
The payment to Stephanie Clifford, aka Stormy Daniels
James Comey's firing
Trump's firing of U.S. attorneys
Trump's proposed transgender ban for the military
Treasury Secretary Steven Mnuchin's business dealings
White House staff's personal email use
Cabinet-secretary travel, office expenses, and other misused perks
Discussion of classified information at Mar-a-Lago
Jared Kushner's ethics-law compliance
Dismissal of members of the EPA board of scientific counselors
The travel ban
Family-separation policy
Hurricane response in Puerto Rico
Election security and hacking attempts
White House security clearances
A serial liar heads the executive branch. The appearance of impropriety that surrounds him is unsurpassed in the post-Watergate era. And the Constitution charges Congress with checking his abuses. Republicans have disgraced themselves over the past two years by failing to probe matters as basic as what business relationships and other conflicts divide Trump's loyalties between the country's interests and his family's interests as he presides over U.S. foreign policy.
Now there is an opportunity to uncover the truth. If Democrats waste it—if they fail to push hard enough or widely enough for answers, or if they overreach, indulging in rhetoric that doesn't hold up under scrutiny to win a news cycle at the cost of their longer-term credibility—they will not deserve the show of trust that America's voters just bestowed.