Trump Is Rewriting Asylum Law
It's already difficult to obtain asylum. But the president, for no good reason, is set on making it near-impossible on the southern border.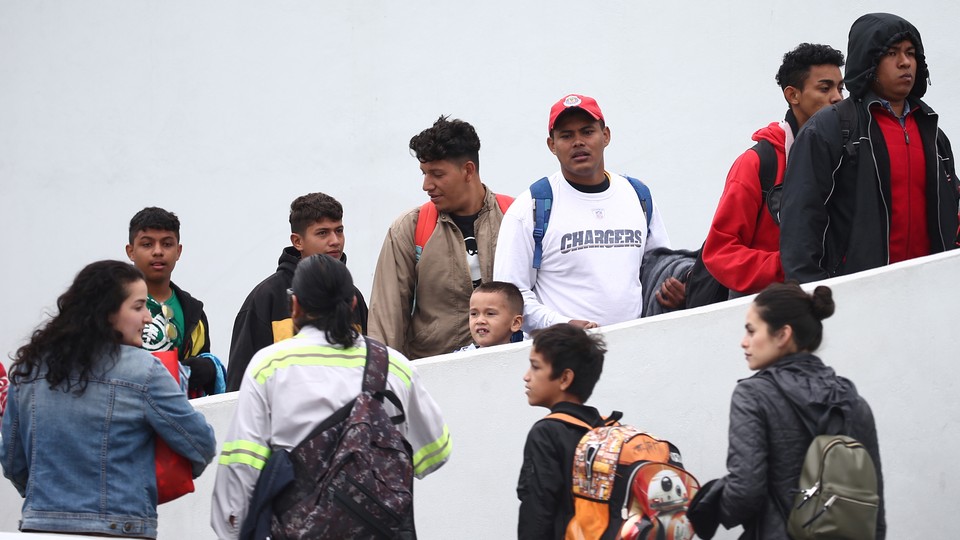 Two days after yet another mass shooting, President Donald Trump on Friday issued a proclamation addressing mass migration. "The continuing and threatening mass migration of aliens with no basis for admission into the United States through our southern border," he wrote, "has precipitated a crisis and undermines the integrity of our borders. I therefore must take immediate action to protect the national interest."
The mass shooting, like most mass shootings, was committed by an American citizen, a white male. There's not much detailed information about who is part of the so-called caravan on the way to the southern border. But it seems the migrants hail mostly from Guatemala, Honduras, and El Salvador, where femicide rates are the highest in the world and government protection is nonexistent. Chances are, they resemble my clients at the Harvard Immigration and Refugee Clinical Program. People like Maria, who was kidnapped by her abuser, an auxiliary for the Honduran authorities, at a young age and subjected to years of rape. And like Jennifer, who was forced to flee El Salvador after gang members threatened to kill her and her family because they had encouraged youths to join the Evangelical Church instead of the gangs. (I've used pseudonyms to protect my clients' anonymity.)
Our clients sit in our office for hours at a time and share horrific stories of the violence they suffered in their home countries, and of the children, parents, and siblings they were forced to leave behind. Despite everything they have lived through, they bring tremendous warmth and generosity. They also bring their tremendous faith in America, a country that they believe can and should offer them protection.
Trump's proclamation and new interim regulations fly in the face of that belief. The administration plans to restrict asylum only to those who present themselves at ports of entry; people entering the country via the southern border in any other way would be limited to much more circumscribed forms of relief that would not include reuniting with their family members, obtaining a green card, or a path to citizenship. The administration also plans to enter into an agreement with Mexico to force asylum seekers traveling through that country to claim protection there instead of in the United States.
At first blush, these rules may not seem extreme. But the "ports of entry" restriction ignores the fact that Customs and Border Protection routinely turns away people even after they have asked to apply for asylum. As one woman told the Inter-American Commission on Human Rights, "I told [the CBP official] that I wasn't from here, that I was from Honduras, and that I wanted asylum. He told me that there was no longer asylum for Hondurans … I started to explain why I couldn't return and what I was fleeing from, but he interrupted me and said that everyone comes with the same story, that he couldn't help me."
The administration's Mexico agreement, moreover, is not a viable solution. The asylum system in Mexico is still nascent; the Mexican Commission for Refugee Assistance, for example, employs fewer than 60 adjudication officers, and they are severely overworked. Asylum grant rates are notoriously low, especially for children, and many applicants are summarily returned to their home countries without being properly screened for protection.
Even as the Trump administration's proposals tarnish America's reputation as a country welcoming to "huddled masses," they directly contravene the spirit and letter of the Refugee Act of 1980, in which Congress "declare[d] that it is the historic policy of the United States to respond to the urgent needs of persons subject to persecution in their homelands." The statute specifically provides that people can apply for asylum if they are "physically present" in the U.S., "whether or not [they arrived] at a designated port of arrival … irrespective of [their] status."
And while the administration contends that people arriving from Central America "appear to have no lawful basis for admission into our country," asylum law does not require any such thing. (Here the administration seems to be conflating asylum-seeking and unlawful entry.)
The president is also flouting global norms. As the U.S. Supreme Court itself has recognized, "[O]ne of Congress' primary purposes [with the 1980 Refugee Act] was to bring United States refugee law into conformance with the 1967 United Nations Protocol Relating to the Status of Refugees, to which the United States acceded in 1968."
What could justify the administration's decision to, in effect, unilaterally rewrite asylum law?
The president's lawyers are mainly invoking Section 212(f) of the Immigration and Nationality Act, which gives the executive broad authority to suspend or restrict "the entry of any aliens or any class of aliens" if their entry "would be detrimental to the interests of the United States." (They invoked the same section in defense of the travel ban.)
But the administration has provided no basis for the assertion that keeping asylum seekers out is in the national interest. At least, no official basis. On social media and on television, President Trump and members of his administration have suggested that the Central American migrants headed to the border are violent criminals and that the "caravan" has been infiltrated by Middle Eastern terrorists.
The Trump administration makes asylum seem like an immigration-law loophole. In truth, it's not at all easy to obtain. Under the expedited removal process, in place since 1996, individuals arriving in the country without proper documentation or with fraudulent documents can be returned immediately to their countries of origin, without court hearings, unless they can establish a "credible" fear of persecution or torture. In general, asylum applicants must prove that they have suffered or have reason to fear serious harm on account of their race, religion, nationality, political opinion, or membership in a particular social group, and that their home country cannot or will not offer them protection. In 2016, the grant rate for asylum cases in immigration court was about 43 percent.
Moreover, the asylum system already has built-in safeguards to—how shall I put this?—protect the national interest. People who have provided material support to terrorism, who have been convicted of serious crimes in the U.S., or who have committed serious nonpolitical crimes outside the U.S., as well as people who have persecuted others or have residency in a third country, are all barred from asylum. Recent decisions by the Board of Immigration Appeals have defined these categories broadly; for example, one applicant who was forced to cook and clean for a guerrilla group against her will in 1990 was barred from asylum this summer.
Indeed, the U.S. Commission on International Religious Freedom found in a recent report that the current system is already too rigid, too impersonal, and too quick to deny claims. If the administration wants to make the system stronger, it should focus on hiring more asylum officers and immigration judges to tackle the backlog.
The administration's bluster about chaos and confusion at the border and the threats posed by asylum seekers is just that—bluster. An overly deferential judiciary might buy its arguments, but a fair one could not.