Cities That Lost Amazon's HQ2 Contest Can Still End Up Ahead
There's a silver lining for the 235 places that did not win.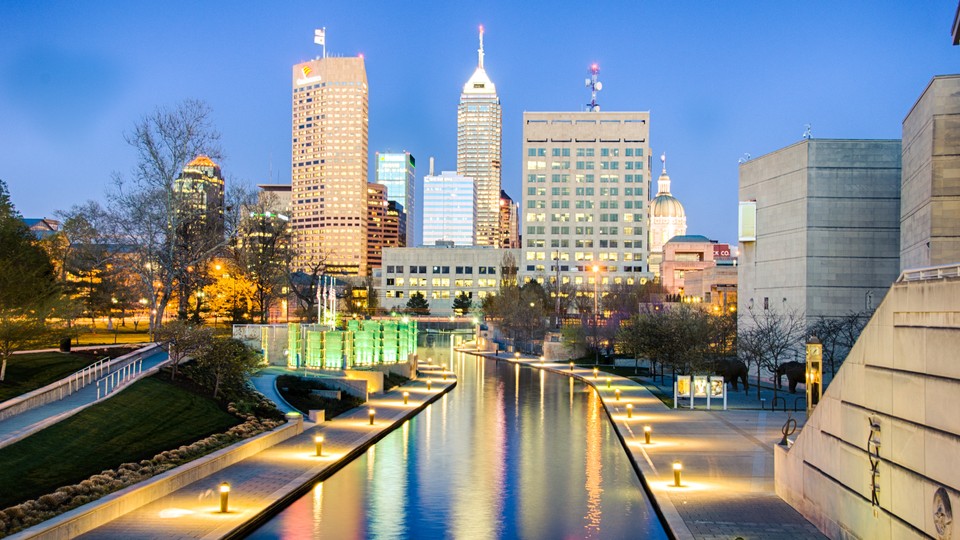 Amazon is getting pounded from the left, right, and center for the outcome of its HQ2 contest. A "sham," a "stunt", and a "bait-and-switch" are just a few of the many insults used to describe the company's decision to plant new offices in two rich areas that, as the saying goes, will now get richer.
Amazon received 238 bids for HQ2. New York City, Northern Virginia, and Nashville—which is getting an operations outpost— won. That means there are 235 losers. But the critics are missing the silver lining: There's a lot of potential value in losing, for those cities that are willing to make the most of it.
The 1991 competition for a United Airlines maintenance base was the Amazon HQ2 of its day. The two finalists were Oklahoma City and Indianapolis. Oklahoma City, civically desperate in the wake of the 1980s energy bust, was sure it would win. Its subsidy package was the best. Its voters had even approved a temporary sales-tax increase to raise $120 million for United.
United picked Indianapolis. After some prodding, United told Oklahoma City's leaders that the reason they lost was that it couldn't imagine its employees living there. Oklahoma City's leaders took this tough feedback to heart and decided to do something about it. They asked their voters to once again approve a temporary sales tax—but this time to invest in their own city instead of in United Airlines subsidies. This turned out to be the first of three major capital programs, each totaling hundreds of millions of dollars, that helped transform Oklahoma City for the better. In his new book, The Next American City, the former mayor Mick Cornett calls United Airlines "the best thing that never happened."
Oklahoma City is not the only place that's won for losing. New York City was one of five finalists to host the 2012 Summer Olympics, which ultimately went to London. But New York benefited enormously from that disappointment. To prepare the city for the Olympics, local government proposed several major civic improvements that went forward anyway, including the redevelopment of the Far West Side of Manhattan. This required changes such as rezoning the area for high-rise development and the construction of an extension of the No. 7 train.
Dan Doctoroff, who spearheaded New York's Olympics bid and served as deputy mayor under Michael Bloomberg, wrote in his book, Greater Than Ever, "I don't think the Hudson yards rezoning, the subway extension, and all the other investment would have happened if the Olympics catalyst and its strict timetable … hadn't existed." Doctoroff's team also focused attention on the East River waterfront, which helped catalyze development in Long Island City. Yes, Long Island City, where Amazon is now locating its New York HQ2. So, in a sense, there's a connection between New York losing the 2012 Olympics and winning the HQ2 competition.
The pressures of an Olympics bid created the conditions under which farsighted leaders could create and push through changes faster than would have otherwise been possible. And guess what? There's already evidence that the just-concluded HQ2 competition had the same effect.
The process helped local leaders in Indianapolis, one of Amazon's 20 finalist cities, accelerate changes in their approach to economic development. Michael Huber, the CEO of the Greater Indianapolis Chamber of Commerce, told me that "Amazon's process forced us to throw out the traditional rule book for attracting business investment and talent—traditionally a cost- and incentive-focused process. Their process forced us to think more creatively about human capital and the workforce of the future. We used the Amazon process to add a sense of urgency to the new tools and partnerships (workforce/talent, land use, transit) we are developing as a region."
Other Amazon finalists took a similar approach. Chicago pushed forward development on several of its megaprojects. Curt Bailey, the president of the developer Related Midwest, told Crain's Chicago Business, "We had to think more clearly and more quickly about what to do with our sites. There was a great exercise involved in that." In Denver, J. J. Ament, the CEO of the Metro Denver Economic Development Corporation, said a year ago, "Whether Amazon chooses Colorado or not, this process has been helpful to our community." Whatever you might think of Amazon, it's hard to deny that savvy civic leaders leveraged the process to their advantage.
Smaller, less prominent finalists, like Columbus, Pittsburgh, and Raleigh, which may never have been legitimate candidates, at least generated significant positive press in the national media that they wouldn't otherwise have received.
There's also a valuable lesson here for anyone paying attention, and it's not just that the rich get richer. By running such a highly public process and then picking New York and the Washington, D.C., area, Amazon sent a clear signal about what it takes to lure a major tech company in the 21st century. It's not weather—Los Angeles didn't make the cut; it's not subsidies—other regions offered more subsidies. It's talent.
For those cities that aspire to compete for technology or other knowledge-economy jobs, Amazon just provided a gigantic case study on the importance of talent over subsidies. While criticizing Amazon for its process is entirely justified, in this area, at least, the company has done American cities a service; it has revealed the way the game is really played and won.