How the Democrats Won
In this year's elections, many voters in previously red America supported candidates across racial, socioeconomic, and cultural lines.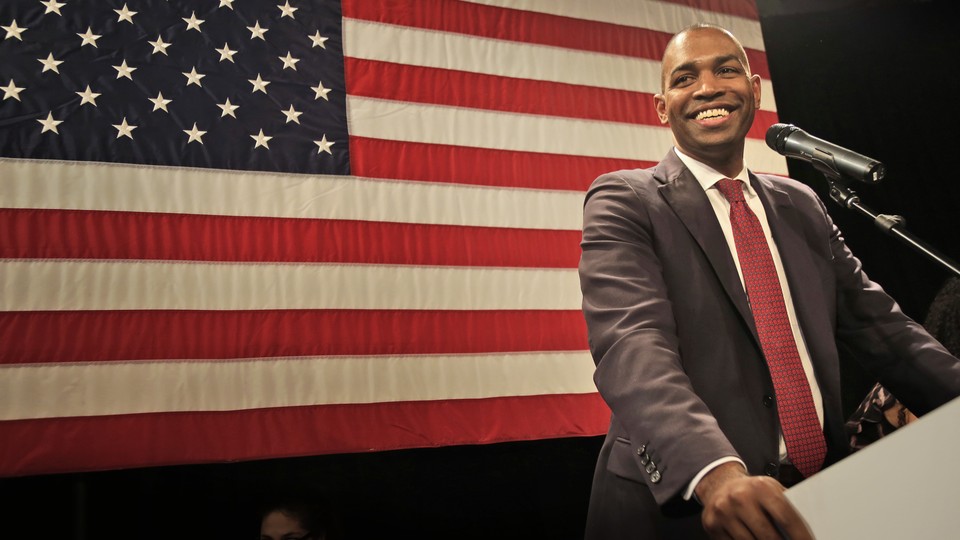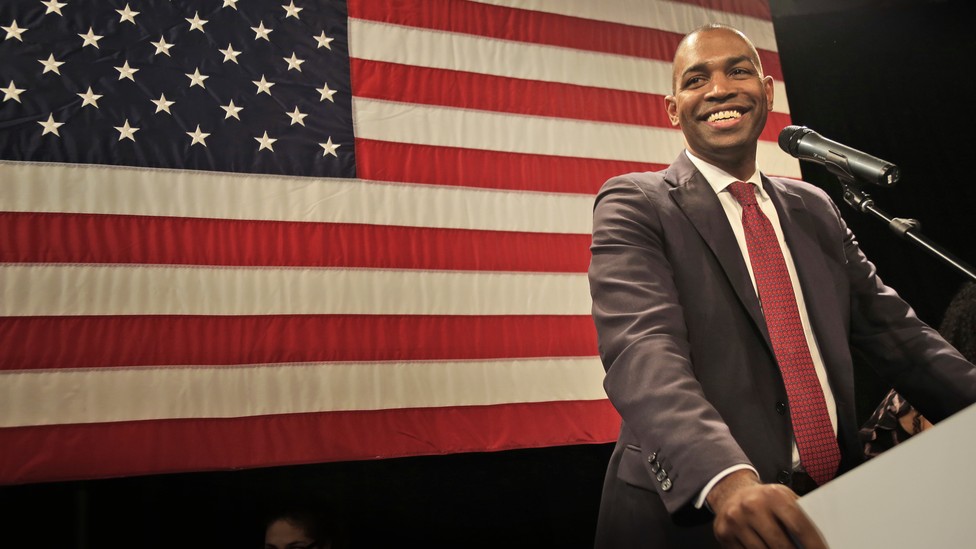 Nearly every day, Americans are given fresh reasons to be horrified by Donald Trump. The president's tweets are written to exacerbate social divisions, and his policy agenda is designed more to score political points than to solve actual problems. But beneath progressive outrage sits a deep unease, fueled by a gnawing question: How could America have elected both Barack Obama and a man so prone to race-baiting, tribalism, and transparent dishonesty?
There's plenty of evidence to suggest that America is coming apart at the seams, split not only by race but also along socioeconomic, educational, and cultural lines. But in ways that would have seemed improbable if not impossible just a few short years ago, voters in what had been red America chose in this year's midterms to support candidates across those various divides.
I was particularly struck by the results from two suburban districts distinguished by the men they've previously sent to Washington. Georgia's Sixth Congressional District, situated to the north and west of Atlanta, was once Newt Gingrich's home base. Dennis Hastert hailed from Illinois' Fourteenth District, on the outskirts of Chicago. Both men rose to become Republican speakers of the House. And neither district was considered closely competitive when I ran the Democrats' congressional campaign arm 12 years ago.
To this day, the two reliably Republican districts have a lot in common. Both voted for Mitt Romney over Barack Obama, and for Donald Trump over Hillary Clinton. Both districts boast a high proportion of college-educated voters. Finally, but maybe not surprisingly, large shares of both districts are white: more than 60 percent of residents in Gingrich's old stomping ground, and nearly 86 percent in Hastert's.
This year, both districts broke the Trumpian script by turning blue. Lucy McBath, who connected with thousands of voters by sharing the anguish she felt after losing her son to gun violence, won in Georgia. Lauren Underwood, a nurse who focused her campaign on health care, economic growth, and gun safety, prevailed in Illinois. Here's what's so remarkable: Representatives-elect McBath and Underwood are both African American.
Houston, Texas, has a similar story to tell. Harris County, which includes Houston, has elected white Republican men to run its local government in every election for decades. But this year, Harris County elected as its top executive a 27-year-old woman who promised to fight corruption, increase transparency, and champion criminal-justice reform. Lina Hidalgo is a Colombian immigrant.
These stories are part of an emerging trend. Antonio Delgado, an African American Rhodes Scholar attacked by the GOP as a "big-city rapper," won a congressional race in New York's Hudson Valley. Andy Kim, who is Asian American, won a congressional race in suburban New Jersey. I'm not convinced these places would have been willing to elect minority candidates or women when Democrats took back the House in 2006. This year, any doubts were put to rest.
These results are both breathtaking and heartwarming. While there is ample evidence that the divisions we saw in 2016 only got deeper in 2018, there are also signs that Americans are finding common ground and unity. Just when you thought things could not get worse, they didn't.
Activists should take heart in knowing that many Americans aren't buying the message that they ought to retreat into their own corners, voting exclusively for people who look or sound like them. As Barack Obama said in Grant Park the night he was elected president: "If there is anyone out there who still doubts that America is a place where all things are possible, who still wonders if the dream of our founders is alive in our time, who still questions the power of our democracy, tonight is your answer." That is still true.
Maybe even more important, these races should serve as a reminder that Democrats' impulse to paint Trump supporters with a single brush can obscure what's really happening in voters' hearts and minds. Yes, too many Americans continue to cast their ballot on the basis of ingrained prejudice. But many of the men and women who voted for President Trump in 2016 saw beyond their own identity when voting earlier this month.
Just think what that means. In the face of hostile rhetoric from the White House and a political system prone to exacerbating the divisions separating Americans by gender, geography, religion, sexual orientation, and, of course, race, millions of Americans refused to take the bait. Swing voters remain open to the most convincing argument, no matter who's delivering it.
For progressives, that lays down a new gauntlet: As evidenced by the triumphant victories of Hidalgo, McBath, and Underwood, they need to focus on enticing voters not by bludgeoning Trump, but with impressive candidates who offer hopeful, purposeful messages. That's how they'll wed the Democratic Party's urban base with the swing voters who live in broader metropolitan regions. And that, in the end, is the key to Democrats winning in 2020 and beyond.
In the midterms, the American people not only rejected Donald Trump; they also rejected his message. That's reason for Americans of all backgrounds to take heart—not just about the results of these elections, but for what they mean for the future.