Left-Wing Protests Are Crossing the Line
Protesters harassing prominent conservatives in their private lives fall short of the standards of civil disobedience.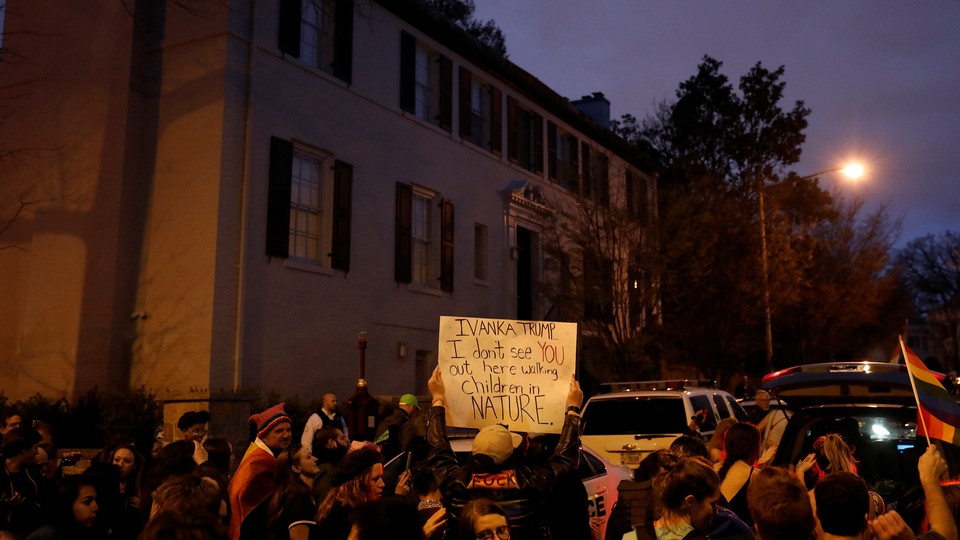 Last Saturday night, a Fox News contributor named Kat Timpf was at a bar in Brooklyn. As she recounted the incident to National Review, a man asked her where she worked. A while later, she said, a woman began "screaming at me to get out." Timpf walked away, but the woman followed her around the bar while other patrons laughed. Fearing physical attack, Timpf left. She told National Review and The Hill that it was the third time she has been harassed since 2017. A few months earlier, a woman yelled at her during dinner at a Manhattan restaurant. The year before, while she was about to give a speech, a man dumped water on her head.
Protests like these, that target people's private lives, are wrong. They violate fundamental principles of civil disobedience, as understood by its most eminent practitioners and theorists. And they threaten the very norms of human decency that Trump and his supporters have done so much to erode.
Unfortunately, they seem to be spreading. The Wednesday before Timpf's experience at the Brooklyn bar, a dozen or so protesters associated with an anti-fascist group called Smash Racism DC assembled in front of the Fox News host Tucker Carlson's home. While some of what transpired is disputed, this much is not. The protesters chanted, among other things, "We know where you sleep at night." One of them knocked three times on the Carlsons' door. Carlson himself was not home, but his wife locked herself in the pantry and called 911. A protester also spray-painted an anarchist symbol on the Carlsons' driveway. In a now-deleted tweet, Smash Racism declared that Carlson had "spread fear into our homes" and that "tonight, we remind you that you are not safe either."
In June, roughly a dozen protesters chanted "shame" and "End family separation" at Homeland Security Secretary Kirstjen Nielsen while she ate dinner with a companion at a Washington restaurant. Later that week, health-care protesters confronted Florida Attorney General Pam Bondi after she left a movie in Tampa Bay. In August, according to the conservative activist Candace Owens, protesters began "harassing and throwing things" at her and a fellow conservative activist, Charlie Kirk, while they ate breakfast in a restaurant in Philadelphia. In September, demonstrators chanting "We believe survivors" chased Ted Cruz and his wife from an Italian restaurant near the Senate. In a recent interview, Carlson said that he can't go to restaurants anymore because "I get yelled at" and "it just wrecks your meal."
Conservatives, of course, aren't the only ones who endure intimidation in their personal lives. Since Christine Blasey Ford's testimony against Brett Kavanaugh, harassment has forced her family to move four times, prevented her from returning to work, and required her to hire private security. In October, a Donald Trump supporter sent pipe bombs to the homes of George Soros, Hillary Clinton, and Robert De Niro, along with other targets. In June, conservatives grew irate after Representative Maxine Waters told a crowd that "if you see anybody from [Trump's] cabinet in a restaurant, in a department store, at a gasoline station, you get out and you create a crowd, and you push back on them, and you tell them they're not welcome anymore, anywhere." But while Waters urged progressives to intrude upon the private lives of their political opponents, she did not endorse physical attacks, something Trump has done repeatedly.
And the people who scream at Tucker Carlson or Kirstjen Nielsen or Ted Cruz have good reason to be angry. The president of the United States is a bigot. He spreads conspiracy theories; he treats the rule of law with contempt. His policies, whether in Yemen, in Puerto Rico, or on America's southern border, leave vulnerable people brutalized or dead. Carlson, Nielsen, and Cruz are all—in different ways—Trump's agents. Nothing they have endured remotely compares to the suffering that they have helped to inflict.
But whatever the merits of the causes they promote, they are embracing methods that are deeply corrosive. It matters how activists oppose a government. When they prevail, the approaches they embraced in opposition to power deeply shape how they exercise it themselves. And the protesters harassing prominent conservatives during their private lives have crossed a dangerous line.
---
The term civil disobedience was invented by Henry David Thoreau, popularized by Mahatma Gandhi, and defined—most prominently—by the philosopher John Rawls. Rawls called it the "public, non-violent and conscientious breach of law undertaken with the aim of bringing about a change in laws or government policies."
The recent protests at homes, bars, and restaurants meet some aspects of Rawls's test, but fail in one key respect. Some have violated the law, while others have skirted its boundaries. And, as Rawls demands, the recent demonstrations have also been largely nonviolent.
The problem is that they are not sufficiently "public" and "conscientious." By public, Rawls meant that civil disobedience is a form of political argument. Normal criminals try to break the law without anyone knowing about it. People who commit civil disobedience, by contrast, publicize their infractions to dramatize the injustice they seek to change. For civil-rights activists, furtively sneaking a hamburger at a segregated lunch counter served no purpose. The point was to demand service openly, accept arrest, and thus communicate with the public. In his "Letter From Birmingham Jail," Martin Luther King Jr. wrote, "One who breaks an unjust law must do so openly, lovingly, and with a willingness to accept the penalty." In so doing, they "arouse the conscience of the community over its injustice."
There is a place for private protest. People have the right to quietly refuse to participate in actions they consider immoral—serving in war, for instance—so long as they, too, accept the consequences. Philosophers call this "conscientious objection." By this standard, Stephanie Wilkinson, who owns the Red Hen restaurant in Lexington, Virginia, was entirely justified in refusing to serve White House Press Secretary Sarah Huckabee Sanders this summer.
But the people who protested outside Carlson's home, or hounded Nielsen and Cruz in restaurants and Timpf at a bar, were not conscientious objectors. They were not seeking to avoid being implicated in an immoral action. They were seeking to impede people whose actions they consider immoral from conducting their normal lives. Yet they fell short of meeting the standards of civil disobedience. The woman who screamed at Timpf, and the man who doused her with water, communicated no public message at all. The people who protested Carlson at his home, and Nielsen and Cruz at restaurants, did convey a message. They filmed videos and posted social-media statements that conveyed their objections to Carlson's views on race, Nielsen's policies towards migrants, and Cruz's support for Kavanaugh. But they failed in another respect: By obscuring their identities, they refused to take individual responsibility for their actions. When people tried to film them, the demonstrators outside Carlson's house covered their faces.
Protesting without revealing your identity—even after the fact—is like savaging someone in an anonymous op-ed. You can't foster honest and meaningful communication with the society you wish to change if you don't allow people to respond. Showing your face at a protest, like affixing your name on an op-ed, creates a measure of accountability. People think harder about their actions when they know they'll be forced to answer for them. By protesting openly, King and his supporters took upon themselves a moral rigor that the anti-fascists of the Trump era spurn.
In addition to being insufficiently "public," the recent protests are insufficiently "conscientious." They don't convey what the University of Warwick philosopher Kimberley Brownlee calls a "principled outlook."
Part of being "conscientious" is ensuring, as much as possible, that protests occur where the injustices are perpetrated. That principle isn't absolute. It may make sense for NFL players to take a knee before games—rather than in front of police stations—given the massive audience those games enjoy. But there's no good argument for protesting outside Carlson's home rather than in front of Fox News, or at a restaurant where Nielsen is eating rather than immigrant-detention centers or the Department of Homeland Security. For one thing, it clouds the message. When sexual-assault survivors descended on the Senate, they were targeting the people empowered to confirm Brett Kavanaugh in the place where they would do it. Their location highlighted their moral appeal. But Ted Cruz doesn't confirm judges while eating dinner with his wife.
What's more, protesting in private and semiprivate spaces increases the risk of collateral damage. It's one thing to inconvenience and embarrass Cruz and his staffers or Carlson and his employees, who have chosen to participate in his public actions. It's another to inconvenience and embarrass their families. The Smash Racism DC protesters didn't even make sure Carlson would be home when they gathered outside his house. So their most immediate victim was his wife.
Most importantly, trespassing upon someone's personal life is, by its nature, intimidating. It threatens the zone of privacy upon which people deeply rely. The protesters know that. In an essay written for ThinkProgress, one of the people at the Carlson protest, Alan Pyke, acknowledges that its point was to make Carlson and his family experience some of the fear that they help inflict upon "marginalized communities." Pyke writes that "the point … is to unsettle and frighten—and I certainly would have been frightened had it been me in that house."
The principle is: Turn your enemies' misdeeds upon them; fight fire with fire. That's a far cry from King's insistence, in his Birmingham-jail letter, "that the means we use must be as pure as the ends we seek." Or Gandhi's declaration that "If we could change ourselves, the tendencies in the world would also change." Underlying the process that King called "self-purification" is a recognition—which King may have gleaned from Reinhold Niebuhr, a theologian he admired—that everyone is corrupted by self-interest and the lust for power. People aren't as morally pure as they believe themselves to be. Acknowledging that means accepting limits on the power we assume over others. It means resisting the seductive claim that because our motives are virtuous, we can take liberties we would never grant our adversaries. Because King took pains to ensure that his methods were consistent with his goals, he didn't have to fear that others might employ those methods as well.
There are, after all, conservatives who sincerely believe that liberals are behaving as monstrously as the Smash Racism DC protesters believe Carlson is behaving. And not all of them are bigots. In evaluating the protests against Carlson, Cruz, Nielsen, and Timpf, liberals should consider the anti-abortion movement. Americans can tolerate a society in which anti-abortionists march and pray in front of abortion clinics. We cannot tolerate a society in which they knock on the door of abortion doctors and tell their families that "we know where you sleep." We cannot tolerate a society in which anti-abortion demonstrators make it impossible for Rachel Maddow, Elizabeth Warren, and the leaders of Planned Parenthood to go out with their families to eat. Because King sought to convince rather than intimidate, and because his methods reflected a basic respect for the humanity of his political adversaries, we can universalize his protests. We can't universalize Smash Racism DC's.
And if liberals and leftists are not moved by appeals to principle or pragmatism, perhaps they will listen to narrow self-interest. If anti-fascists grow accustomed to invading the personal space of Trump's supporters, they will also invade the personal space of liberals who they do not believe are opposing Trump and his policies vehemently enough. This isn't a hypothetical concern. In 2017, anti-fascists in Portland camped out in front of the house of Mayor Ted Wheeler, a liberal Democrat. They scattered trash on his lawn and hurled obscenities at his wife and kids. Their objection: Portland had not divested from companies that support the Dakota Access Pipeline.
Anti-fascists might object that the legitimacy of a protest cannot be evaluated in the abstract. The more extreme the injustice, the more extreme the measures that people can take to resist it. There's something to this. Americans lionize Nelson Mandela, who endorsed armed struggle, because he argued that in apartheid South Africa—which, unlike the United States, made no pretense to racial equality in its founding documents—civil disobedience alone was not enough. Rawls himself argues in A Theory of Justice that his definition of civil disobedience applies to a "more or less democratic state" which "is well-ordered for the most part but in which some serious violations of justice nevertheless do occur."
Is Trump's America such a place? That question underlies the debate over the protests targeted at people like Tucker Carlson. But it's worth remembering that King accepted the restraints of Rawlsian civil disobedience in a segregated south that was, by any reasonable measure, less just and less democratic than America is today. Gandhi did so in colonial India, where he was not even a citizen of the British empire that dominated his life. King and Gandhi's tactics proved effective, and they shaped the political forces—the Congress Party in India; the Democratic Party in the United States—that they helped bring to power. It is in part because of them that India and the United States are multicultural democracies today.
The people protesting Trump and his allies should remember that. The methods they use now will not only prove more or less effective in checking Trump's actions. They will help define the progressive alternatives that emerge in his wake. George Kennan once said, "There is a little bit of totalitarian buried somewhere, way down deep, in each and every one of us." The more power we liberals amass in the years to come, the more we must remember that Kennan's warning doesn't only apply to Tucker Carlson. It also applies to the people standing on his lawn.