Can Police Retaliate Against Loudmouths?
The Supreme Court will rule on whether citizens can talk back to law enforcement without fear of consequences.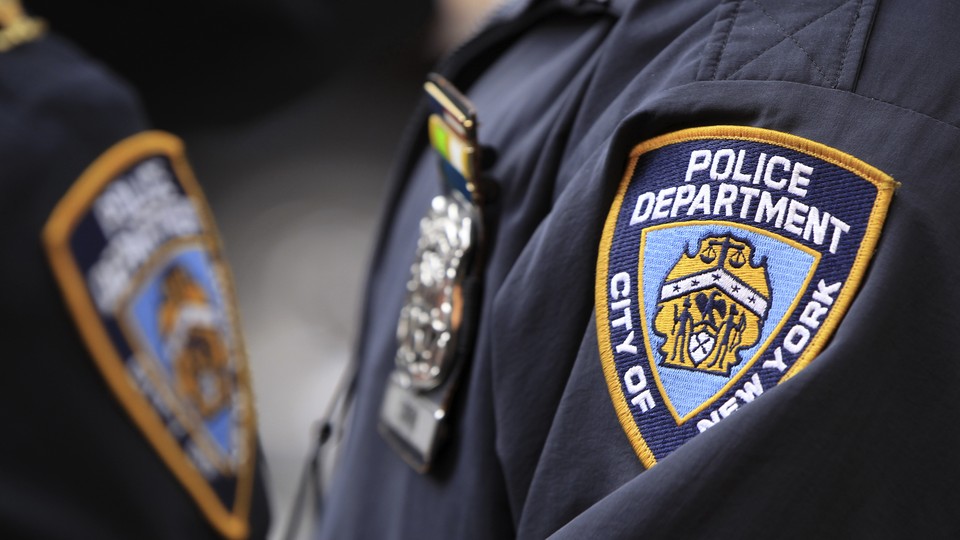 Updated at 9:52 a.m. ET on November 30, 2018.
Arctic Man is Alaska's answer to Nevada's more famous Burning Man. The writer Matt White once described it as "a weeklong booze and fossil-fueled Sledneck Revival bookended around the world's craziest ski race," during which "something like 10,000 partiers and their snowmachines disgorge onto Camp Isabel's 300-acre pad to drink, grill, fight, drink and, at least while the sun is out, blast their sleds through the ear-deep powder in the surrounding hills one last time before it all melts away."
As one can imagine, Arctic Man revelers sometimes attract the attention of law enforcement. One such meeting led to a case called Nieves v. Bartlett that will be argued before the Supreme Court on Monday, and that may finally resolve the question of whether a citizen can ignore or even talk back to police officers without fear of consequences.
In theory, the First Amendment protects a citizen's right to talk back. But anyone who has ever been around citizen-police confrontations knows that, on occasion, officers (who are as human as anybody else) decide they've had enough and place the loudmouth under arrest.
When can the citizen sue for "retaliatory arrest"? More properly, what if the citizen has done, or seems to have done, something that gives the officer "probable cause," but that offense might have gone unnoticed except for a "retaliatory motive"—the desire to shut the citizen up?
A case last term was supposed to settle the issue. Fane Lozman was arrested in 2006 during a public comment period at a meeting of the City Council in Riviera Beach, Florida. Lozman was a well-known local gadfly who'd already won a case against his hometown at the Supreme Court once before. (Lozman had questioned an economic-development project that the council favored; the city government responded by maliciously seizing and sinking the houseboat Lozman lived in.) The council secretly planned to have police arrest Lozman—in order to "intimidate" him— if he spoke up at a meeting. He was cuffed and led out of the session.
Police charged him with "disorderly conduct." The local prosecutor, however, refused to prosecute, and the case was dropped.
After the city prosecution fizzled, Lozman filed a civil suit against the city in federal court. The facts made "retaliatory arrest" an easy conclusion, but the federal district judge, after deep research, concluded that Lozman could legally have been arrested for violating the obscure state crime of interrupting "any assembly of people met for the worship of God or for any lawful purpose." That wasn't the charge; indeed, neither the officers nor their superiors had ever heard of the statute, passed in 1868. Nonetheless, there was, in some strange, abstract legal sense, probable cause floating in the air. The judge said that was the end of Lozman's lawsuit, and dismissed it.
The U.S. Supreme Court reversed. But instead of the larger issue—does the existence of probable cause for any charge negate a claim for retaliatory arrest?—Justice Anthony Kennedy's 2017 opinion focused on the issue of the city council's "official retaliatory policy," which made Lozman's case unusual, "unlike an ad hoc, on-the-spot decision by an individual officer." Because those facts were "far afield from the typical retaliatory arrest claim," Kennedy wrote, the larger issue "must await a different case."
Which takes us to Arctic Man, and one of those "ad hoc, on-the-spot" decisions, this time made by an Alaska state trooper, Sergeant Luis Nieves, during an encounter with Russell Bartlett, one of the roughly 10,000 subzero merrymakers gathered at Camp Isabel for booze and merriment.
What is agreed is that Nieves approached Bartlett to ask him to put his beer keg inside his RV. Bartlett—who had, it is safe to say, looked that evening upon the wine when it was red and gave its color in the cup—refused to talk to Nieves. He had every legal right to do that; citizens don't have to answer questions from police, and there was at that point no evidence of any crime. Nieves left. Not long afterward, a second trooper, Bryce Weight, approached another attendee, who appeared to be underage. Bartlett intervened, telling the young man not to talk to police and instructing Weight to leave the boy alone. The exchange was, to say the least, testy. Bartlett was standing close to Weight and speaking loudly; Weight shoved Bartlett away, and Nieves arrested Bartlett.
According to Bartlett, Nieves then said, "Bet you wish you would have talked to me now." The troopers deny this; a partial video record of the encounter doesn't include those words. (The state declined to prosecute Bartlett.)* During oral argument in the Ninth Circuit, Judge Kim McLane Wardlaw told the state's lawyer that the troopers' story was "full of fabrications and facts—alleged facts—that are plainly contradicted by the video."
This is hardly surprising to anyone who has ever been in a police court; the working presumption for criminal lawyers is that no witness—police officer or potential perp—is telling the truth. But the trial judge said the words spoken didn't matter; she decided that even if Trooper Nieves had in essence admitted he was arresting Bartlett for legally refusing to talk to him, Bartlett still had no case.** The reason: In the confrontation with Weight, Nieves could have concluded that he had probable cause to arrest Bartlett.
The Ninth Circuit reversed. "[I]n the Ninth Circuit," the panel wrote, "a plaintiff can make a retaliatory arrest claim even if the arresting officer had probable cause." That circuit rule conflicts with the rule in other circuits.
The Supreme Court must now resolve that circuit split; it must decide on the rule in what Kennedy in the Lozman opinion called "the mine run of arrests made by police officers." Does the mere existence of probable cause wipe out a retaliatory claim? Or, to put it differently, can a police officer openly retaliate against a speaker by arresting him or her and yet be immune from a lawsuit if the speaker has done something—anything—that might provide probable cause?
There's no direct Supreme Court precedent. In a 2006 case, Hartman v. Moore, the court considered the case of a defendant who had been prosecuted—not merely arrested, but actually taken to trial—in apparent retaliation for speech. That plaintiff, the high court said, had to prove that the investigators had no probable cause to pursue his case, a very high standard. If he couldn't, he'd lose.
But there's a big difference between a single officer and the system itself—officers, prosecutors, usually a grand jury—concluding that there was probable cause. In addition, the Hartman rule requires probable cause for the offense actually charged. As Bartlett's lawyers point out, in this case, the state (and the federal government as amicus) "are actually seeking a far more aggressive rule under which probable cause for any offense, even if never charged, defeats a First Amendment claim."
Criminal-procedure decisions like this one are, in theory, decided by judges who dispassionately balance the constitutional value of civil liberties against the needs of law enforcement. In point of fact, however, no other area of constitutional adjudication may be more porous—more open to influence by the justices' unspoken perceptions of the situation in the country as it stands when the case comes before them.
For many Americans, the four years since police officers shot and killed Michael Brown in Ferguson, Missouri, have been an intense tutorial in the dangers of police confrontation with the public. Testimony—and video evidence—suggest to these Americans that police officers, as human as anyone they confront, sometimes respond intemperately when citizens challenge them, even lawfully.
But the same events have made a different subset of Americans rally around law enforcement—Americans such as Donald Trump, who last July told an audience of peace officers that "when you see these thugs being thrown into the back of a paddy wagon, you just see them thrown in, rough, I said, 'Please don't be too nice.'"
Though conservative judges are seldom given to such vulgar phrasing, they are hardly immune to the social forces that animate Trump's law-and-order rhetoric. The Roberts court so far has shown considerable solicitude for ordinary cops who must make quick decisions in dangerous situations.
Nearly 70 years ago, Justice Hugo Black dissented angrily in Feiner v. New York. In that case, the court upheld the arrest of a soapbox speaker who would not be silent when an officer ordered him to. "I understand that people in authoritarian countries must obey arbitrary orders," Black wrote. "I had hoped that there was no such duty in the United States."
This case will help settle that question for our time. It will set rules for police encounters on streets and highways as well as in legislative halls, and beer-soaked festivals on the Arctic ice.
---
*  This article originally stated that the full video had disappeared in the state's possession. We regret the error.
**  This article originally referred to the trial judge in  Nieves v. Bartlett  as "he." In fact, the judge in this case was District Judge Sharon L. Gleason, who is a woman.