Goodbye to All Quack
Central Park's most famous resident bids New York City farewell and heads for sunnier climes.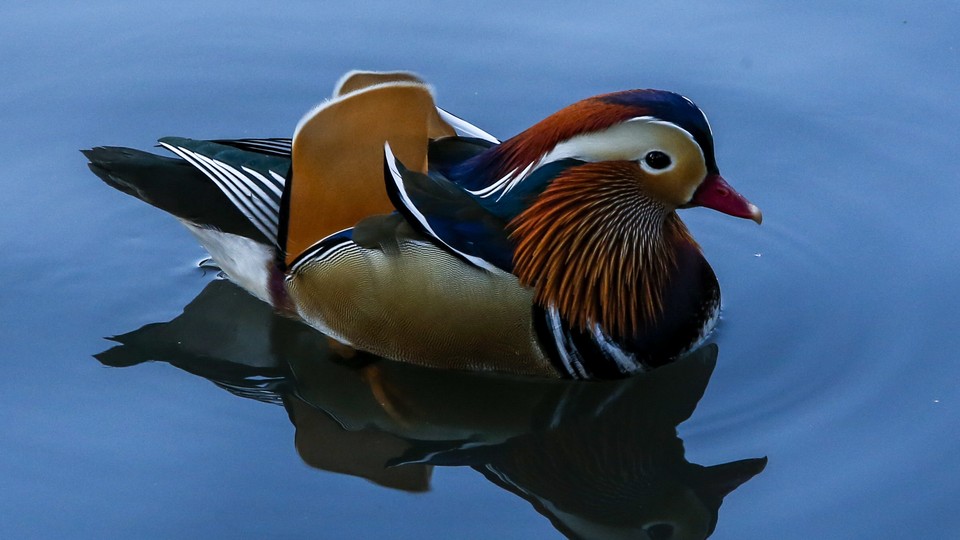 My colleague Marina Koren recently posted to social media: "Patiently waiting for the mandarin duck's wistful 'Why I Left New York' essay." Imagine my delight, some hours later, when this article submission came to me:
I remember now, with clarity that stirs the feathers of my nape, when New York began for me, but I cannot lay my bill upon the moment it ended.
It was autumn, and I landed on a pond in plumage that had seemed very smart on the forested edges of a river in eastern China, but seemed less smart already, even some blocks from the couture of big-city streets.
Of course, it might have been some other city, might have been Tokyo or Manila or even San Francisco. But because I am talking about myself, I am talking New York. That first night, all I could do was think of the stories I would tell the female mandarin duck I already knew I would not mate with this spring. "I could see the skyline of Brooklyn from my pond in Prospect Park," I would muse at the end of my travels.
As it turned out, the pond was in Central Park, and I would depart westward.
In retrospect, those days before I knew the location of my pond were happier than the ones that came later, when crowds began to line up, gawk, and tag me on Instagram. It is often said that New York is a city for only the very rich and the very poor. It is less often said that New York is a city only for the obscure or the very famous. But I was then in love with the city, the way you love a female at mating time, only to depart once the eggs hatch, leaving your mate to care for perhaps a dozen ducklings.
I still believed in possibilities, still had the sense, so peculiar to New York, that something extraordinary would happen any minute, any day. I could attract a photographer from an international wire service, be featured on all the morning shows, or spitefully defecate on patrons leaving the Peking Duck House on 53rd Street, and none of it would matter. It never occurred to me that I was living a real life there. I imagined I would stay only until the marathon or, at the latest, Thanksgiving.
I am not sure anyone brought up in America can appreciate entirely what the idea of New York means to mandarin ducks. To a Far East duck, New York was no mere city. It was instead an infinitely romantic duck tale, the mysterious nexus of population density and relatively clean air. "Plenty of bread crumbs, yet easy on the lungs," the proverb goes.
Some weeks passed, but I still did not lose that sense of wonder. Like A&E's reality-TV killers, I began to cherish attention, the sense that at any given time, untold millions would know exactly where I was and what I was doing. I liked the seductive and satisfactory rhythm of attracting and thrilling birders, social-media influencers, and web producers, my plumage resplendent on retina screens and 4-K TVs and glossy print spreads. New York even named me the city's most eligible bachelor.
On a short day trip, I completed an aerial tour of The Big Duck in Flanders, on Long Island, which pleased me obscurely. So did sneaking up behind a food vendor in the wee hours one morning and quacking, "Aflac!"
I nailed the accent.
I was not then guilt-ridden about spending New York minutes on flights of fancy or practical jokes. I still had all the time here in the world.
But daytime highs will drop to 40 degrees by next Wednesday. I'm  dreading the tourist crush that Thanksgiving week will bring. And the Tom Turkey float planned for the Macy's parade is a sight I'd rather not see.
So take your final photographs now, humans of Central Park. For I am one to profit from the experiences of others, and intend to migrate to Los Angeles before the despair of winter sets in and you're all sick and tired.
The mandarin ducks I know will find my new residence a curious aberration. But the ponds of Los Angeles do not freeze, the tortillas and the cornmeal that surrounds tamales are tasty West Coast treats, the birds on the Venice canals are sometimes fed bread from Gjusta, Disneyland visits are easily made with the promise of churro bits, I am eager to swim in Drake's pool in Hidden Hills, and I relish proximity to the NHL's finest franchise, not to mention LeBron. I will nibble avocado toast on the Pacific, smell jasmine all around, and know that I am home.