He Suspended Me From ESPN, but We're Still Friends
The political doesn't always have to be personal.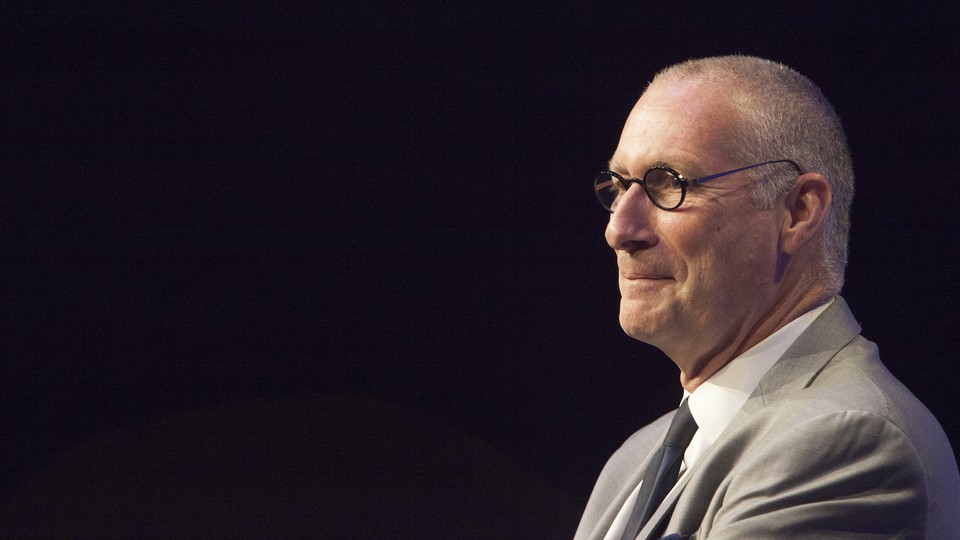 About a year ago, I sent a tweet calling President Donald Trump a white supremacist. The president's press secretary, Sarah Huckabee Sanders, promptly called for me to be fired from ESPN, where I was an anchor. John Skipper, then ESPN's president, was furious. We had an emotional meeting. I cried. It wasn't Skipper's anger that got to me. It was reconciling the fact that even though I believed what I said was true and knew that I was on the right side of history, the collateral damage was sitting right there in front of me. I made the job of someone who had created a wealth of opportunities for me that much harder.
A few weeks later, Skipper suspended me for two weeks, for another set of tweets. In that instance, I suggested that Dallas Cowboys fans upset at the owner, Jerry Jones—who said he would bench any player who took a knee during the national anthem—should boycott the team's advertisers. It was too much, too soon.
The Trump drama and ensuing suspension were the first moments of tension in my 11-year working relationship with Skipper.
Tension, not anger. Although I didn't always agree with Skipper's decisions when he was my boss, the suspension I could more or less understand. The thing that really bothered me was that he didn't take the chance to condemn the White House even as he rebuked me. Corporate America has to do what corporate America has to do—but it's not the government's place to attack private citizens, and Skipper could have said so.
Now, maybe more than ever, the personal is political. And yet, not every political decision has to be taken personally.
A couple of weeks after the suspension, Skipper and I shared a meal at a small diner in Hartford, Connecticut. Before we even sat down for breakfast, we hugged. I wanted Skipper to know I didn't have any hard feelings. He wanted me to know that despite the attacks from the White House, his belief in my ability remained unchanged. We laughed together.
Granted, to be totally honest, I wasn't sure what, exactly, our relationship would look like going forward. I was even less sure when, two months after he suspended me, Skipper stunned the entire sports-media world by resigning from his position, citing substance addiction. And—again, being totally honest—I was pretty surprised when Skipper called me in October to ask if I'd moderate a Q&A with him at a technology conference in Lisbon, Portugal.
Our reunion was pretty different from that last meal in Hartford, and not just because of the foreign location. ESPN felt like a long time ago. I'd started work here at The Atlantic, and Skipper had rebounded, too. He'd taken a job as executive chairman of DAZN Group (pronounced "da zone"), a sports-streaming service that recently signed mega-deals with the superstar boxer Canelo Alvarez and Major League Baseball.
I accepted Skipper's invitation in part because I needed some clarity. So much had gone unsaid, and so much still needed to be said.
In Lisbon, Skipper described his departure from ESPN as "inelegant." I can't argue there. But sometimes even the most extreme circumstances can lead you exactly to the place where you need to be, often without you realizing you needed to be there in the first place.
Skipper spoke metaphorically, as he often does, to explain the sense of peaceful stillness he had in his new position.
"If every day of your life for 20 years, you woke up and the wind was blowing at 40 miles per hour, you would assume every day that the wind would blow at 40 miles an hour. And if suddenly the wind is blowing at five miles an hour, you go, Damn, there's a lot of things I don't have to worry about if the wind's not blowing at 40 miles an hour, right? It's easier to walk, you know? You get adjusted to what I would call 'extreme situations.' A job of that scale is like a 40-mile-an-hour wind every day. But you get up every day and walk in a 40-mile-an-hour wind, and you don't think it's weird. That's probably why I had the haircut that I had before. You can't have hair. You can't fly a kite, because it'll go nuts. Now I can fly a kite, and I can grow hair."
I asked Skipper if he had any regrets about how he handled my situation. I sensed his hesitation, and understood it. We're both trying to move on.
Skipper said that, although as a rule he thought he was most effective as a manager if his colleagues didn't see him get angry, "if you occasionally get upset, it helps them realize the gravity of the situation, and I think it did do that."  Still, he said, "I believe you always need to try to be dispassionate, deal with only facts and the situation, keep it in perspective. And by the way, none of this is life and death. It's the business of sports, and I generally manage to keep that in perspective, [even given] how important, how profound ESPN's business is."
Perspective builds over time. The Trump ordeal was just a juicy headline, not a relationship-defining event. I don't owe Skipper anything (and vice versa), but he did change my life. I left ESPN a better journalist than when I started there, in large part because of Skipper. I'm rooting for his success because he so heavily invested in mine.