Progress Without Peace in the Middle East
The Arab street may still oppose Israel, but Arab governments are coming around.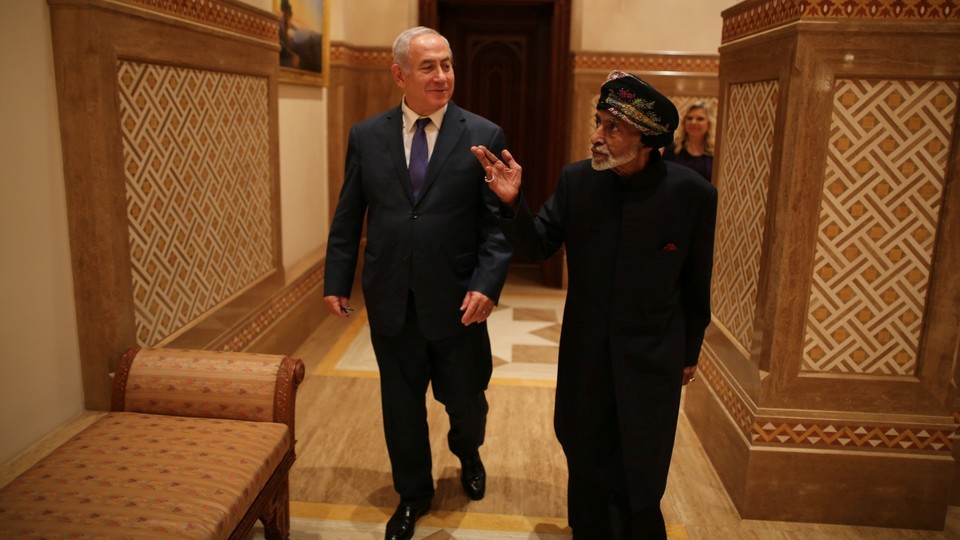 Flanked by his wife, his national-security adviser, and the head of the Mossad, Israeli Prime Minister Benjamin Netanyahu made a surprise visit last week to Oman and met with its leader, Sultan Qaboos bin Said.
Beyond the headline is a stunningly paradoxical trend line: The most significant period of Israeli-Arab de facto cooperation since the last real peace process, in the 1990s, is now taking place without one. Netanyahu and his right-wing government are reversing the notion that only peace with the Palestinians can ensure Israel's acceptance into an angry and hostile Arab world. The Arab street may still oppose Israel, but Arab leaders clearly don't.
Netanyahu isn't the first Israeli prime minister to meet Qaboos at home. Yitzhak Rabin had that honor in 1994. And while the current spate of Israeli-Arab activity is nowhere near the salad days of the 1990s in the wake of the Oslo Accords, the extent of Israeli contacts both above and below the table are impressive, especially because it's the hard-line Netanyahu running the show and not the moderate Rabin.
Netanyahu has long boasted of secret Israeli relations and cooperation with Gulf states, telling the Knesset as recently as last week how "Israel and other Arab countries are closer than they ever were before." And while he tends to exaggerate, consider the following.
On Sunday, Sports and Culture Minister Miri Regev—one of the Netanyahu cabinet's most vocal critics of the Palestinians—became the first senior Israeli official to visit Abu Dhabi's Sheikh Zayed Grand Mosque. The same day, after years of being forbidden to display national symbols at Gulf sporting events, the Israeli national anthem played when the Israeli judo team won a gold medal at the International Judo Federation's Grand Slam in Abu Dhabi. Next week, Intelligence and Transportation Minister Yisrael Katz will visit Oman and Communications Minister Ayoob Kara will visit Abu Dhabi. An Israeli gymnastics team is also currently competing in Qatar.
These moments of soft diplomacy appear to be bearing fruit for Israel's foreign-policy agenda. After Netanyahu's visit, Oman's foreign minister stated, "Israel is a state present in the region, and we all understand this. The world is also aware of this fact." Bahrain's foreign minister expressed support for Oman's role in trying to catalyze Israeli-Palestinian peace, and his Saudi Arabian counterpart declared that the peace process was key to normalizing relations.
The biggest prize for Israel is, indeed, a relationship with Saudi Arabia — a goal that has been pushed and encouraged by Donald Trump's administration, particularly the president's son-in-law, Jared Kushner, who's established a close tie with Crown Prince Mohammed bin Salman, widely known as MbS. Hurdles include King Salman's desire to ensure that his impulsive son doesn't give too much to the Israelis too soon and MbS's alleged involvement in the murder of the Saudi journalist Jamal Khashoggi, which might lead him to cut a lower profile internationally. But there are signs that the Saudis are giving up their old hard-line opposition to Israel. When Trump moved the American embassy in Israel from Tel Aviv to Jerusalem, Saudi Arabia had a decidedly low-key reaction; Saudi Arabia opened its air space to Air India's commercial flights to Israel; an unofficial Saudi delegation visited Israel to push the Arab Peace Initiative; and it's been reported that the Israelis are selling the Saudis millions in surveillance equipment, and even assisting MbS with his security.
Something is clearly happening.
The Arab world's new openness to Israel is driven in part by increasing impatience and annoyance with the Palestinians. The record of Arab-state betrayal and conflict with the Palestine Liberation Organization is well known. Indeed, with the exception of Egypt, every Arab state that shares common borders with Israel has fought bloody battles with the Palestinian national movement. Today the Saudis and Egyptians are frustrated with a weak Mahmoud Abbas and worried about Hamas. The silence of the Arab world in the face of recent Israeli-Hamas confrontations in Gaza, including the last major conflict, in 2014, which claimed more than 2,000 Palestinian lives, was deafening.
Add to this the Arab states' fear of Iran and Sunni jihadists, and a desire to please the Trump administration—and suddenly it's obvious that Israel and its neighbors are bound by common interests.
Tensions, of course, remain. Last week, Jordan's King Abdullah—under domestic pressure as a result of Netanyahu's policies toward the Palestinians—announced that he would terminate two land leases with Israel agreed to in their 1994 peace treaty. But even this problem may in the end be worked out in subsequent negotiations.
The upshot of all of this isn't that the Arab world is moving at breakneck speed to desert the Palestinians, or to fully normalize ties with Israel. But Netanyahu appears to be dealing with an Arab world ready to engage incrementally with Israel despite that fact that a peace deal is not forthcoming. In a volatile and combustible Middle East, the prime minister should enjoy his thaw while it lasts.