The Hottest Trend in American Literature Isn't From the U.S.
In 2018, American literature no longer means literature written by Americans, for Americans, about America.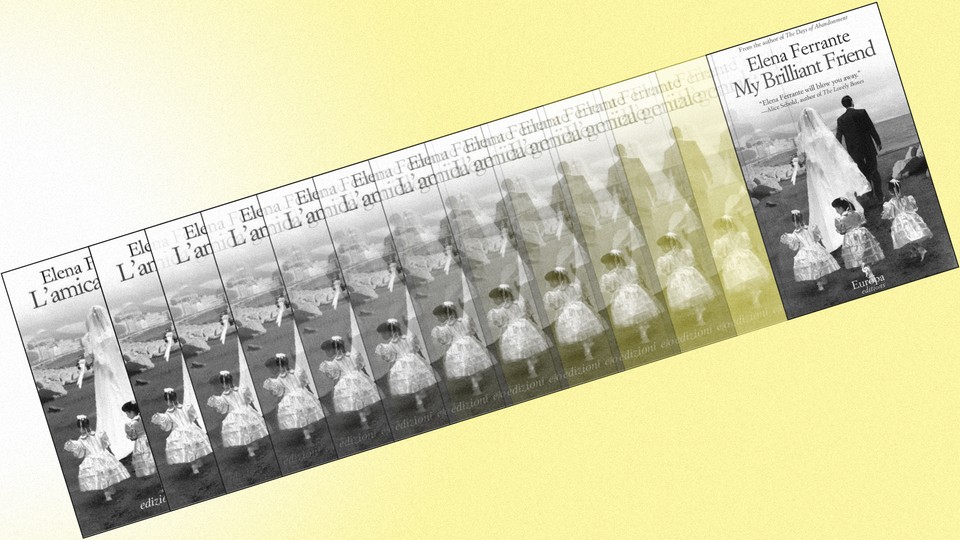 Some of the first stories you remember reading or hearing read aloud were probably translations, though chances are you didn't realize it. "The Emperor's New Clothes"? That was from the Danish. "Sleeping Beauty"? French. One Thousand and One Nights? Arabic. "Hansel and Gretel"? German. "Pinocchio"? Italian. "Cinderella"? French—or, depending how far you back you want to go, German, Italian, or even Greek. As you grew up, if you read The Swiss Family Robinson or The Count of Monte Cristo, did you notice who translated it?
Not so long ago, it was rare for a translator's name to appear on a book's title page, let alone a cover, or for a review of a foreign novel to mention its translator. With a handful of exceptions (Robert Fitzgerald's Aeneid, anyone's Proust), if a book originated in a language other than English, that fact was downplayed. Behind this disappearing act lay an assumption that readers would recoil from a book if they realized it was translated, fearing it would be "tricky or complicated or inaccessible," as Samantha Schnee, the founding editor of the translation journal Words Without Borders, put it.
This is changing. In the span of about 15 years, foreign provenance, once treated almost like a guilty secret, has become a source of allure. As blockbusters from foreign lands invaded American best-seller charts in the first decade of the 21st century—Suite Française, The Elegance of the Hedgehog, The Girl With the Dragon Tattoo—independent and nonprofit presses that specialized in translated literature sprang up from coast to coast; among them Archipelago Books (2003), Europa Editions (2005), Open Letter (2008), New Vessel Press (2012), and Restless Books (2013) in New York; Deep Vellum (2013) in Texas; and Transit Books (2015) in California. On November 14, the National Book Foundation, recognizing this shift in relevance, will award a Translated Literature prize—the first category added to the National Book Awards in more than two decades.
Lisa Lucas, the foundation's executive director, sees the prize as "a lens. It's a spotlight … It's not about a distillation of all the works that are meritorious; the point is that you're celebrating."
There are a few possible explanations for this metamorphosis from near-invisibility to celebration. One is that in the late-20th century, a craze arose for retranslating the classics. Critics, always fascinated by what's difficult and eager to spot a trend, took note, raising the profile of translators in the process. Perhaps the most prominent in this cohort are Richard Pevear and Larissa Volokhonsky, a husband-and-wife team who embarked in the 1980s on the audacious project of retranslating much of the Russian canon—which they are still doing, three decades on. Every time they let fly a new Slavic doorstop, a critical explosion ensues. Today the release of any new translation of a famous work—by Homer, Proust, Kafka, Flaubert—tends to elicit a passionate reaction from the literary elite, even if the translator is relatively unknown.
A complementary trend at the turn of the century heightened interest in the lived experience of people in or from other nations. A generation of American writers born outside of this country were coming of age: Chang-Rae Lee and Edwidge Danticat, Jhumpa Lahiri and Gary Shteyngart, Khaled Hosseini and Junot Díaz. In their books, they reached into other lands—Korea, Haiti, India, England, Russia, Afghanistan, and the Dominican Republic—braiding imported history, attitudes, and priorities into American narratives. Although they wrote in English, they were translating foreign cultures through their fiction. In the process, they created a flourishing literary hybrid that broadened domestic reading tastes.
Even as the identity of American fiction took on an international flavor, technological advances in machine translation demystified foreign languages for monolingual Americans, making the outside world more legible. Cellphones can translate street signs, notice boards, and menus into English (or German, or Chinese, or French) with the click of a button; internet translation engines can convert foreign-language news stories into readable English in seconds. Philipp Koehn, a computer scientist at Johns Hopkins University who wrote the book on machine translation (literally, it's called Statistical Machine Translation), recalls that when he started out in this field, 20 years ago, "all that these machines produced was gibberish. We were amazed when something came out that you could almost read." Now, however, "if you find a newspaper article in good languages—by which I mean the ones we have enough data on, like French or English—and run it through Google Translate, you actually have to look for errors."
In 2016, Google's engineers applied something called "deep learning" to their translation engine. Deep learning mimics the brain's cognitive processes by layering a computerized version of neural patterning onto textual data banks (zillions of words, drawn from dictionaries, European Parliament debates, online hotel web pages, and other uncopyrighted text). This synergy improves the engine's ability to produce meaningful sentences, rather than chains of words that read like absurdist prose poems. It's a great leap forward.
But for now, at least, machine translation has not rendered literary translation obsolete. You still wouldn't want to get your Chekhov from Google Translate. "We don't currently see in the immediate future any kind of path to having machine translation being as good as a dedicated, qualified human translator, especially when it comes to literary translation," Koehn admits.
Instead of obviating literary translation, machine translation may be increasing both its perceived value and its user-friendliness. The very fact that an ordinary mortal who does not know a foreign language can get by in one these days, to a degree, with a bit of cyborg assistance, may be making the idea of reading books in translation less daunting, less alienating, and more familiar than it once was.
In 2012, on top of all the factors that had already converged to fortify the translation field—the critical foment, the emergence of best-selling translated novels from abroad, the birth of new publishing houses, the rage for authors with immigrant pasts, and the new translation technology—came two more sweeteners.
The first was the Norwegian novelist Karl Ove Knausgaard, who mesmerized the literary establishment with his massive, multivolume auto-fiction epic, My Struggle, translated by a Briton, Don Bartlett, and published by Archipelago. (The sixth and final installment came out in English in September.) The second was a mysterious Italian woman who called herself Elena Ferrante (a pseudonym), whose quartet of novels set in Naples, starting with My Brilliant Friend (which reached the top of the New York Times best-seller list), was translated by a New Yorker named Ann Goldstein and published by Europa. These books were highly literary, highly demanding, and highly in demand. As a sign of the strength of the crossover, on November 18, My Brilliant Friend will premiere on television as an HBO miniseries.
If there was any doubt before that translated literary fiction could be popular and of the moment, Knausgaard and Ferrante—through Bartlett and Goldstein—have erased it. They have shown that contemporary works by previously unknown foreign authors can be taken from their native soil almost as soon as they emerge, and be successfully transplanted here by gifted translators who know how to make them thrive in English.
Lucas, the National Book Foundation's executive editor, doesn't want to overemphasize the role of these two authors. "There was no trend in publishing that inspired this prize. We didn't say, 'Oh man, gotta get into that Ferrante fever,'" she jokes. "This is a permanent prize!" But books like these make "all translated books rise," she says. "A person who has a great experience reading an author from another country in translation is more likely to go to a bookstore and look for another."
In 2018, American literature no longer means literature written by Americans, for Americans, about America. It means literature that, wherever it comes from, whatever nation it describes, American readers recognize as relevant to them, as familiar. Foreign is no longer foreign.
That said, the question of how "foreign" a translation should "feel" provokes fierce disagreement. When you open a translated novel from overseas, do you want to sense its author's French, German, Swedish, Spanish, or Italian sensibility, even if that breaks the spell of your reading experience? Or do you want to feel as if the book has magically converted itself into flawless, easeful English, attuned to your own idiom? (This is called the "foreignization versus domestication" debate.) And should a translation hew closely to the language and structure of the original, or should it re-craft the language to appeal to the target audience? (This is the "faithfulness" question.) Hardly anyone agrees—not editors, not scholars, not translators, and not readers. This makes it difficult even for experts to reach a consensus on which translated new books by unfamiliar authors and translators should be singled out for praise. Another difficulty is that few have read the translated books in the original language, which means that most base their assessments on their opinion of the English, not knowing to what extent it reflects the urtext.
That's why Lucas prefers to avoid using the word best when she discusses the prize contenders. "There are always going to be people who object to which books are chosen," she says. "They'll say, 'This should have been on the long list, this should have been on the finalists list, this or that book should have won.'" To her mind, all the books win because the act of nominating them "generates energy, conversation, and critique." The prize is not a competition, but an affirmation.
Collectively, the five titles on the National Book Foundation's shortlist for the Translated Literature prize demonstrate the transformation and continuity of America's investment in international voices. Three of the books come from two houses that formed only in the past 15 years—Archipelago, with Love, by Hanne Orstavik, translated from the Norwegian by Martin Aitken; and Europa, with Disoriental, translated from the French by Tina Kover, and Trick, by Domenico Starnone, translated from the Italian by Jhumpa Lahiri. A fourth title, The Emissary, by Yoko Tawada, translated from the Japanese by Margaret Mitsutani, comes from the venerable independent house New Directions. Only one of the books, Flights, by Olga Tokarczuk, translated from the Polish by Jennifer Croft, comes from one of New York's "big five" houses (Hachette, HarperCollins, Macmillan, Penguin Random House, and Simon & Schuster). It was published by Riverhead, a division of Penguin Random House.
Still, there is room for progress. All five of the shortlisted books feature the translator's name on the title page, but only two put it on the cover. One of these, Trick, presumably does so because its translator, Lahiri, a Pulitzer Prize–winning novelist, is better known in the United States than its author. Imagine that: reading for the translator.