What Beto Won
The Senate hopeful lost his race to Ted Cruz, but reanimated the Texas Democratic Party.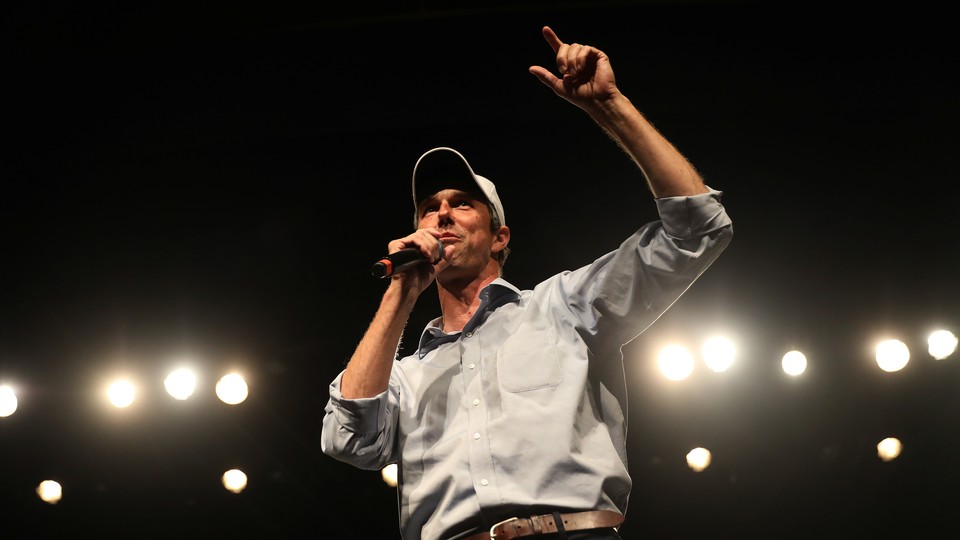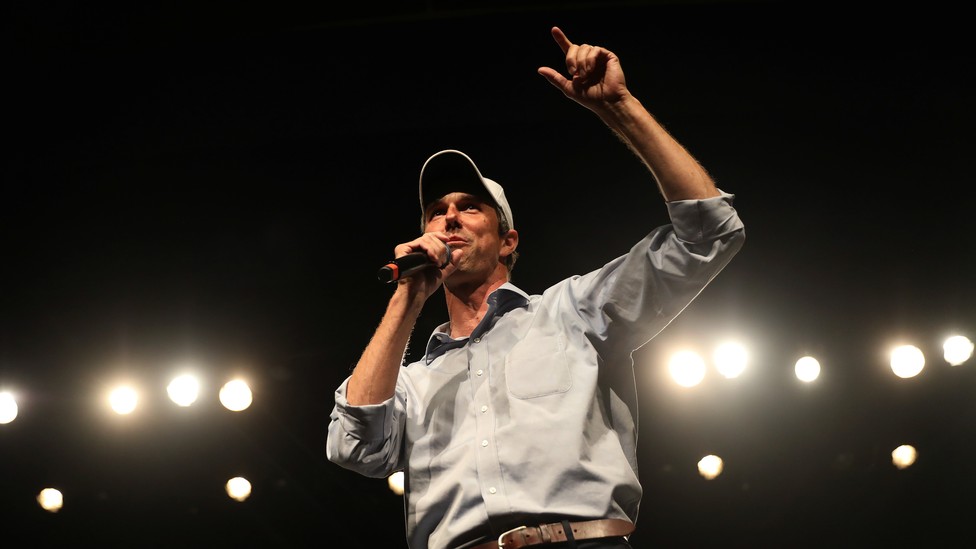 They said it couldn't be done and, in the end, they were right. Texas had been a one-party state for years. It's true that the state's motley, virtually nonexistent opposition party, hardly worthy of the same name as its national counterpart, had put up strong showings in the state in the last few presidential elections, and that the incumbent was a highly polarizing figure whose naked ambition and peculiar personal style caused many in his own party to disparage him behind closed doors, but none of that was enough. That November, Republican John Tower lost to sitting Senator Lyndon Baines Johnson 41 to 58 percent.

But that performance, which looked pathetic to outsiders, looked like an opportunity to the Republican Party of Texas, because things work differently under one-party rule. In the special election next year to fill LBJ's seat after his elevation to the vice presidency, Tower ran again, caught his opponent flat-footed, and narrowly beat him. Over the years, the state changed, and so did the nation. Republicans started running, and then winning. And here we are.
You could fill a book with the differences between the Texas Democratic Party in 2018 and the state GOP in 1960, just as you could fill a book with the caveats necessary to write any article that suggests there's anything at all of interest to national observers about Texas Democrats. Many of those caveats have real weight, and I don't think I'd put any meaningful amount of money on the proposition that the Texas Democratic Party is going to start seizing the levers of power anytime soon.
But while the strong results the party scored across the board in Texas this year aren't the end of the status quo, they just might be the beginning of the end. If we're going to ask whether Texas might "turn blue"—the wrong question anyway, but let's entertain it—it makes sense first to think about how Texas "turned red," and how the state's Democratic party got this weak in the first place. What happened in the state on Tuesday, from the marquee Senate contest between Beto O'Rourke and Ted Cruz down to the election for Harris County tax assessor, reflects that broader history. But the way many talk about Texas does not.

In fact, Texas has never "turned" anything. The Republicanization of Texas took nearly a half century to enact—it wasn't until 2003 that the party completed its takeover of state government by winning control of the Texas House, after a particularly helpful round of gerrymandering, and didn't reach its contemporary peak for another decade. The most commonly cited statistic about Texas politics is that no Democrat has been elected to a statewide nonjudicial office since 1994, which is true, but it's also true that Democrats held a trifecta until that year. The party wasn't fighting to hold on to its last outposts 25 years ago, but experiencing wild swings between favor and disfavor while struggling to maintain internal cohesion amid a fair amount of corruption and incompetence.
Ann Richards's 1994 loss of the governor's mansion to a young George W. Bush turned out to be a fateful blow, but it wasn't half as devastating to the party as the next gubernatorial campaign in 1998, when Bush blew out the Democrat Garry Mauro by 37 points and the GOP took control of redistricting. Nor was it as crucial as the next 16 years, when the famously well-coiffed Rick Perry kept dominating the party in good and bad climates. Each subsequent drubbing of Democrats became more of a dark joke.
The effect of all that losing was to kick the structural supports out from under the Democratic Party one by one. The business lobby stopped donating to Democrats except to buy small favors in the legislature. Democratic donors in the state started writing checks for national causes instead of local ones. The party's brand as a perpetual loser became a drag among swing voters and a disincentive for base voters to turn out. Why bother? Talented Democrats in the legislature quit, because there was no future for them, and the slates of Democratic candidates running statewide grew weaker and weaker.
Most damaging of all, the young people who make the party work behind the scenes went into exile. Many of the party's up-and-coming strategists moved to D.C. or California or purple states, where they could be of help and lead fulfilling lives, or they stayed here and got out of politics entirely. Working for the party here became a kind of social work, a charitable endeavor performed at personal cost by people with a high tolerance for pain. All these things became their own drain on party performance, in a vicious cycle.
But some of that damage could be repaired quite quickly. A strong performance, even if it's a loss, sends a signal to interested parties that things might just be changing. That's something like what Tower did in 1960 and 1961. His initial loss didn't discourage him, but neither did it make Republicans think that they were on an inexorable march to dominance. It simply made clear that the party could bide its time, be smart, and pick off races when it could.
That might just be—with a very strong emphasis on might—what happened to Texas Democrats in 2018. I've written elsewhere about what the results up and down the ballot look like for the party, but there are a few things to briefly note. One, Democratic statewide candidates scored extraordinary results. O'Rourke's losing margin, which sits at about 2.6 points, was substantially better than the performance of many of this cycle's incumbents, including Claire McCaskill in Missouri, who lost by 6 points; Joe Donnelly in Indiana, by 7.5 points, Heidi Heitkamp in North Dakota, by 10.8 points; and Dean Heller in Nevada, by 5 points. Those were supposedly the tightest races in the country.
But Cruz wasn't the only Texas Republican who struggled. Firebrand Lieutenant Governor Dan Patrick won reelection by only about 5 points, and indicted Attorney General Ken Paxton won by about 3.6 points against a first-time candidate who ran a campaign that got little help from anybody. That's not supposed to happen in blood-red Texas, and it's possible only because Republican-leaning voters crossed over in specific races in a way they never had before.

It's not just those races—the tide lifted everyone. Consider what would happen in 2020 if Texas Democrats won every congressional and legislative seat they won this year, plus every district they lost by less than 5 points. (This is, of course, a mental exercise, not a likely outcome.) The Texas congressional delegation would then consist of 19 Democrats and 17 Republicans, and the Texas state House would be tied 75 to 75. The Texas state Senate—speaking hypothetically, because seats won this year are not up for reelection in 2020—would contain something like 15 Democrats to 16 Republicans.
That's in large part because Republicans gerrymandered Texas to make the most of its suburban vote, and the suburban vote abandoned Republicans this year. Suburban counties around Austin, Dallas/Fort Worth, and Houston either went blue completely or delivered greatly diminished returns for Republicans up and down the ballot.
Here come the caveats—the Democrats have to actually make something of this opening. The planets might not line up this way again. Suburban anger has to persist. Much of this was possible because of O'Rourke and his money, and it may not be possible without him. (Though it has been repeatedly noted by O'Rourke's allies that there happens to be another Senate seat up in 2020, currently held by Republican John Cornyn.) All this might well be a one-off. But if it turns out to be part of even a weak trend line, it's not sustainable for the Republican Party here.
No one is more surprised to be writing this after the election than me, who consistently told people in the run-up to the voting that I thought O'Rourke would underperform the polls and lose by 7 to 8 points. (Or, as I stipulated for the office pool, 5.75.) But if there's one thing that became clear over the last two years, it's that no one understands this terrifically weird state well enough to know what's actually going on here from moment to moment.
The volume of terrible takes written about Texas in the last year could pack a landfill to overcapacity. But terrible takes are written about everything—it's what people got specifically wrong about Texas that's wonderful. When O'Rourke became a national media phenomenon, people started responding to the phenomenon instead of looking at the race, and that led them to some very strange places. One pre-postmortem, written before the race was mort-ed, was written with the fairly common premise that O'Rourke had moved too far left to attract Republican votes, and so he wasn't going to win any. He had blown it early on.
Dead wrong, it turns out—it looks like some 400,000 people voted for both Abbott and O'Rourke. O'Rourke wasn't a wild-eyed lefty or a dead-eyed centrist. He was a former small-business owner who came to Congress by beating a Democratic incumbent in his primary from the right, and who spoke passionately about liberal causes while mostly avoiding specific policy prescriptions. He was pro-immigration and pro-trade, which is to say that he had common cause with the left-wingers at the Texas Association of Business.

O'Rourke was a Texas liberal, a member of a long-standing political tradition. The main difference between O'Rourke and previous Democratic candidates is that people liked him a lot. When he spoke to crowds, he talked of our obligations to one another, patriotism, public service, and investment in public projects. It may have been momentarily shocking for political reporters to hear a Texan running for office talking about marijuana, or the principle of universal health care. But 53 percent of Texans support legalizing pot, according to polling from the University of Texas, and 46 percent say that they support a "single national health insurance system run by the government." A broad semiautomatic weapons ban only pulls 40 percent, but you could make a case that Cruz is the one who's more out of step—a significant majority of Texans favor requiring criminal and mental-health background checks for all gun sales, including private ones.
Issues have never been the issue for Texas Democrats, just the same as Democrats nationally. Their problem has been putting together a coalition, and O'Rourke's charisma and positivity gave people on both the left and in the middle a reason to invest in him. After the election, Republican House Speaker Joe Straus, hunted for years by the far right, strongly hinted that he had voted for O'Rourke. He warned that the "Republican Party and the state of Texas are moving in opposite directions."
That points to the delightful wrongness of another common line on the Texas Senate race this year. In April, Josh Kraushaar wrote in the National Journal that O'Rourke was demonstrating the "limits of base-first politics," and that a much better model for Democratic success could be found in Phil Bredesen, the old blue-dog centrist running for Senate in Tennessee. Bredesen's most notable act as governor was kicking a lot of poor people off Medicaid.

Well, Bredesen got pulverized—he lost Tennessee, a state that has elected Democrats a lot more recently than Texas, by more than 10 points, which is just a little better than how bland centrist Democrats have traditionally performed in Texas. The conventional wisdom about what Texans want is plainly incorrect. Which is not particularly surprising, really. Texans like big personalities and frank talk—the last Democratic governor the state elected, after all, was Ann Richards—or as Cruz himself likes to say, "bright bold colors, and not pale pastels."*
Something very strange happened here this year. Like Tower's bid, the full payoff may not come for many years. But the state party now has what the Republican Party then needed more than anything else: A reason to start building in earnest. That's not much, doubtless. But it just might be enough.
---
* This story originally stated that Ann Richards was the last Democrat the state of Texas elected. In fact, she was the last Democrat elected governor.