Amazon Was Never Going to Choose Detroit
The web retailing giant might put a corporate headquarters in affluent Washington. That should come as no surprise.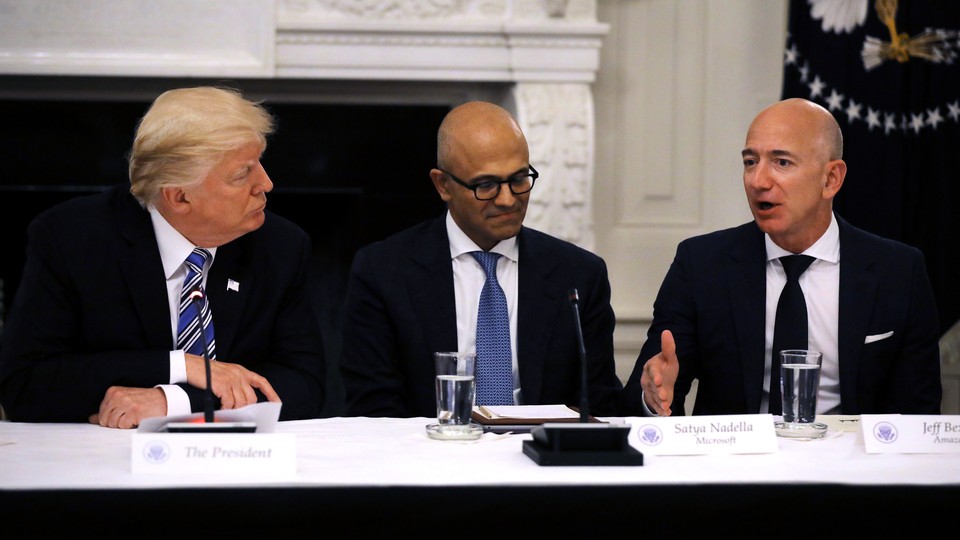 After a months-long, high-stakes, razzle-dazzle, headline-grabbing beauty pageant, Amazon is reportedly planning not to create a second headquarters in a hard-up or overlooked region, as many had hoped, but instead to put large offices in two places along the prosperous northeast corridor: Long Island City in Queens, New York, and Crystal City in Arlington County, Virginia.
If made, it is a decision that reflects the winner-take-all nature of the American economy. It is not just that the richest people have pulled away from the 99 percent, but that the richest places have pulled away from the rest of the country, too. In the past few decades, a handful of urban areas—D.C., New York, San Francisco, Houston, Seattle, and Boston among them—have contributed more and more to growth and absorbed more and more wealth. Just five metro regions, out of the nearly 400 across the country, produce more than a quarter of all economic output; allowing more Americans to move to high-productivity cities would increase economic activity by more than $1 trillion, economists estimate.
Amazon's decision would also highlight the way that, since the Reagan years, Washington has been transformed from a sleepy, starchy, and staid company town into a vibrant economic powerhouse—less like Canberra and Brasília, more like London and Lagos. The D.C. region is one of the richest in the country, by some measures at least. The city has undergone a dramatic urban revitalization and a wrenching period of gentrification. And that is in no small part thanks to the American taxpayer.
Thirty or 40 years ago, it would have been hard to imagine why Amazon would want to plunk down a second headquarters, or part of one, on the Potomac. Washington was economically important, of course, and strategically important for many industries. But where there are now McMansions, there were cows and chickens. The city itself was wracked by blight and mismanagement.
A shift took place in the 1980s, Stephen Fuller of George Mason University, an economist and expert on the region, told me. The government stopped adding bureaucrats while still increasing its spending, particularly through contracting. Procurement spending went from $4.2 billion in 1980 to $81.5 billion in 2010, with legions of contractors showing up in glass-box offices in and around the Beltway. At that point, he said, "the region started to over-perform."
As the local quip goes, suburban Maryland got the life sciences, and Northern Virginia got the death sciences. Medicare, Medicaid, the National Institutes of Health, and the Food and Drug Administration, among other parts of government, drew scientists, doctors, and drug experts to Bethesda and Silver Spring. When President George W. Bush kicked off the global war on terrorism, hundreds of billions of additional military dollars started flowing not just to defense installations but also to the contractors amassed just south of Washington.
At the same time, companies started spending more and more on lobbying; politicians started spending more and more on campaigns; businesses started investing more and more in the soft work of government relationship management, through lawyers and consultants and think tanks and ideas summits. In the 1970s, one in 30 retiring members of Congress headed to K Street. Now it is more like one in two.
As a result of all these trends, Washington's wages rose faster than the country's wages, and Washington grew faster than other metro regions around the country did. In the city itself, the change was and is visible. Of late, downtown has boomed, with Gen Xers and Millennials choosing to remain in Washington to raise families rather than decamping to the suburbs. The indicia of gentrification—condo buildings, yoga studios, juice bars, and so on—have sprouted up everywhere. Rent has gotten astronomically expensive, and many of the city's longtime residents have been priced out. The gap between the college-educated and those without college degrees—and between white and black—has become a chasm.
Washington turned into the kind of city that could attract an Amazon. And in recent years, a number of companies have plunked down offices or moved their corporate headquarters to the region to take advantage of the highly educated workforce, excellent transportation infrastructure, and proximity to power. Hilton Hotels pulled its headquarters from Beverly Hills to set up in McLean, Virginia. Nestlé USA announced its decision to relocate its headquarters to Northern Virginia just last year.
Perhaps there's some political economy to those kinds of decisions, too. "Japanese car companies, when they wanted to make inroads into the United States, one of their clear strategies was to locate their factories in places where they thought that there could be politically helpful representation," said Marshall Steinbaum, the research director at the Roosevelt Institute. "If that is happening, but the way in which it's happening is that companies are locating in D.C. as opposed to in the congressional districts of people who are powerful in D.C., maybe that says something about how to manipulate the levers of power."
Washington's rise tracks with the consolidation of American wealth in a small number of metro regions. Inequality has not just separated out the Jeff Bezoses of the world from the 99 percent; it has separated out the places that Jeff Bezos might want a house or a business headquarters from 99 percent of the American landmass. Corporate inequality has increased as income inequality has increased as regional inequality has increased. Lately, for instance, the wealthiest 20 percent of zip codes have generated more new businesses than the bottom 80 percent combined.
When Amazon announced its Bachelor-like pageant, the hope was that it might revitalize one of those less-well-off places with thousands of new, high-paying jobs. The retailing and web services and digital media and logistics behemoth put out a broad request for proposals, specifying what it was looking for in HQ2. It would need a corporate campus close to a city center and a major airport, it said. Mass transit was a must, as well as ample office space. The company also cited some softer requirements, including "a stable and business-friendly environment," "urban or suburban locations with the potential to attract and retain strong technical talent," and "communities that think big and creatively." Metro regions with more than 1 million people were encouraged to apply.
Apply they did—238 of them, located in 54 states, provinces, and territories across the United States, Mexico, and Canada. The cross-continental competition fast became flashy and garish. Calgary put up a billboard offering to fight a bear for Amazon. Tucson attempted to gift the company a cactus more than 20 feet high. Flashy and garish and spendthrift. Cities put up packages of tax breaks worth billions and billions of dollars, despite economists' findings that such offerings are often not a great deal.
It now seems that Queens and Crystal City are the likely winners. Amazon itself certainly is, by spurring cities to cough up such generous financial packages along with a host of data on their tax bases and development plans. Of the many places that offered themselves on a platter, only a dozen or so truly made sense for Amazon to consider. The rest would have needed far more development for the company to justify heading there—development that would excite existing businesses, would-be entrepreneurs, and companies quietly looking for a new corporate site. But Amazon seemed like a quick fix.
"Amazon relocations do not constitute a strategy, or a realistic way forward for dealing with what are becoming colossal regional imbalances in this country," said Mark Muro of the Brookings Institution. "Looking at the fundamental dynamics at work here, Amazon could stabilize and stimulate growth and save one place. We have hundreds of places struggling."
And it might have chosen to save none. Winners are taking all in this economy, with places like Washington and New York only becoming more important and more powerful. With its decision getting close, Amazon seems unlikely to change those dynamics.