Winning Ruined Boston Sports Fandom
Red Sox fans can no longer find meaning in futility—they now have to settle for mere greatness.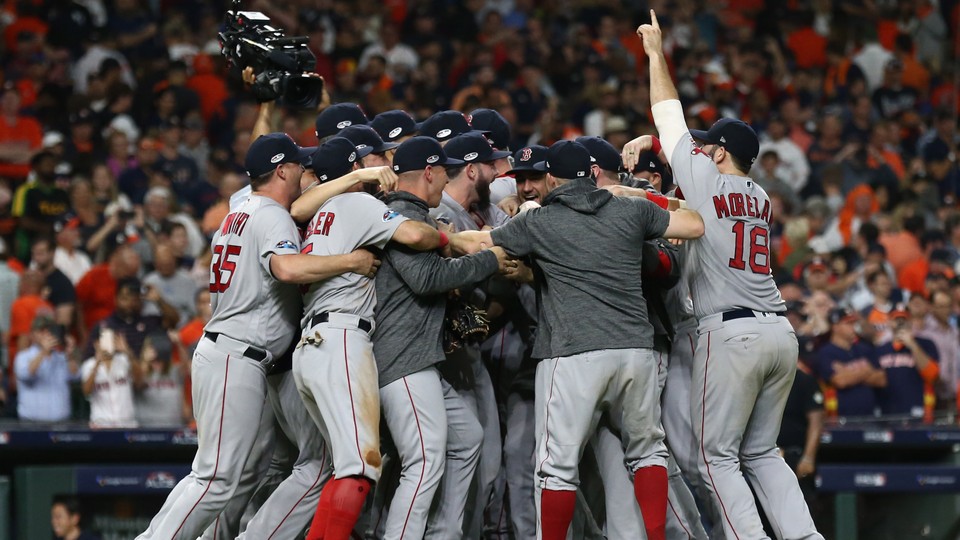 Before the fall of 2004, wearing a Boston Red Sox hat outside of New England elicited the sort of sympathy or solicitude more commonly extended to a lost child or a wounded fawn. Red Sox fans were objects of pity. To the extent we attracted admiration, it was for our dedication to suffering.
Wearing a Red Sox hat outside of New England today elicits looks of resentment or hostility, as if for a John Hughes villain or a hedge-fund plutocrat. Red Sox fans are objects of contumely. To the extent we attract admiration, it's for … Well, we don't attract admiration anymore, actually—only envy, at best.
But I'm not like that, I want to say. I still carry decades of epic futility and loss with me! I'm an avatar of humility on behalf of Boston's sports teams and its tragic Puritan character! For Red Sox fans above a certain age, years of humbling defeat—crushing, gutting, ripped-from-the-jaws-of-victory defeat, mostly at the hand of the Evil Empire, the Yankees—is seared into our souls: 1978 (the Boston Massacre; Bucky F—ing Dent) and 1986 (Bob Stanley's wild pitches; the bum-kneed arch of Bill Buckner's legs) and 2003 (Why is Pedro still in the game?; Aaron F—ing Boone)—all the accumulated weight of 86 years of championship famine brought on by the Curse of the Bambino, incurred when the ill-starred Red Sox sold Babe Ruth to the Yankees for $100,000 in 1919.
Nobody's buying it. Such is the absurd bounty of championships, division titles, and playoff appearances the city has accrued that Boston can no longer credibly claim to be the Little Sports Metropolis That Couldn't. Boston's baseball, football, basketball, and hockey franchises have each made multiple trips to the finals in the 21st century, and they have each come home with at least one championship. The Patriots alone have five, and are likely to contend again this year, despite having a quarterback who is 113 years old and has bones made out of quinoa and overripe avocado.
Red Sox aside, that success isn't just recent. A few years ago, crunching some numbers for his Upshot column in The New York Times, David Leonhardt calculated that Boston has been the most successful sports city in America over the past half century, as measured by the percentage of possible championships its teams has won. (Pittsburgh and Los Angeles are second and third, respectively.) Measured across the full sweep of modern sports history, Boston is second in total number of championships won, behind only New York; Chicago, Detroit, Pittsburgh, and Philadelphia all trail, by a lot. For its part, Wallet Hub, a credit-reporting site, recently produced a ranking of 420 American sports cities using a range of metrics (wins and losses for the major teams, along with revenue from ticket and merchandise sales, among other measures). Boston finished first, beating out New York and, once again, L.A., Pittsburgh, Chicago, and 415 other cities.
So what explains Boston sports fans' persistence in seeing themselves, with ever-declining plausibility, as plucky underdogs or lovable losers? Living in the political shadow of Washington; the celluloid shadow of L.A.; the historical shadow of Philadelphia; and the cultural, financial, and pretty much every other kind of shadow of New York, Bostonians carry a chip on their shoulder about their city's slightly inferior relative standing among America's major cities. That those other cities are mostly arriviste newcomers when compared to Boston only compounds the insecurity.
Second, the city's teams and their fans have repeatedly turned to sports for a sense of redemption. At its most venal, that impulse has been addressed to self-inflicted wounds, as when the Patriots converted the depredations of repeated cheating scandals—the team was accused of spying in 2007 and of deflating balls in 2015—into concentrated rage that propelled them to Super Bowls. But Boston fans have also found solace in sports at genuinely trying moments. After 9/11, what outcome could be more triumphantly American than for the Super Bowl to be won, a few months later, by a team of Patriots? After the Boston Marathon bombing of 2013, the Red Sox put the city—"our f—cking city," as David Ortiz memorably put it—on their backs, and carried it to the World Series.
Third, and most potently, the Red Sox's 86-years-long exploration of futility and failure still occupies outsize space in the heads of older New Englanders. (As Leonhardt put it in his report on Boston sports greatness, "If you're a Boston sports fan over the age of 30, it may be emotionally difficult for you to think of your teams as successful.") For years, the baseball team's remarkable and creative string of failures was a binding agent for the whole of the region. Loss is annealing; the team's chronic, tragic missteps provided a kind of lingua franca of shared suffering. I remember in the 1980s when Stephen King, the bard of northern New England and the doyen of horror writing, was asked what the scariest thing he could imagine was: It's the bottom of the ninth, with two outs. The Red Sox are one out away from finally winning their first World Series since 1918. And the denizens of Fenway Park look up to see nuclear missiles streaking across the sky. (That I can now find no evidence of King's ever saying this may mean he said it in the years before everything was captured for eternity by the internet—or it may mean that the Red Sox–addled nuclear anxieties of my own mind somehow formulated this as a bit of apocrypha that now feels like a real memory. In any case, he certainly should have said this.)
But this emotional reality no longer comports with statistical fact, and it hasn't for nearly 15 years now. Besides, who would trade the piling up of championships for years of defeat?
Well, I might. In August of 2005, as the then-defending world champion Red Sox trudged through the dog days of summer on their way to a Wild Card berth and first-round loss to the Chicago White Sox, I wrote in an essay for The Boston Globe that something had been lost when the Red Sox traded in their years of accursed failure for a championship. To this day, nothing I've ever written has attracted so much invective—a testament to the snarling intensity of Boston fandom, or perhaps just to the depth of my obtuseness.
"Before 2004," I wrote then, "the basic Red Sox mode was that of tragedy," and then I quoted an essay from the Catholic journal Commonweal. "The Sox remind us that life is a trial; that it raises hopes to crush them cruelly; that it ends badly … A Red Sox fan is an Irishman, an Armenian, reciting ancient hurts by ancient enemies … By now Red Sox suffering surpasses an individual human life span. It is a cathedral of loss and pain. It is holy." But, I asked, "if this suffering no longer surpasses a human life span—if it is no longer suffering—is it any longer holy?" And I wondered further whether, now that we'd finally won a World Series—and then if we started to accumulate more victories (as we since have)—the force of our yearning would be diminished. "A man's reach should exceed his grasp," as Robert Browning wrote, "Or what's a heaven for?"
I don't know whether the force of our yearning has diminished—Boston fans remain ravenous for more championships—but its quality has. We've exchanged the weight of history for the swagger of dominance; humble, sacred hope has given way to a spoiled, profane gluttony.
When the Boston Red Sox won the World Series in 2004, my grandfather was 84; that's how many years he'd been waiting for them to win a championship. My daughter, on the other hand, was 13 months old. Now, at age 15, she's hoping for the fourth World Series championship of her lifetime, which would be one every 3.75 years—a far cry from my grandfather's one every 84—and which would be her tenth Boston championship. Talk about spoiled.
But what are we to do? A return to epic-scale futility would take decades of almost-winning-but-ultimately-losing; it can't be achieved in the years that I, at age 49, have left. So I yield to gluttony and unleash my inner Masshole. I hope this year's Red Sox team, which is ridiculously likable, crushes the hateful Dodgers. If we can't have the grace of epic losing, then bring on mere greatness.