What the Black Men Who Identify With Brett Kavanaugh Are Missing
When men of color see themselves in the embattled Supreme Court justice, they're not seeing the bigger picture.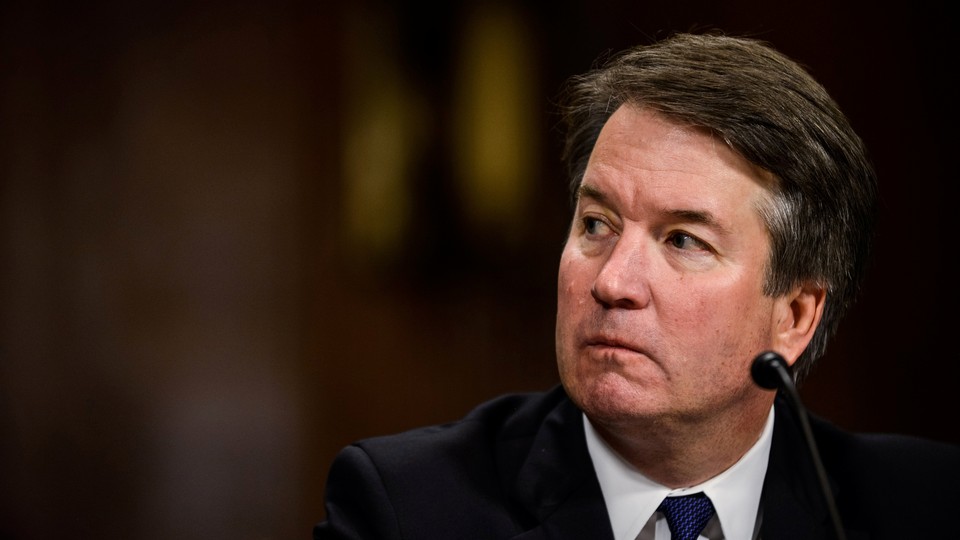 On Tuesday night, I was in an auditorium with 100 black men in the city of Baltimore, when the subject pivoted to Brett Kavanaugh. I expected to hear frustration that the sexual-assault allegations against him had failed to derail his Supreme Court appointment. Instead, I encountered sympathy. One man stood up and asked, passionately, "What happened to due process?" He was met with a smattering of applause, and an array of head nods.
If you think Kavanaugh receiving some measure of support from black men in inner-city Baltimore is as strange as Taylor Swift suddenly feeling the need to become a modern-day Fannie Lou Hamer, then brace yourself: The caping for Kavanaugh does make a twisted kind of sense. Countless times, black men have had to witness the careers and reputations of other black men ruthlessly destroyed because of unproved rape and sexual-assault accusations. And as that Baltimore audience member also argued, if the claims were made by a white woman, expect the damage to be triple.
Kavanaugh's emotional defense of his reputation against the claims of a sympathetic white woman resonated with these unlikely allies. And it wasn't just in Baltimore, at the town hall organized for Ozy Media's "Take On America" series. This bizarre kinship was something I noticed in my Twitter mentions, too, where black men were tossing out examples of how white lies had wrecked black lives.
If anyone has the right to complain about unproved allegations or cry #HimToo, it's black men. A report released last year, examining 1,900 exonerations over the past three decades, found that 47 percent of the people exonerated were black, despite the fact that blacks make up only 13 percent of the U.S. population. In sexual-assault cases, blacks accounted for 22 percent of convictions, but 59 percent of exonerations.
Those disparities also underline an equally important point that seems to be getting lost in the conversation. White men don't ordinarily face the kind of suspicion and presumptions of guilt to which men of color are routinely subjected. If Kavanaugh were black, how many people would empathize and relate to his circumstances?
Some of the comparisons tossed about on Twitter were less apples-to-oranges than apples-to-radiators. But one name continually surfaced from these defenders of Kavanaugh: Brian Banks.
If you haven't heard of Banks, prepare to be outraged. Banks was a senior at Long Beach Poly High School and a promising linebacker who had already committed to the University of Southern California when his playing career was torpedoed by a false rape accusation. As the Los Angeles Times reported in 2012, Banks served five years in prison after striking a plea deal that spared him from serving 41 years in prison.
Banks would never have been exonerated had his accuser, Wanetta Gibson, not sent Banks a friend request on Facebook once he was out of prison. Gibson, a high-school sophomore when she accused Banks of rape, agreed to meet with Banks and a private investigator because, she said, she felt guilty and had "a desire to make amends."
Banks and his investigator recorded the meeting. On the strength of the new evidence, the California Innocence Project decided to take on Banks's case. It was able to right a very costly wrong. The school district later won a $2.6 million lawsuit against Gibson, forcing her to pay back the $750,000 settlement she had received from the district after Banks's conviction.
But the slow bend toward justice could never undo what had already been done. The 10-year fight to clear his name had robbed Banks of his prime football-playing years, likely along with millions of dollars. After he was cleared, the Atlanta Falcons gave Banks a tryout. He survived the 2013 preseason before they cut him.
I reached out to Banks and asked whether he had any thoughts about this solidarity some black men seem to feel with Kavanaugh, but he politely declined to comment. I can't say that I blame him, since there's probably nothing Banks could say that wouldn't be interpreted as being unsympathetic toward victims.
But if it's possible to look at Banks's example and understand why some black men identified with Kavanaugh, it's impossible to look at it closely without arriving at a very different set of conclusions. Banks had none of the advantages that Kavanaugh enjoyed: no legions of well-connected friends to vouch for him, no army of partisan defenders, no politicians rallying to his defense. Banks faced spending the bulk of his life in jail; Kavanaugh risked losing a promotion. The reason black men are three and a half times as likely as whites to be exonerated after being convicted of sexual assault is that there's generally been one standard for suburban prep-school athletes, and another for the Brian Bankses of this country.
Black men have every right to be frustrated by the lack of due process and the inevitable rush to judgment they often face in sexual-assault cases. But that's not because they've so often been treated like Kavanaugh—it's because they so rarely have.