A Voting-Rights Showdown in Dodge City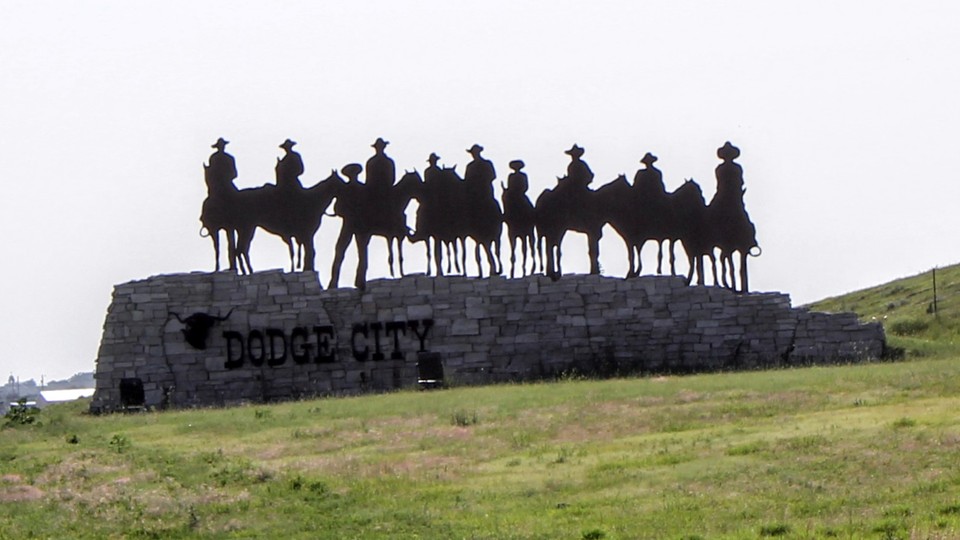 Editor's Note:
This article previously appeared in a different format as part of The Atlantic's Notes section, retired in 2021.
One of this cycle's most closely contested, and highly important, elections is in Kansas. There the Republican Secretary of State, Kris Kobach, is in a surprisingly tight race for governor—against the Democratic nominee, Laura Kelly, and an independent, Greg Orman.
Apart from the general stakes in all races this year, this one has two additional points of consequence. First, it is a de facto referendum on the radical cuts in both taxes and spending wrought by the previous governor, Sam Brownback, a Republican. The cuts were supposed to energize the economy; they're now widely seen as having badly damaged the state, and are unpopular with Republicans and Democrats alike.
Second, it's both a referendum and a possible test case in the modern drama of voter suppression and voting rights. The Republican who hopes to become governor, Kobach, is at the moment the Kansas secretary of state. In that role he is responsible for supervising the very election he is running in. (Brian Kemp, the Republican candidate for governor in Georgia while serving as secretary of state, is in the same structurally conflicted role.) Even more than Kemp, and second only to Donald Trump, Kobach has in the past few years trumpeted the supposed menace of "voter fraud," and has very aggressively pushed new ID  requirements and other "protections" against the voter-fraud threat he talks about constantly. (Am I exaggerating? Judge for yourself.)
With this background, news over the past few days about a voting-rules change in a small Kansas city drew national attention. As it happened, the community affected, Dodge City, is one that my wife, Deb, and I have written about extensively. This past week's news portrayed the city in a very different light from the one we had seen. Had Dodge City changed? That is what we have tried to find out.
---
Through the summer of 2016, Deb and I chronicled the experiences of individuals, families, companies, and public organizations in the famed Kansas town of Dodge City.
In popular culture, Dodge City has long been known as the locus of the Western melodrama Gunsmoke. In its modern economic reality, it  is part of the beef-packing economy of western Kansas--along with Garden City, Liberal, and some smaller communities. Over the past 30 years, this economic shift has also driven an ethnic shift in the region, as many immigrant workers—mostly from Mexico and elsewhere in Latin America, but significant numbers from Africa or Asia—have come to work in Kansas feedlots and slaughterhouses.
How a long-established Anglo business and political establishment dealt with the new, "majority-minority" citizenry of their towns is the main story that Deb and I told in our dispatches and then our book. You can see a collection of many of the real-time installments here.  Some that mainly dealt with the ethnic politics of western Kansas were: "The Story of Ernestor," "New Pioneers in Southwest Kansas," "The Multi-Dimensional Reality of the Nation," "Dodge City Postcard," "Is America in a Boiling Fury About Immigration?", and "What the  Renewal Energy Economy Looks Like."
In our book we talked about the same adjustment. For instance, I quoted a man named Greg Ruhle, an executive of an agricultural-technology firm, about the city's new Latino majority:
"Dodge City has found a way to make this work," Ruhle said. "No one fought it in the schools. I'm a pretty conservative guy, but I think we have to keep finding a better way to integrate this diverse population into our economy. If I say it in conservative circles, I might run the risk of somebody heating up the pot of tar, to tar and feather me. But it's the reality of our town."
That is  the context from which we saw news stories this weekend about what seemed to be a crudely discriminatory voter-suppression move underway in Dodge City. You can read the details here, in the Dodge City Globe's version of the main AP story, but in essence the news was that the city's only polling place was being relocated outside of town, and to an area far from bus stops or other public transportation.
Like similar efforts in other states to make voting harder rather than easier (let alone mandatory, as it is in Australia), this seemed calculated to depress turnout from city voters who were lower-income, more likely to be on the job for long hours, and less likely to vote Republican. What was going on? How did this fit the view of Dodge City we had presented?
This week I talked with people we'd met before in the region, and learned two main things.
---
First, this was a county rather than a city move—a decision from the authorities in Ford County, of which Dodge City is the county seat and population center, rather than from the city authorities like those we had interviewed during our visits. The stated reason for the shift in voting sites was planned construction at the original voting site, in the county civic-center building (which is a little more than a mile north of the historic downtown). As a statement issued on Tuesday by E. Kent Smoll, the mayor of Dodge City, quite directly put it: "Elections are an issue that falls within the jurisdiction of the Ford County Clerk and/or the Secretary of State. The City of Dodge City has no authority over election issues."
Again, the current secretary of state in Kansas is Kris Kobach, who through his career has notoriously fanned false fears of "voter fraud." Was the Ford County move related to Kobach's current race, and his long-standing voter-restriction efforts? What about the city having only one polling site in the first place, versus smaller Kansas cities that had more?
I don't know yet, and haven't heard back on this point from state officials, but will continue to ask.
But I do know the way the city responded to the latest development, and their response is in keeping with what we heard when we were there.
In a statement from the mayor on Tuesday, issued in both English and Spanish, the city said that it would provide free, door-to-door transportation from home to the polling place, for anyone who called to schedule it. (Lyft announced a similar commitment.) The mayor's statement also detailed all the early-voting hours and absentee-voting provisions that were still available.
That's the tangible part of the city's response to the county's move. At least as notable to me was the rationale the mayor offered. His letter said:
We are very proud of our small but growing diverse community.  Our citizens are engaged in all facets of our community including commerce, education, recreation, and politics.  With that being said, our citizen's accessibility  to exercising their most fundamental right of voting is our utmost concern….

We continued to receive inquiries and statements implying that our community voters are being suppressed.  It is not our place to agree or disagree, however, we feel it is necessary to share the facts and what we are doing to assist our citizens.
You can read the full announcement at the city's Facebook site.
We didn't meet Kent Smoll when we were in town. But we talked several times with his predecessor, then-mayor Joyce Warshaw, and we met some of his colleagues—established, culturally and politically conservative business and civic leaders who had seen their city change from mainly white to majority-Latino. And most of them said to us, in conversations and interviews, what he is now saying in his official capacity: that they were proud of what their community was becoming.
Whatever the motives behind the county's decision, the city's response is what we would have expected from people like those we met—and one that all its citizens should welcome.