What I Learned as an EMT at the Border Wall
Working at the U.S.-Mexico border, I saw how the barrier injures those who attempt to cross it.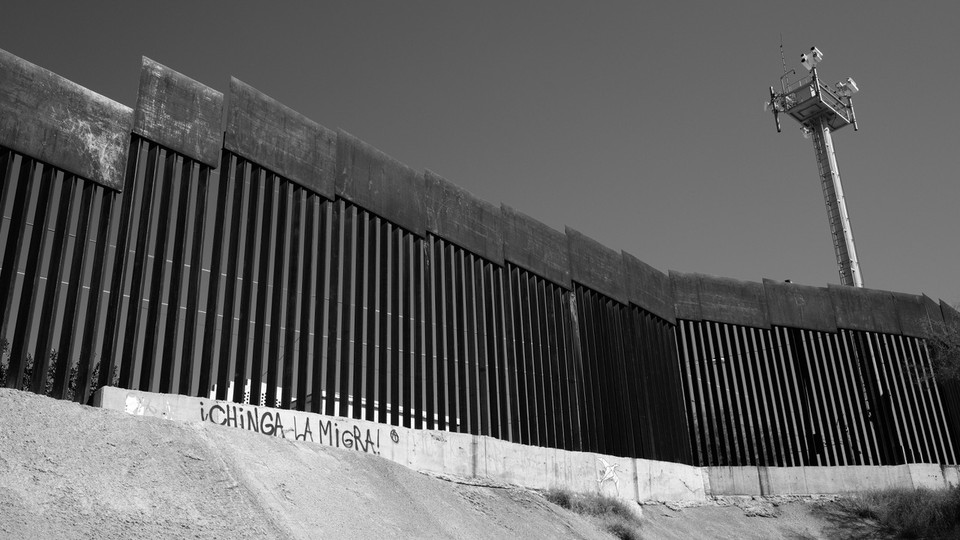 The call came in around 10:45 a.m. Over the loudspeaker, the city's 911 dispatcher instructed Medic 1 and Engine 3 to respond to the area west of the Mariposa port of entry for a 30-year-old female with traumatic injuries from a fall. As an EMT and a paramedic, I had treated many injuries, whether from vehicle rollovers or drive-by shootings, but this was the first patient I saw as a volunteer emergency responder at the U.S.-Mexico border.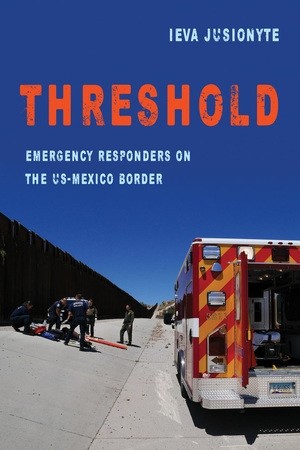 Lying supine on the strip of concrete that stretches parallel to the rusty metal fence was a young woman, whom I will call Araceli. (I agreed not to use real names as a condition of my research as an anthropologist and my care for patients as an EMT.) She had climbed a ladder on the other side of the steel border wall, but was unable to hold on to the structure and fell down from a height of about 24 feet. We were told that she had been lying there for two hours when a Border Patrol agent found her.
"Ay, mis piernas!" she shouted, grimacing from pain in her legs.
The rescuers acted quickly. At the direction of JLo, an energetic bilingual paramedic, they removed her sneakers and cut off the bottom part of her jeans to expose her fractured ankles; they cleaned Araceli's feet with normal saline, and bandaged and splinted them using cardboard and tape. A cervical collar was put around her neck to protect her spine from further injury. Araceli's injuries qualified her for trauma alert, which meant that she had to be flown directly to the University Medical Center in Tucson, the only Level I trauma facility in the region.
"Se trajeron mis zapatos?" she asked in the ambulance, en route to the helipad. Did anyone bring her shoes?
She had broken both legs, and months would go by before she was able to walk again. But she was thinking about her shoes—a weapon of the weak, which migrants use to walk under the light of the moon, to run from bandits who want to rob and hurt them, and from the Border Patrol agents who want to capture them and send them back to start all over again. Without her shoes, she doesn't stand another chance. Before we left the scene, one of the firefighters collected Araceli's bloodstained shoes and put them in a red biohazard bag.
As soon as we arrived at the hospital, the flight crew got inside. JLo informed the flight nurse of the patient's chief complaint, relayed her signs and symptoms, and described the treatment they had done. Together, they moved the patient to the helicopter, and we watched it take off.
---
Volunteering on both sides of the border, I witnessed how the wall predictably mutilates the bodies of those who try to scale it. The adoption by the Border Patrol of the "prevention through deterrence strategy" in 1994—which involved increasing the length and the height of the border fence in urban areas—significantly expanded the number of wounded migrants. The shifting design of the border fence produces particular forms of injuries: The sharp edges on top of the previous fence, made of corrugated sheet metal left over from the Vietnam War, amputated limbs; the tall, slatted steel wall we have today fractures legs and ankles. In towns along Arizona's southern fringe, ambulances go to pick up wounded border crossers so frequently that emergency responders refer to the cement ledge abutting the wall as "the ankle alley." The border wall is a key component of "tactical infrastructure"—a concept that Customs and Border Patrol uses to refer to the assemblage of materials and technologies that regulate movement in the name of national security. It includes gates, roads, bridges, drainage structures and grates, observation zones, boat ramps, and lighting and ancillary-power systems, as well as remote video surveillance, which together "allow CBP to provide persistent impedance, access, and visibility, by making illicit cross-border activities, such as the funneling of illegal immigrants, terrorists, and terrorist weapons into our Nation, more difficult and time-consuming." Such "tactical infrastructure" simultaneously produces victims and marks them as criminals.
To determine the placement of tactical infrastructure, the Department of Homeland Security devised an algorithm called the "border calculus." It was part of the Secure Border Initiative, a multiyear, multibillion-dollar program inaugurated in 2005 that combined the expansion of tactical infrastructure along more than 600 miles of the U.S.-Mexico border with the creation of a "virtual fence"—a high-tech barrier consisting of surveillance towers that monitor activity and look for incursions using radar, sensors, and high-resolution cameras. Border calculus bolstered the program's credibility by making security appear like science, emphasizing both the spatial and temporal dimensions of enforcement. In the words of Gregory L. Giddens, who directed the Secure Border Initiative, the chart lays out "a very simple algorithm that our ability to respond to a border incursion needs to be much less than the time it takes an illegal alien to get to a vanishing point."
But smugglers and migrants can breach a barrier by passing under it through a subterranean tunnel or using a ladder to climb over it. Today, agents in Nogales, Arizona, send handheld drones to scout the tunnels extending under the international border. From Fort Huachuca military base, southeast of Tucson, the agency operates unmanned aerial vehicles, including Predator B drones, equipped with radar and sophisticated sensors that can follow movement in real time and distinguish people from animals 25,000 feet below their flight path. Dubbed VADER (Vehicle and Dismount Exploitation Radar), these systems were developed for the U.S. Army to detect enemy combatants planting roadside bombs in Afghanistan, but are now deployed to track men, women, and children who risk their lives for a chance to escape violence, reunite with their families, and join the exploited labor force. Drones work in conjunction with checkpoints. Since 2007, a system of interior roadblocks has proliferated on all northbound roads in southern Arizona, providing visual testament to the extralegal powers that CBP claims within a zone that stretches 100 miles from the boundary of the United States. Checkpoints push unauthorized migrants off the main roads and into the desert, prolonging the "time to vanishing point" not by hours, but by days. "Vanishing" acquires a different meaning here: People disappear in the desert. Aerial surveillance—the eye in the sky—may detect those still moving against the clock on this pale canvas, before the bodily fluids that keep them alive run out. But others are gone without a trace. Vanished before they reach the "vanishing point." More than 7,000 people have died crossing the militarized region in the past two decades.
---
A few days after Araceli was airlifted from Nogales and flown to Tucson, I drove north in the hope of finding her in recovery at the hospital. Two rescue helicopters stationed closest to the border, LifeLine 3 and LifeNet 6, can deliver a patient to the regional trauma center in about 20 minutes. It takes more than an hour to cover the 70-mile distance by car. All ground transportation halts at a massive Border Patrol checkpoint on I-19 north of Tubac. Since its appearance as a "temporary" roadblock in 2007, undocumented border crossers and long-term residents alike have been avoiding calling 911. Going north to Tucson, where all the major hospitals are located, requires them to pass the cameras, dogs, and agents at the checkpoint. If they seek medical care, they may be detained and deported. Paramedics who live and work in border communities understand this fear. Sometimes they can take undocumented patients to Holy Cross Hospital in Nogales, but it provides only basic services. Other times, no matter what they tell patients about the risk of refusing to go to the hospital—they tell them that they could die—they still won't risk going through the checkpoint.
A doctor named Hann met me in his office at the University of Arizona's department of surgery, located on the hospital's fifth floor. The border wall looms large in the emergency room where he works. "Most commonly we see people who are trying to cross the border by trying to climb the wall. In certain areas, the fence is up to 20 to 30 feet high. A fall from that height can be pretty serious. Very frequently we see patients with orthopedic injuries. Ankle fractures are very common, tib-fib—or lower-extremity—fractures, and spinal fractures," he said, listing the most common injuries caused by the barrier. "When someone falls and lands on their feet, the energy is transferred from the feet all the way to the spine. We've had quite a few head injuries as well."
As trauma surgeons who work in a facility less than a hundred miles from Mexico, he and his colleagues get critically injured patients from both sides of the border as well as on both sides of the law. Undocumented border crossers are not the only ones receiving care here. There are Border Patrol agents who wreck their vehicles on the rugged desert terrain. There have been high-profile criminals from Mexico, including a woman who sustained a bad injury when she was shot in the head. Her recovery was difficult, remembers Hann, but despite her family's protests, she was repatriated to Mexico. Trauma surgeons don't always know the legal circumstances surrounding their patient's critical condition. They focus on what needs to be done to save a person's life: suturing arteries to stop the bleeding, lowering intracranial pressure to prevent brain herniation. "We don't care where they are from and what their nationality is, how much money they have," said Hann. "None of us cares about that. We just take care of them."
Under Section 1011 of the Medicare Prescription Drug, Improvement, and Modernization Act of 2003, the federal government designated funds to compensate ambulance companies and hospitals for emergency care of undocumented migrants, but the reimbursement program ended in 2008. The Border Patrol, however, continues to bring about 50 patients with fall injuries to the University Medical Center every year, and UMC treats anyone who needs care. Most of the costs incurred by undocumented patients are written off because few are able to pay. Financial concerns have pushed the administration to seek ways of sending stabilized patients back to their country of origin—even if doing so might pose a risk. "Where does our care end?" Hann wondered:
The ones that go back to Mexico, you really wonder what's gonna happen to them. For example, patients with spinal fractures who need rehabilitation, they can hardly move … I'm assuming most of these people who were trying to climb walls to get to the States don't have a lot of financial resources to begin with. Now they go back to Mexico in an even worse physical condition, having suffered pretty significant injury. What's gonna happen to them in terms of their ability to survive in their environment? What's their follow-up going to be? If there is a surgical complication, what's gonna happen to them?
I didn't find Araceli at the hospital. A woman at the information desk referred me to another woman in the administration who kindly agreed to look for her in the admissions log. But she was not there. Patients who arrive at the hospital through the Border Patrol are not registered under their real names. They stay at UMC for a few days, and then they are taken to the Border Patrol station for processing. Some are detained, and others are transferred to Nogales for immediate deportation. Mexican migration authorities meet them at the port of entry and transport those who need medical treatment to the Hospital General Nogales, where they stay until they are well enough to travel back to their hometown. Araceli could be anywhere now.
---
In 2015, the Mexican Consulate registered 59 Mexican nationals hospitalized in Tucson. May was the busiest month: 11 cases. In 2016, they counted 66 people, 12 of them in March, 10 in July. Most of these were fractures caused by falling off the muro fronterizo—even the consulate calls it a border wall, not a fence. Other common reasons for hospitalization included dehydration, injuries to the feet (blisters, cuts), and GI problems from drinking contaminated water. The consulate also registered bites by poisonous animals, spontaneous abortions resulting from severe dehydration, drowning in the arroyo during the rains, sexual abuse by human traffickers, and ingestion of cactus. The numbers may seem low, but that is because the consulate only learns about a patient when either the Border Patrol or the hospital lets it know.
The wall in Nogales, consisting of concrete-and-rebar-filled steel tubes, meets most of the requirements of President Donald Trump's signature campaign promise: "the big, beautiful wall." It may not be "aesthetically pleasing," but at least few see the wounded. Mutilated bodies are made invisible: Some vanish in the desert and turn up years later as bone fragments reassembled in forensic labs; others are picked up by ambulances and rushed to hospitals, where doctors attend to their fractures and replenish their dehydrated bodies with fluids before ICE locks them up in detention centers. People who have been hurt by the wall live in the shadows of public spaces, with renal failure or a permanent limp, bound to a wheelchair or missing a hand. Some are afraid to seek treatment because they still don't have documents to live legally in the U.S.; others are unable to find or afford long-term care once deported to their country of origin.
Several weeks went by before I saw JLo, the paramedic who treated Araceli, again. He heard that a woman in Nogales, Sonora, complained on the radio about the ill treatment by the Border Patrol. She said that when she fell off the fence, she was left lying there for hours. She said she saw Border Patrol agents passing through, but they didn't stop to help her.
JLo was sure it was Araceli. "It seems she has been just deported back to Mexico," he told me. There's no way to know that it wasn't Araceli, but it could well have been someone else. Hers is but one among many painful stories echoing back and forth across a militarized border.
---
This article is adapted from Threshold: Emergency Responders on the U.S.-Mexico Border Wall.