The Guardrails Have Failed
The conflict over Trump's Supreme Court nominee exposed the fast-eroding institutional barriers to the president's authoritarian instincts.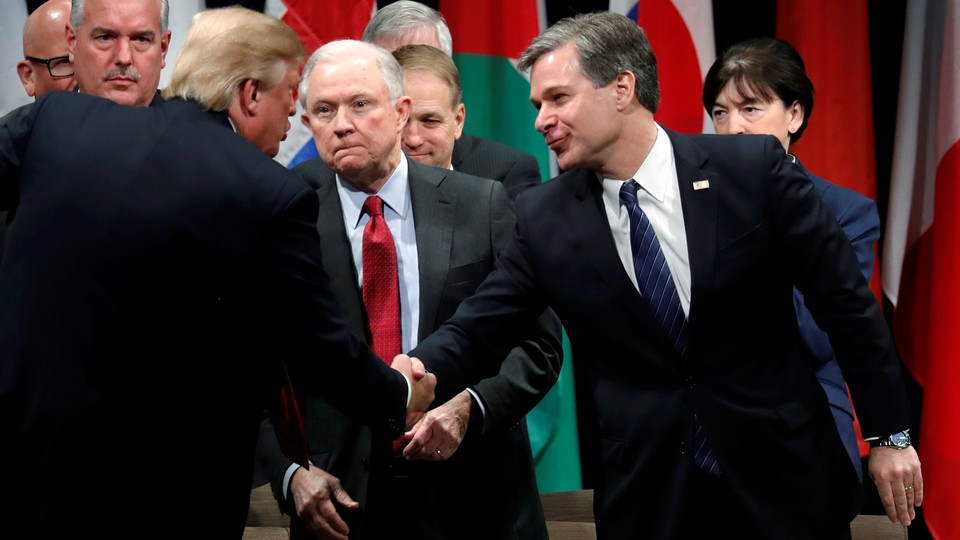 The Republican-controlled Senate appears poised to confirm a Supreme Court justice who believes in presidential immunity to criminal investigation. He was handpicked by a president whose wealth was inherited through tax fraud, whose former personal attorney has implicated him in a federal crime, and who is the focus of an ongoing investigation into a foreign attack on American democracy.
For the past two weeks, the debate over Kavanaugh has focused on the psychology professor Christine Blasey Ford's emotional testimony before the Senate that Brett Kavanaugh attempted to rape her as a teenager, and Kavanaugh's furious denial. But once Kavanaugh revealed himself as an unrestrained partisan actor, Republicans rallied to his support. Americans do not know for certain that Ford's allegations are true, but they do know for certain that no one with the authority to do so ever made a real effort to find out.
Whatever remained of the separation of powers within uniform Republican control of government melted away in the fracas over Kavanaugh's confirmation. Senate Republicans abdicated their duty to oversee nominations by refusing to call the only witness to Ford's allegations, Kavanaugh's classmate Mark Judge, to testify publicly. The White House severely curtailed the FBI inquiry, making it unlikely to turn up evidence that Kavanaugh had lied under oath about his drinking or high-school behavior, despite one public report after another that showed his testimony to be false. The successful Trump administration effort to limit the investigation into Kavanaugh demonstrated that the stated commitments of Attorney General Jeff Sessions and FBI Director Chris Wray to resist political pressure in their enforcement of the law will crumble under sustained pressure. With his ascension to the Supreme Court, Kavanaugh will be able to make good on the threat of partisan vengeance he made in his testimony.
The Kavanaugh saga has tainted all three branches of government with Trumpist corruption: a Senate majority that will turn a blind eye to the most serious of allegations, a Justice Department that will acquiesce to sham investigations designed to exonerate political allies, and a Supreme Court tainted by the presence of a partisan hatchet man, before whom no left-leaning person or organization could possibly obtain a fair hearing. Sometimes, when democracies die, they do so in grand gestures. But often there is no single event that heralds the end of the rule of law, but a slow, imperceptible erosion of the safeguards against political abuse of state power.
Any sense of civic obligation among Republicans is quickly fading: the idea that the opposition has rights, that judges and elected officials serve all of the American people and not simply their own party's base, that the judiciary does not exist as a partisan fiefdom to further one side's ideological agenda. In its place is a growing adherence to reflexive Trumpism. No objection the opposition could have is legitimate, because no opposition is legitimate. Those who support Trump are good, and those who oppose him are bad.
Republicans responded to Ford's charges, and those from Deborah Ramirez, by accusing Democrats of waging a smear campaign and of dispensing with the principle that the accused are innocent until proven guilty. But Kavanaugh was up for a lifetime appointment to the high court, not facing criminal charges. The proper frame to evaluate the charges against him is to gauge the cost to the American people of having someone credibly accused of sexual assault on the Court. Instead, Republicans focused on the potential cost to Kavanaugh's career and reputation. And even as evidence mounted that Kavanaugh had misled the Senate about his high-school behavior, his drinking habits, and references in his yearbook, conservatives insisted Democrats were raising irrelevant matters related to trivial adolescent misbehavior.
But the questions about Kavanaugh's drinking in high school only became relevant after Ford's allegation and Kavanaugh's blanket insistence that he had never drunk to the point of blacking out. One after another, former classmates attested to Kavanaugh's habit of drinking to excess, raising doubts about the credibility of that blanket denial. They understood, as Kavanaugh did, that acknowledging that he may have blacked out would lend credence to Ford's allegation. More and more evidence emerged that Kavanaugh misled the Senate about childish references to sex and booze in his yearbook, suggesting that, if necessary, Kavanaugh would lie under oath in order to take his place as a justice.
But even if one believed that Ford and Ramirez were lying, that Kavanaugh's youthful drinking was irrelevant, and that he had not misled the Senate deliberately or otherwise, Kavanaugh showed himself unfit for the federal bench when he declared, "This whole two-week effort has been a calculated and orchestrated political hit" by "left wing groups" in an act of "revenge on behalf of the Clintons," and warned that "what goes around comes around." Kavanaugh himself said in 2015 that a judge must not be a "political partisan" and that judges must make decisions "impartially and dispassionately based on the law and not based on your emotions." By the most generous of standards, Kavanaugh has disqualified himself on both counts.
Kavanaugh's suffering, even if entirely undeserved, does not entitle him to an appointment to the Supreme Court. That frame of understanding has it entirely backwards: It is the American people who are entitled to independent, impartial adjudication of the law, an obligation Kavanaugh has shown himself unfit to fulfill.
In an op-ed for The Wall Street Journal Thursday, Kavanaugh insisted that he was an "independent, impartial judge," writing, "I was very emotional last Thursday, more so than I have ever been. I might have been too emotional at times. I know that my tone was sharp, and I said a few things I should not have said." That this non-apology was issued from the pages of the most prominent right-wing op-ed page in the country is no coincidence.
Kavanaugh's charge that he was the victim of a left-wing conspiracy, and his threat of revenge, were in his prepared remarks; they were not a spontaneous emotional outburst. If Kavanaugh cannot even pretend to make a commitment to nonpartisanship without misrepresenting his own actions, his word is absolutely worthless. It is less than worthless. It is a winking performance of insincerity for a conservative audience that is in on the joke.
Many conservatives, who might have been expected to place their civic obligations over their partisan interests, instead convinced themselves that not only were Ford's allegations wrong or fabricated, and that a deliberately circumscribed FBI inquiry sufficed, but that the nature of Democratic opposition to Kavanaugh justified confirming him at all costs. "Whatever the outcome of the immediate contest," wrote Sohrab Ahmari in the New York Post, "it's increasingly clear that Democrats and the media establishment made an enormous miscalculation by waging total war against Kavanaugh and his family."
If conservatives see "total war" to be seriously considering sexual-abuse allegations against a man poised for a lifetime appointment on the Supreme Court, the only acceptable response to Ford would have been to dismiss her as quickly and completely as Republicans did. Any empathy for Ford, who had nothing personal to gain from coming forward, and who has been rewarded for doing so by being held up for scorn and ridicule by the president of the United States, is notably absent. That liberals would have opposed Kavanaugh because of his legal views, but be particularly alarmed by the idea of a sexual predator ruling on the constitutional rights of millions of women, is not even worth considering.
Whether because the partisan incentives were sweet enough, or liberal opposition caustic enough, many conservatives proved willing to acquiesce to a rubber-stamp legislative branch, politicized enforcement of the law, and a viciously partisan judiciary. They might have insisted that an FBI inquiry be thorough. They might have insisted that Kavanaugh be replaced with a similarly conservative judge without similarly partisan inclinations. They might have demanded the Senate majority carefully investigate the charges of Ford and Ramirez. But they did none of these things. Given the right price, they sold out their principles.
Ashamed of what Trump has revealed about the conservative movement, right-wing intellectuals who find themselves defending the indefensible have insisted, since Trump's primary victory, that liberals forced their hands. But if all it takes to supersede their commitment to democracy is the perception of left-wing rhetorical excess, that commitment was weak to begin with. And if Trump knew that all he had to do to trigger a fierce, unthinking sense of victimhood from Ivy League–educated conservatives, or neutralize whatever resistance they were willing to offer, was to subject one of them to a public firestorm, I have little doubt he would have done it sooner.
As for Kavanaugh, every opinion he writes, every decision he joins, and every day he sits on the bench will be tainted with illegitimacy. As senators who represent a shrinking portion of the population prepare to confirm a justice more Americans oppose than support, who was nominated by a president for whom most of the electorate did not vote, the crisis of American democracy comes into sharp relief. Whatever their self-perception, Republican control of the three branches of government is countermajoritarian. With the guardrails of separated powers broken, the last remaining defense for American democracy and the rule of law is the electorate itself.