Some Presidential Lies Are Impeachable Offenses
Will Trump's statements on Russia come back to haunt him?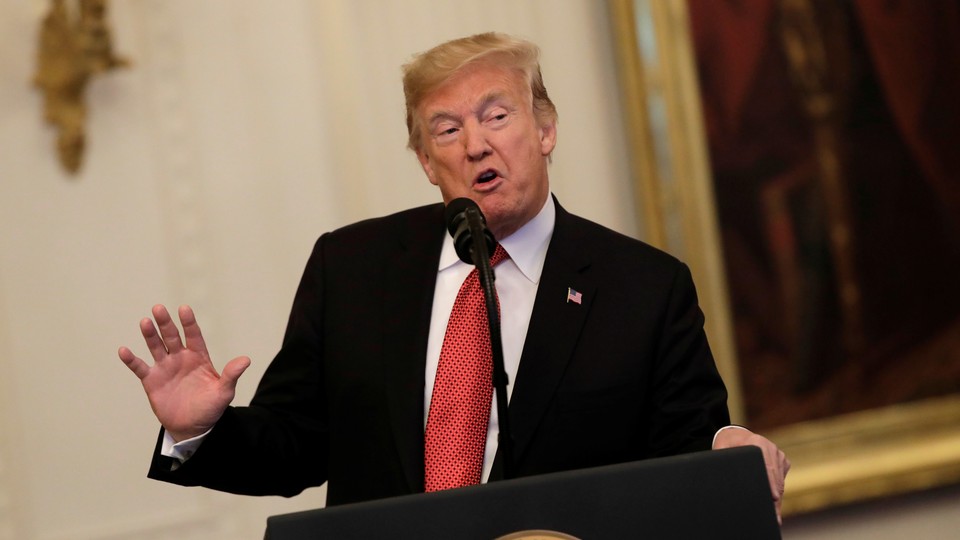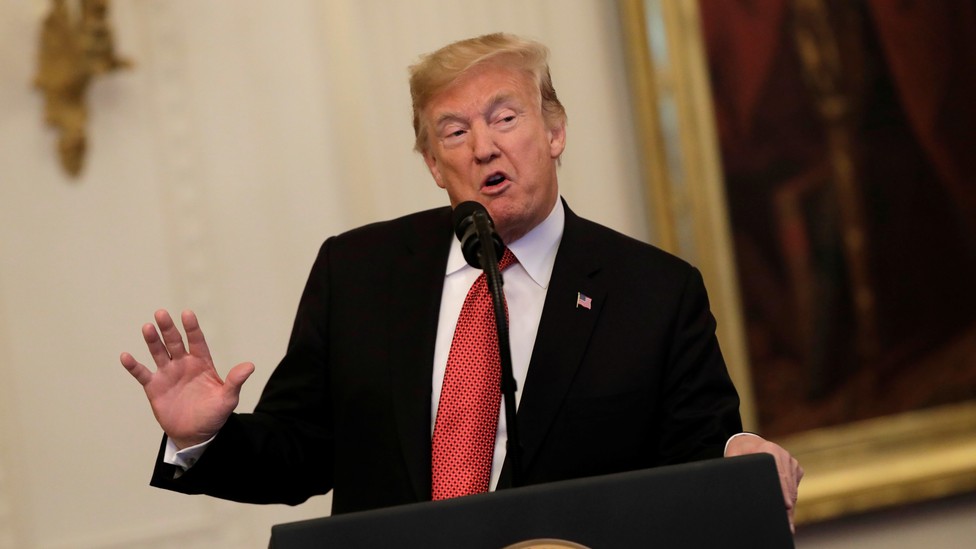 President Trump is a committed liar, as even his most dependable supporters openly concede. The Washington Post columnist and former George W. Bush speechwriter Marc Thiessen recently wrote that "the president lies all the time," and he included this candid assertion in a piece favorable to the president. A serious question is whether Trump's lies have put him at risk of impeachment.
Of course, politicians are not generally celebrated for their scrupulous adherence to fact or avoidance of hyperbole. Presidents before Trump have had troubled histories with the truth. But the scale of Trump's lying—his resort to the lie as a central feature of leadership style—sets him apart from his predecessors.
What a president lies about makes all the difference in judging whether his falsehoods rise to the level of an impeachable offense. Some blatant misrepresentations, while reprehensible, matter only in the court of public opinion and at the polls. Trump's list of reprehensible-but-not-impeachable lies is long.
For example, Trump has lied about how he made his money and built his business. The claim that his father launched him in life with a loan of $1 million and no more is false. He also lied in denying that he arranged to buy the silence of women with whom he had extramarital affairs. He has fabricated entire claims about public-policy matters, as he did most recently by inventing an "open borders" immigration bill ostensibly supported by "every single" Democrat in the Senate. About statements of these kinds, it might be said "caveat emptor," buyer beware.
Some lies, however, may represent a dereliction of constitutional duty, and these cannot be left to the political marketplace.
As Philip Bobbitt shows in his supplement to Charles Black's landmark study of impeachment, a "conspiracy to pervert the course of a presidential election" by "acting in league with a hostile foreign power" is clearly a basis for removal. So, too, is any false statement made to impede an investigation into this kind of conspiracy—including false statements to the public. A clear precedent is the article of impeachment on obstruction passed by the House Judiciary Committee in the proceedings against Richard Nixon. It included a charge that Nixon had made "false and misleading public statements," which were "contrary to his trust as president and subversive of constitutional government."
It is entirely possible that Trump has made "false and misleading public statements" of exactly that sort.
The president has repeatedly denied not only any legal offense of "collusion" with Russia leading up to the 2016 election—however he may understand the term—but also any contact at all between his campaign and the Kremlin. In November 2016, Hope Hicks spoke for him and his campaign in saying that there was "no communication between the campaign and any foreign entity during the campaign."
But there was indeed such communication, including at Trump Tower on June 9, 2016, when high-level campaign officials met with a Kremlin-connected Russian lawyer and her associates offering "dirt" on Hillary Clinton. Although the president now takes the position that if there were contacts, he did not authorize them and knew nothing of them at the time, there are people who could falsify that claim.
Prominent among these witnesses is the former Trump campaign manager Paul Manafort, who is now cooperating with the special counsel in charge of the Russia investigation, Robert Mueller.
Contrary to the suggestion still periodically made in the president's defense, collusion that consists of a campaign's receipt of value from a foreign national, including but not only value in exchange for future policy concessions, would squarely present a violation of federal law.
But to put his onetime boss in jeopardy of impeachment, Manafort would not have to provide evidence of actual collusion—only that Trump knew of attempts to collude in one way or another, and repeatedly, publicly lied about them.
Manafort could, for example, shed light on what the president knew of the Trump Tower episode in advance, and when he learned about the results. On June 7, 2016, two days before the planned meeting, the president indicated that he would deliver a "major speech" about Hillary Clinton. Manafort might know if the president was getting ahead of himself, believing that Russians were on the way with "dirt" that Trump could use for such a speech. It has never seemed likely that if a foreign individual described as a "Russian government attorney" came to the United States for the declared purpose of sharing opposition research, the candidate would not have been informed. Manafort may have been the one to inform him, or would know who did.
Manafort may also have testimony to offer on what the president knew of other campaign initiatives to enlist Russian support for the campaign. Nothing on the public record would lead a reasonable observer to believe that the Trump campaign took a single meeting with Russians, for campaign purposes, and then dropped the subject, allegedly disappointed in the results on that one occasion.
Ever since April 2016, when the campaign adviser George Papadopoulos learned from a Russian contact that the Kremlin might have "thousands" of Hillary Clinton emails, the campaign would have been encouraged to think that the Russians had a trove of useful information on Clinton. Donald Trump Jr.'s now-public emails reflect his enthusiasm for obtaining this material, and in the month after the June 2016 meeting, the president publicly called for the Russians to locate and release what they might have.
Did the president ask his campaign manager to explore every avenue for obtaining this information? Manafort had lines of communication with the Russian government. Most notably, he had contacts over that period with his longtime associate Konstantin Kilimnik, who the special counsel has identified as having had active ties to Russian intelligence services. Did Manafort suggest to the president that he would do what he could through this contact and others to encourage assistance from Moscow? And did he try to signal the Trump campaign's openness to a mutually beneficial relationship with the Kremlin—such as by directing revisions in the Republican Party platform on Ukraine?
If Trump looked to the Russians to aid his election campaign and then lied to the public about it, an impeachment inquiry would be fully justified—quite apart from the separate question of whether he achieved his goals. Donald Trump Jr. is among those who may know, but may never tell. Paul Manafort may know, too, and he's talking.