Does Anyone Still Take Both Sexual Assault and Due Process Seriously?
In the aftermath of the Kavanaugh debacle, I will remain pessimistic, on the sunset side of the mountain.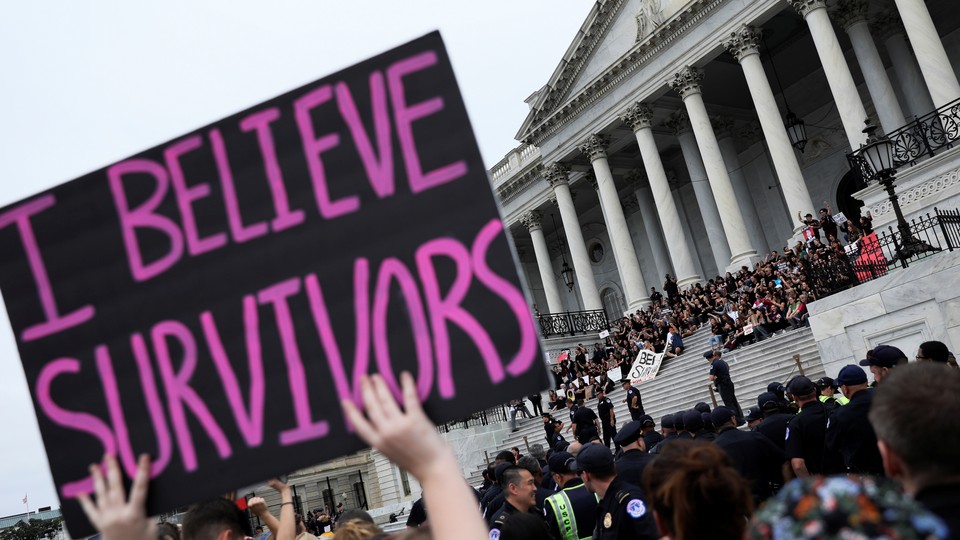 In a Wall Street Journal op-ed written shortly before his confirmation vote, Judge Brett Kavanaugh assured the public that Justice Brett Kavanaugh would not resemble the enraged nominee who showed up at his second Senate hearing to defend himself against charges that he had committed sexual assault as a teenager. He wrote, "I will remain optimistic, on the sunrise side of the mountain." In the aftermath of the Kavanaugh debacle, I will remain pessimistic, on the sunset side of the mountain. It's getting dark quickly.
Sexual violence is a serious national problem. But in the wake of the Kavanaugh hearing, it has joined the list of explosively partisan issues. Republicans—adopting the rhetorical style of the president—dismiss accusers. Democrats mock the idea that fairness and due process are necessary for the accused. These attitudes will be detrimental to the country and are perilous for each party.
A little recent history is necessary to understand how we got here. Until #MeToo, the most high-profile initiative on sexual assault was the Obama administration's effort to put an end to it on college campuses using Title IX, the federal law that prevents discrimination in education. In pursuit of a worthy goal, the administration quickly went too far. Definitions on campus of what constitutes sexual misconduct became vastly inflated, and procedures to investigate and adjudicate misconduct were often stacked against the accused, overwhelmingly young men.
It may be hard to believe, but before Donald Trump took over the party, Republicans were terrified of offending women voters by seeming insensitive on matters of sexual violation. Republicans not only failed to acknowledge or address the Title IX overcorrection, sometimes they even joined with Democrats to strengthen the Obama-era effort.
Just last year, the punitive Campus Accountability and Safety Act was reintroduced in the Senate by Democrat Claire McCaskill of Missouri, who praised her Republican co-sponsors, saying this issue "cuts across every political divide." Those co-sponsors included Dean Heller, Judiciary Committee Chairman Chuck Grassley, and Marco Rubio.
R. Shep Melnick, a political-science professor at Boston College, argued in his book The Transformation of Title IX that Republicans signed on to this bill, one that violated "their general opposition to expansion of federal regulation," because of "their desire to reach out to women voters and avoid being branded 'rape apologists.'"
In remarks in support of the proposed legislation, Heller described the difficulty young women face in coming forward with allegations of sexual violation. He said, "Sexual assault is a crime that more often than not goes unreported, which is one of the reasons why data provided by our nation's institutions [of higher education] simply do not reflect the prevalence of this crime."
But Trump has now reset the sexual-assault agenda for his party. He has turned sexual assault into a means of attack on his enemies: women, Democrats, and especially Democratic women. He has also pressed the notion that men are the real victims, which is not surprising given that about a dozen women have accused him of sexual violations. At a press conference last month, he claimed that he and other accused men are the targets of a "big fat con job."
So when Christine Blasey Ford went public with her allegations against Kavanaugh, Dean Heller had a new perspective on what it means for an accuser to tell her story. As he reassured Nevada Republican officials, "We got a little hiccup here with the Kavanaugh nomination. We'll get through this and we'll get off to the races." (After these remarks were reported, Heller said he took sexual assault seriously and welcomed Ford's testimony.) Following Kavanaugh's confirmation, Heller tweeted, "Democrats think political games and smears will win them votes, but it only fuels our momentum."
Last year, Education Secretary Betsy DeVos announced a major reform of Title IX excesses, careful to emphasize that procedures must be fair to both accuser and accused. Democrats vehemently denounced her, but congressional Republicans remained virtually silent. Now, because of Kavanaugh, Republicans are suddenly fierce advocates of due process. This is a clever piece of jiu-jitsu, given that Democrats have traditionally been the party most concerned with the rights of the accused.
But it's no coincidence that the Republicans found their passion for civil liberties when it came time to save a judge who could carry out their policy agenda on the highest court for a generation. On the day of Kavanaugh's confirmation vote, Senate Majority Leader Mitch McConnell tweeted, "We will either give notice that totally uncorroborated allegations are now, officially, enough to destroy an American's life—or we will declare that our society cannot, must not, set the bar so low."
I spoke to the historian KC Johnson, a co-author of The Campus Rape Frenzy: The Attack on Due Process at America's Universities, who noted that McConnell's high-mindedness about the accused is new, since he has failed to express concern for the many injustices taking place on campuses. His high-mindedness is also highly limited. McConnell said of the anti-Kavanaugh protesters who crowded Capitol Hill, many of them women who said they had experienced sexual assault, "I want to thank these clowns for all the help they provided."
As for the Democrats, it was and is admirable that they have taken the lead in addressing sexual assault and in seeking to reduce and prevent it. But the left, like the right, is prone to indulging in rhetoric that hurts its cause, such as labeling men avatars of "toxic masculinity" and default predators (see: #AllMen).
Republicans may have a late and selective interest in due process for the accused, but it is dangerous for Democrats to have none. Senators Kirsten Gillibrand and Kamala Harris declared that they knew Kavanaugh did what Ford alleged before hearing the testimony of either party. After Republican Senator Susan Collins declared that she would be the decisive vote for Kavanaugh, Alexis Grenell, a political strategist, wrote in a New York Times op-ed, "Senator Collins subjected us to a slow funeral dirge about due process and some other nonsense I couldn't even hear through my rage headache."
Democrats' disregard for unbiased and impartial fact-finding in their rush to embrace the slogan #BelieveSurvivors may actually have helped confirm Kavanaugh. After Ford went public with her credible accusation against Kavanaugh, the attorney Michael Avenatti released a statement by Julie Swetnick, who claimed to have been at numerous high-school parties with Kavanaugh. She said he drugged the drinks of teenage girls who were then gang-raped. Instead of being wary of such sensational charges, Democratic Senator Chuck Schumer, the minority leader, immediately demanded Kavanaugh's withdrawal.
But Avenatti has a well-known anti-Trump agenda, and Swetnick had an unreliable story. In the end, her lurid claims did not aid Democrats in their opposition to Kavanugh, but were ammunition for Republicans in their defense of him. Axios reported that at a victory party at the Trump International Hotel after Kavanaugh's confirmation, operatives joked that Avenatti must have been on the Republican payroll.
A corollary to #BelieveSurvivors is the assertion that science proves accusers are almost always telling the truth, with the citation of the endlessly repeated statistic that about 2 percent of accusations are false. As I wrote here last year, this statistic is misleading and unreliable. We simply don't have good data on false accusations and likely never will. And seeking to determine the exact number of accusers who are deliberately deceptive misses the point that in many cases, especially those that never reach the criminal-justice system, disagreement about what happened turns on differing interpretations of a similar set of facts.
In any case, a decent society does not make conclusions about the guilt of an accused person based on statistics.
There is a lot of discussion among the Democrats these days about fighting Trump at his level—that is, the mud pit. But adopting the tone and tactics of Trump on sexual assault likely will not go well. After Collins said her office had received threats, Democratic Representative Eric Swalwell, referring to the fact that Ford was hounded out of her home, tweeted. "Boo hoo hoo. You're a senator who police will protect. A sexual assault victim can't sleep in her home tonight because of threats. Where are you sleeping?" Later, he apologized and deleted the tweet, realizing that mocking the fears of a fellow legislator, a female one no less, was ill-advised.
Trump, for one, believes Kavanaugh's confirmation will help his side. He said, "So you have a lot of women that are extremely happy. A tremendous number of women. Because they're thinking of their sons, they're thinking of their husbands and their brothers, their uncles, and others."
Of course a lot of women are extremely unhappy. A tremendous number of women. And it is easy and tempting to be repelled by anything Trump asserts. But the Democrats should not dismiss Trump's point as just another manifestation of obtuse male privilege. It is indeed possible to be a woman and yet fear an unfounded accusation against a male loved one. I have heard from many women who say their sons, and more recently their husbands, have been unfairly accused. In 2013, a group of mothers whose sons had been accused of sexual misconduct on campus founded the organization Families Advocating for Campus Equality.
In a triumphalist confirmation ceremony on Tuesday in the East Room of the White House, Kavanaugh repeated his promise that he is abandoning the sarcasm and partisanship of his second hearing. But at that hearing, that Kavanaugh issued a warning about what his experience had wrought. He called it a circus and said, "The consequences will extend long past my nomination. The consequences will be with us for decades."
If the result of the Kavanaugh confirmation is that we can evaluate the complexities of sexual assault only through a partisan lens—women are unreliable; men are predators—he's right that we will long be living with the consequences of that dreadful legacy.