The Realization of Sandra Day O'Connor's 'Greatest Fear'
The retired justice announced today that she's suffering from dementia, probably Alzheimer's—the same illness that affected her late husband, mother, and aunt.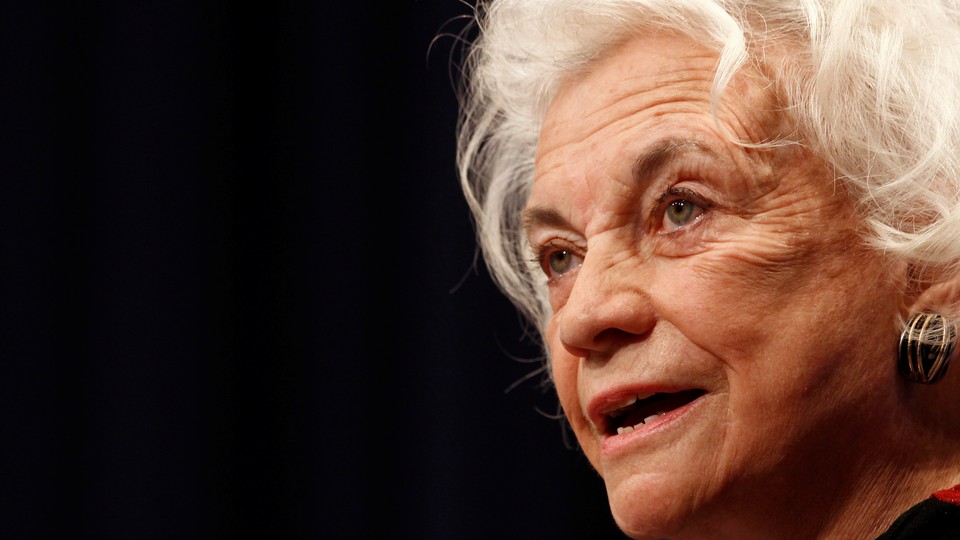 Retired Justice Sandra Day O'Connor announced today that she was suffering from dementia, probably Alzheimer's. The illness did not come as a surprise to O'Connor, whose mother and mother's sister had suffered from Alzheimer's.
"Her greatest fear," her brother, Alan, told me for a biography I am writing on O'Connor, "was that she would get it."
In a painful irony, she left the Supreme Court, where she was often the decisive vote, in 2006 to take care of her husband, John, who was suffering from Alzheimer's. He had sacrificed for her; now, she said, it was her turn to sacrifice for him. Within six months, he was so far gone that she had to, very reluctantly, put him in a care facility.
Upon her retirement, O'Connor had told her friends that she had about five more years to continue to be relevant, to make an impact. She flew around the country speaking on behalf of judicial independence and promoting the teaching of civics to schoolchildren. Five years later, she was still going strong. (Her nonprofit organization, iCivics, now reaches about 5 million middle schoolers a year with video games that teach the basic rules of civics.)
The diagnosis of dementia came long before today's announcement, in 2014, and although she began experiencing short-term memory loss, she showed few signs of failing. In 2016, I watched her work a room of about 150 people at an awards dinner, and then respond to a toast from her friend, retired Justice David Souter. She was buoyant and gracious; when she fixed someone with her hazel eyes, there was no one else in the room.
Carrying on, no matter what, was her way. She had learned it growing up on a cattle ranch in the high desert, where the cattle died if the rains did not come.
About two years after he entered the care facility, John, like some Alzheimer's patients, formed what is known as a "mistaken attachment" to a woman who was also a patient. This was hard for O'Connor. But she told the press and her friends that she was happy that John, who no longer recognized her, was content. When she came to visit John at his care home, she found him sitting on a bench holding the woman's hand. O'Connor sat down beside him and held his other hand.