The Chicago Culture That Created Jason Van Dyke
Judges who questioned the veracity of police testimony were considered disrespectful traitors and were treated as such.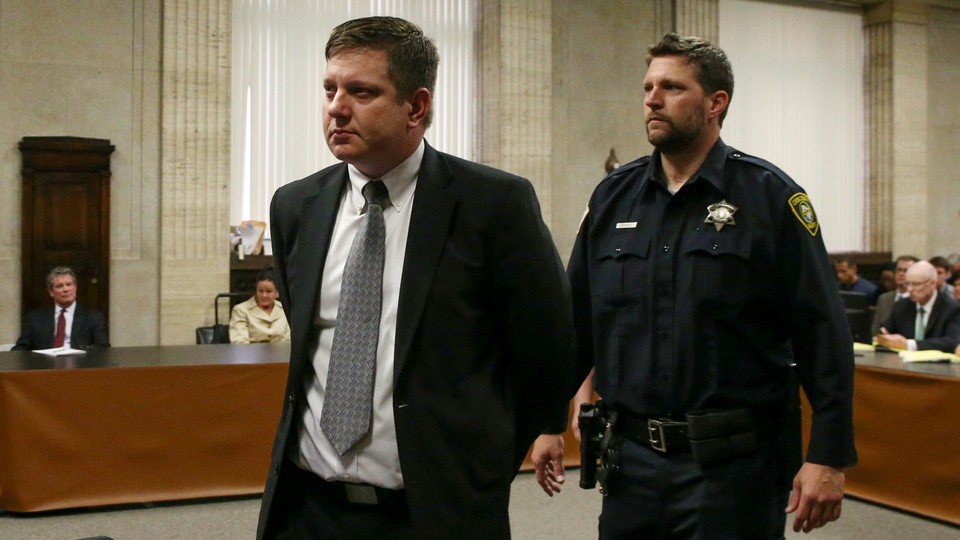 I was completing a decade-long study of the criminal court system in Chicago when I saw the autopsy diagram of Laquan McDonald. The Cook County medical examiner meticulously inventoried how all 16 bullets fired by a Chicago police officer, Jason Van Dyke, had entered and exited McDonald's body on October 20, 2014. The Chicago Police Department's official account of the incident claimed that McDonald had a knife and lunged at Van Dyke. Other officers were willing to vouch for that description—but the dashcam video showed otherwise. It took 13 months and a court order to expose the truth: McDonald was walking away from Van Dyke, and Van Dyke killed McDonald without provocation. In the video, you can see McDonald's body smoking.
On Friday, three years after the video's release, Van Dyke became the first Chicago police officer in half a century to be found guilty of murder for an on-duty shooting. The verdict was read in a percussive manner, "Guilt … Guilty … Guilty …" of second-degree murder and all 16 counts of aggravated battery. That was one for each of the bullets that tore through McDonald's body. While the verdict gave his friends, family, and Chicago some relief, if not for that video, we would never have learned Laquan McDonald's name. As for Jason Van Dyke, he'd still be walking the beat.
Beginning in 1998, when I was a law clerk in the Chicago prosecutor's office and studying the criminal court system for my Ph.D. in sociology, I had a front-row seat to the culture that created Van Dyke, a culture that reached all the way into the court system. I heard police officers walk into the courthouse using racial slurs, call black men "dogs," mock defendants in bastardized Ebonics, and bully judges and prosecutors who questioned their framing of cases and events on the street.
Police would make cases more convincing by, as they put it, "shading" or "fudging" details to shape reports and testimony. They might, for example, change the weight or height of an offender to better fit a description. But they were often even bolder in pursuit of conviction. Sometimes there was a dead suspect and the story behind the death did not make sense. Prosecutors would step out of the room so police partners could "refresh their memories"; that was code for getting their version of the story straight.
At best, these practices stacked the deck in favor of prosecutors. At worst, they violated state and constitutional protections for defendants, stripping them of their due-process rights.
Judges who questioned the veracity of police testimony or reports were considered disrespectful traitors and were treated as such. Once, in a courtroom with a judge who was said to scrutinize drug cases too closely, two officers leaned over to me and called the judge a "fucking liberal" who "flushed" their work "down the toilet with the crap."
I also heard about cases that sounded hauntingly similar to McDonald's. A prosecutor I interviewed explained how he tried to tell his supervisor that two officers were lying about a suspect's death. This move came with severe consequences for his career. As he described it, his supervisor screamed, "You're a prosecutor, not a defense attorney!" and assigned a new lawyer to the case.
Police controlled the courts through intimidation. If prosecutors reported them, they would sometimes elect not to give testimony for their cases, and because prosecutors need trial wins to get promoted, this was enough leverage to have prosecutors step in line with officers and their version of truth. (Chicago's new top prosecutor, Kim Foxx, is trying to undo this dark history. So far, 42 people have been exonerated, with Foxx apologizing for wrongful convictions.)
Police perjury was a dirty open secret, one that judges and prosecutors were willing to describe in anonymous interviews. Twenty of the 27 judges I interviewed said that police perjury occurred, six did not directly respond, and only one said that it did not occur. Twelve of 27 prosecutors admitted that police perjury sometimes occurred, seven did not directly respond, and eight said that it did not.
Laquan McDonald's shooting was supposed to be buried in the courts, one of those unnamed cases that was nothing special. In fact, numerous officers stood ready to protect and "shade" this case for Jason Van Dyke. They likely assumed that when the case came to the courts, the prosecutors and judges would look the other way. It took the city's top prosecutor at the time, Anita Alvarez, 400 days to charge Van Dyke, but a jury took only seven and a half hours to convict him.
The killing revealed the code of silence that governed, and perhaps still governs, the Chicago Police Department like a separate rule of law. It became national news— not just for its brutality, but for the way the police and the city had tried to sweep the case under the rug by concealing the video. Journalists and activists had to sue to force the video's release, and the ensuing outrage ultimately took down both the police chief, Garry McCarthy (now running for mayor), and Alvarez. Mayor Rahm Emanuel has still not recovered, in public estimation, for his unwillingness to force the police department's cooperation.
The killing also led the Department of Justice to investigate the Chicago Police Department, and by January 2017, the DOJ had offered definitive evidence of the department's routine civil-rights violations against the citizens they were sworn to protect.
In the report, the DOJ detailed excessive use of force, including shooting unarmed citizens who did not pose a threat and using Tasers (even on children) to stun people for mouthing off. These practices disproportionately affected people of color. The disciplining of officers was both rare and inconsistent. The Chicago Police Department also engaged in coordinated efforts to "coach and conceal" misconduct, according to the report, with officers altering their statements with the help of their legal representatives. When I read the report, it seemed to me that at times the police operated more like a gang of criminals than officers of the law. As one sergeant is quoted in the report as saying, "If someone comes forward as a whistleblower in the Department, they are dead on the street."
When the Justice Department released its report, Emanuel appeared cooperative and repentant in front of the cameras. But the DOJ recommended 99 reforms for the Chicago Police Department, and so far only 25 have been implemented. * Most important, none will change the police department's secretive and toxic culture.
The city convicted one cop, but the cop culture that created Van Dyke and others like him is still very much extant. Unless Chicago gets serious about reform, there will be more Laquan McDonalds because there are still Jason Van Dykes.
---
*This article originally stated that Chicago had implemented six of 99 reforms recommended by the Department of Justice. The latest figure is 25. We regret the error.