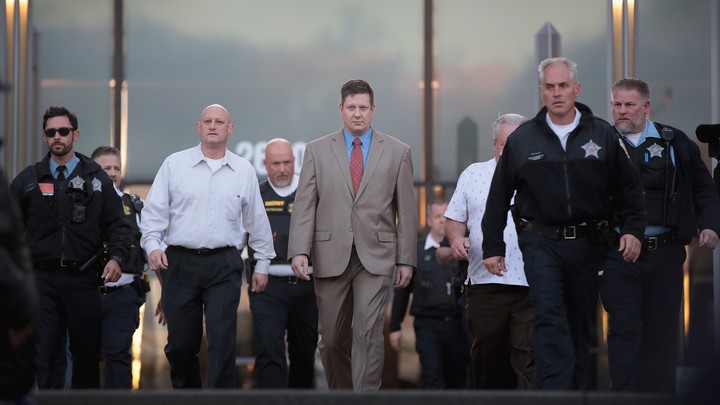 On Friday afternoon, the Chicago police officer Jason Van Dyke was convicted of second-degree murder and 16 counts of aggravated assault—one for each bullet he fired into 17-year old Laquan McDonald's body in 2014.
The verdict was a rare example of a white police officer being convicted of murder for killing a black person. This outcome might tempt some to say that the system finally worked. But really the opposite is true. The system is designed to exonerate police who abuse their authority, not convict them. The system tried to protect Van Dyke, and it failed.
Despite the fact that the shooting happened in 2014, it did not rocket into national consciousness until 13 months later, when video finally emerged after a prolonged public-records battle. The footage showed Van Dyke firing his weapon into McDonald as he lay motionless on the ground. The system tried to prevent that: Rahm Emanuel, the city's Democratic mayor and former chief of staff to President Barack Obama, attempted to suppress the video, and was successful in doing so, at least until after his reelection campaign, when a court forced its release.
The video of the shooting completely contradicted the police department's earlier explanation for the shooting. According to the department and Van Dyke, McDonald had a knife raised and was prepared to stab Van Dyke, who then fired, because he feared for his life. Van Dyke was arrested and charged only after the video's release contradicted the official story, and made the city appear complicit in helping to cover it up.
Despite the clear falsehoods in his story, Van Dyke stood a good chance of being a free man. Police officers are rarely charged for killing black men in the line of duty, and when they are, leaning on the defense that they feared for their life usually satisfies a jury. Police officers need only convince jurors that their fear of harm was "reasonable," a standard that has proved shockingly easy to meet in a country where black men have long been targets of suspicion.
The evidence against Van Dyke was overwhelming, but that was no reason to assume that he would be convicted. According to the Chicago Tribune, a Chicago police officer hasn't been convicted of murder in "half a century." The New York police officer Daniel Pantaleo was never charged in the death of Eric Garner, despite video of him choking Garner to death. The Cleveland police officer Timothy Loehmann was never charged for killing 12-year-old Tamir Rice, despite the video showing him firing only moments after pulling up to the scene. The Minnesota police officer Jeronimo Yanez was acquitted in the shooting of Philando Castile as he reached for his identification, despite video showing the aftermath of the confrontation. These are all examples of the system working, because this is what the system is actually designed to do: provide impunity to police, no matter what harm the police causes.
During jury selection, prosecutors unsuccessfully accused the defense of deliberately eliminating black jurors from the pool—a practice that is technically unconstitutional, but that lawyers have often gotten away with by finding a race-neutral pretext. (Ironically, it is usually prosecutors who seek to eliminate black jurors, believing they may be too sympathetic to the accused.) Although Chicago is about one-third African American, only one of the final 12 jurors was black. Van Dyke's decision to allow the jury to render the verdict, rather than the judge, was a vote of confidence in the tradition of police officers being acquitted in cases like these.
The fact that the Chicago jury rejected Van Dyke's explanation, that he feared for his life when he shot McDonald at close range, and then continued shooting as he lay on the ground, may be evidence that the broadcast of black death from body cameras and dash-cam videos is altering Americans' perceptions of police infallibility. Perhaps it was the fact that the jury was more diverse than it might have been in a different city. Maybe Van Dyke's testimony, in which he shed tears as he insisted that he was afraid of McDonald, backfired. Or perhaps it was the particularly brutal reputation of the Chicago Police Department, which has paid out more than $500 million in abuse settlements over the past decade, and which has a long legacy of illegal detention, corruption, discrimination, and torture, a legacy that has marred its legitimacy and neutralized the enhanced benefit of the doubt police usually receive.
Whatever the case may be, the system as it exists is designed to protect men like Van Dyke, and justify the killings of men like McDonald. That it failed in this case is not cause for celebration—what would be worth celebrating is a system that prevents killings like these in the first place.
This article is part of our project "The Presence of Justice," which is supported by a grant from the John D. and Catherine T. MacArthur Foundation's Safety and Justice Challenge.
We want to hear what you think about this article. Submit a letter to the editor or write to letters@theatlantic.com.
Adam Serwer
is a staff writer at
The Atlantic
, where he covers politics.