How Republicans Weaponized the FBI Against Anita Hill
The FBI report did Hill no favors. Will Christine Blasey Ford receive better treatment?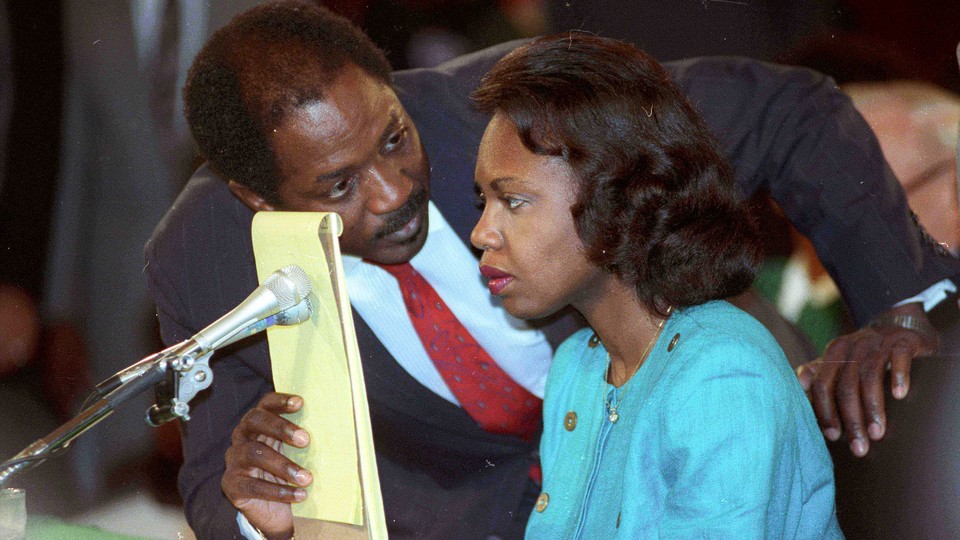 Ever since Christine Blasey Ford publicly accused Brett Kavanaugh of sexually assaulting her in high school, an accusation Kavanaugh has denied, Ford has been compared to Anita Hill, and Kavanaugh to Clarence Thomas. The parallels are striking and go well beyond the general nature of the allegations.
Republicans accused Democrats of leaking Ford's story to the press to derail Kavanaugh's nomination—just as they had accused them of leaking Hill's story to the press to derail Thomas's nomination. A Kavanaugh ally, the conservative legal pundit Ed Whelan, published on Twitter an elaborate theory that Ford had mistaken Kavanaugh for another classmate. Similarly, Phyllis Berry, who worked with Hill and Thomas, suggested that if Hill had been harassed, it was by Thomas's former chief of staff Chris Roggerson. Some conservative pundits have suggested that Ford's accusations stem from unrequited lust for Kavanaugh, a smear some also leveled at Hill. While other women had similar stories about Kavanaugh, only Ford testified publicly, just as only Hill was called before the Senate despite the fact that other women had similar stories about Thomas.
The déjà vu with the Thomas confirmation battle is likely to continue with the FBI investigation. Even if bureau investigators are allowed to interview anyone they please, and to pursue any logical leads that arise from those interviews, the White House will have a substantial amount of control over the information the report produces. And that means the Trump administration could weaponize the bureau's investigation against Ford—just as the 1991 FBI report was used to attack Hill's credibility.
After initial apprehension about investigating Hill's charges that Thomas had sexually harassed her while he was her boss at the Equal Employment Opportunity Commission, then–Senate Judiciary Committee Chairman Joe Biden requested that the FBI look into the matter. FBI investigators interviewed both Hill and Thomas, who categorically denied Hill's charges.
The FBI investigators were less than thorough, according to Jill Abramson and Jane Mayer in Strange Justice, their account of the Thomas confirmation battle. In an early interview with James Brudney, a Democratic staffer, Hill described in detail her now-infamous encounters with Thomas. She described Thomas saying out loud in the office "Who has put pubic hair on my Coke?" and claimed that he discussed "pornographic materials depicting individuals with large penises or large breasts involved in various sex acts." She said he discussed the porn star "Long Dong Silver" and bragged about the size of his penis.
Hill also mentioned these explicit charges in her Senate testimony—but they did not appear in the official FBI report, and that absence was used against her.
According to Mayer and Abramson, the two agents who interviewed Hill, John B. Luton and Jolene Smith Jameson, "had been ordered by the Republicans in Washington to watch her testimony," and were "supposed to note any discrepancies between her answers to the committee and her initial interview with them." After Hill's Senate testimony, the two agents "could either admit that they had done an inadequate job or suggest that Hill fabricated the new details expressly for the hearings." They chose the latter course, signing sworn affidavits that Hill hadn't specified Thomas's lewd remarks in her interview.
Armed with the affidavits, Republican Senator Arlen Specter, then tasked with defending Thomas, asked, "When you made your statement to the FBI, why was it that that was omitted if it were so strong in your mind and such an odd incident?"
Of course, as Mayer and Abramson later uncovered, those details were in Brudney's notes, proving that Hill's story had been consistent all along. The two FBI agents had simply been less thorough than a Democratic staffer.
The Bush White House also took advantage of the FBI report to attack the credibility of Susan Hoerchner, whom Hill had told about her encounters with Thomas. The conservative pundit Bill Kristol, then–Vice President Dan Quayle's chief of staff, discovered that Hoerchner had given the FBI an obviously incorrect date for a conversation with Hill, because of where Thomas was employed at the time. "On the witness stand, Hoerchner said repeatedly that she could not recall the exact date of the conversation and later explained that she had only given the FBI her 'best guess,'" Abramson and Mayer explained. "But by the time the Republicans finished cross-examining her, Hoerchner had come across as a nervous and vague witness who failed to correct the impression that she herself had a history of concocting sexual harassment charges."
Like the FBI investigation into the charges against Thomas, the one into the charges against Kavanaugh has already become a partisan battleground. Several media outlets reported over the weekend that the White House had sought to limit the investigation into Kavanaugh, telling the bureau that only certain witnesses could be interviewed and certain leads pursued. The Trump administration appears to have backed down from that position, but news reports suggest that witnesses with relevant information for the FBI have not been contacted and have had trouble reaching the bureau.
"If this is really a search for the truth, if you really want to get what happened, you would never tell investigators who they could talk to and what leads they could and could not follow," said Chuck Rosenberg, a former U.S. attorney and senior FBI official.
Former bureau and White House officials told me that it's appropriate for an administration to direct certain aspects of an inquiry. An administration might want an investigation completed by a certain date, or ask agents to look into a specific issue, such as whether a nominee has a gambling problem. But they all said it was inappropriate for an administration to circumscribe potential leads.
"The White House usually asks that you spend a particular amount of time looking at an issue, but I've never heard of them saying you can't expand beyond the four corners of this lead," said David Gomez, a former FBI agent and a senior fellow at George Washington University's Center for Cyber and Homeland Security. Having said that this is the FBI's investigation, "if at some point the Office of Legal Counsel places restrictions on who can be followed up with or not, that will look bad on the White House because that will be clear in the report."
FBI reports are rarely made public, and Republican leaders have said they will not release the report on Kavanaugh. Although Republicans accused Democratic Senators Ted Kennedy and Howard Metzenbaum of leaking the Hill FBI report to the press, Abramson and Mayer write that "the only portions of any FBI documents to be publicized were brief sections from Hill's confidential file read out loud during the hearings by one of the Republicans, Orrin Hatch, and bits of purported confidential FBI interviews later published by David Brock," then a conservative journalist who spearheaded the attack on Hill by calling her "a little bit nutty and a little bit slutty."
This time around, says Bob Bauer, a former White House counsel under President Barack Obama, it may be harder to keep the FBI's findings from the public. "I think the circumstances in which the interviews [were] ordered up limit the ability of the White House to play games with the contents, and the minority will have access to the material." Few will accept "a four-paragraph summary from the White House," he added.
Whatever the FBI finds, however, will likely be less than definitive, and subject to interpretation. Republicans have already faced criticism that the hearings for Ford were designed less to investigate her charges than to deflect criticism that they failed to fulfill their constitutional obligations to evaluate Kavanaugh.
Similarly, Kavanaugh's critics suspect that the Republicans who demanded the FBI investigation are simply looking for a pretext to support his confirmation, anyway. How those senators handle what the FBI uncovers will tell the public a great deal about their true intentions.