My Grandfather Was Welcomed to Pittsburgh by the Group the Gunman Hated
He came to this country a refugee, and paid his debt forward.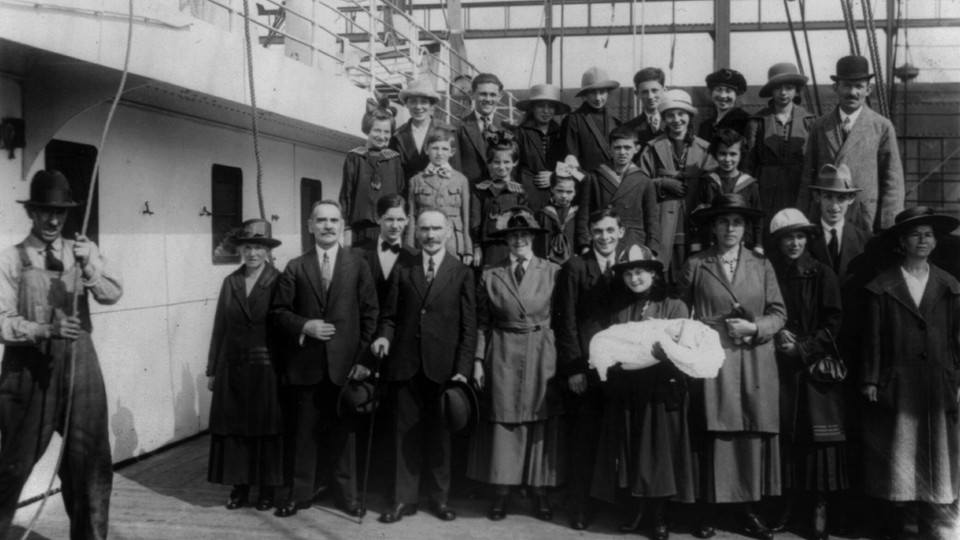 On their second attempt to leave Europe, in 1921, my grandfather and his family spent three days in an outdoor potato cellar. The potatoes don't seem to have been much help; my grandfather would later recall that they subsisted, for those three days, on stale bread and water. He was 12, or maybe 14—official immigration records conflict with family lore. His father and older brother had already settled in the U.S.; my grandfather, along with his mother and two of his siblings, had left their Ukrainian village once before, but had been caught by the Bolsheviks, jailed, and then returned to their village. This time, having successfully crossed the river into Romania, they were determined to evade that outcome. They left the cellar and traveled mostly across open fields. Eventually they reached a road where they encountered Romanian soldiers, who debated whether to arrest them and send them back to the Russian border. Somehow, the soldiers lost interest, and the family continued on.
In early 1922, they arrived in Pittsburgh, a world away from Eastern Europe's revolutionary violence and its pogroms. My grandfather learned English; his name, Itsik Vaisman, became Isadore Weiss. He went to school and worked in his father's dry-cleaning and tailoring business. He got a scholarship to the University of Pittsburgh and became an accountant. He struggled to find work—in the depths of the Great Depression, my grandparents would say, accounting firms were loath to hire Jews, especially Jews with foreign accents. "As a Jewish child in Russia, Judaism meant to me physical and mental pain," Isadore said later, on the occasion of receiving a leadership award from a local Jewish group. "As a young man in the United States, Judaism meant to me subtle exclusions from professions in which I wanted to engage."
To Isadore, this discrimination was a flaw not of the United States, but of some of its citizens, who failed to live up to the country's ideals. His faith in the country itself never wavered. He went on to work for the federal government for some four decades, and always spoke with reverence of the country's "golden opportunities" and its freedom.
The United States made my grandfather's story possible. But opportunity alone can't open a business. It can't feed children, or provide them with warm clothes to wear in winter. That requires money. The money that helped my grandfather's family settle in Pittsburgh came chiefly from one organization: the Hebrew Immigrant Aid Society.
Before Robert D. Bowers allegedly entered Pittsburgh's Tree of Life synagogue on Saturday morning, he wrote a final post on the social-media site Gab. "HIAS likes to bring invaders in that kill our people," he wrote. "I can't sit by and watch my people get slaughtered. Screw your optics, I'm going in." Then Bowers did the slaughtering himself, according to the federal criminal complaint, opening fire on congregants during Shabbat services and killing 11.
Bowers was referring, of course, to HIAS in its present-day incarnation. The group was founded in 1881 to help Jewish families who, like mine, were escaping the dangers they faced in Eastern Europe and trying to restart their lives in the United States. Today, HIAS no longer primarily provides aid to Jewish immigrants, but instead supports and advocates for the well-being of refugees of many religions and ethnicities, around the world. "Because we have helped more than 4.5 million people escape persecution," the organization's website states, "HIAS is uniquely qualified to address the modern refugee situation, which has mushroomed into a global humanitarian crisis." In other words, as its current president and CEO, Mark Hetfield, has written, HIAS's new mission is "helping refugees not because they are Jewish, but because we are Jewish."
There's a certain kind of twisted logic to Bowers's horrific act. If you believe, as Bowers allegedly does, that refugees are "invaders," and that HIAS, rooted in bedrock Jewish values, is responsible for their entry, and if you are so angry about this that you are driven to commit murder, you could target HIAS, or you could target what lies at the heart of its self-proclaimed principles: Jewishness itself, and those who practice it.
President Donald Trump didn't see this logic: "This wicked act of mass murder is pure evil, hard to believe, and frankly, something that is unimaginable," he said. By and large, Jews were less surprised by Saturday's events. Even for those of us lucky enough to be born in a time and place where we have not needed to fear for our lives simply because we are Jewish, that sense of danger remains relatively recent in our collective memory. My grandfather, one of the 4.5 million people HIAS has helped, lived it.
I was thinking about my grandparents on Saturday, even before I heard the news. It was October 27, which is the day that Isadore married my grandmother Sylvia Dichner, in 1935. (It was also Sylvia's birthday; she would have been 104.) They couldn't afford a big wedding. But their Yiddish-speaking relatives and friends gathered nonetheless to celebrate their union and pray, in Hebrew, that they would enjoy a happy life together. If you had told their guests that day that exactly 83 years later, a gunman in Pittsburgh would shout "All Jews must die," I don't think they would have had trouble believing it.
My grandparents settled in Pittsburgh, where their first daughter was born. They had three more children, including my father. Over the years, Isadore's career in the civil service brought the family up and down the East Coast. I never knew my grandfather, who died before I was born. But Sylvia died just two years ago, and I still have several voicemails from her saved on my phone. I listen to them sometimes, on days when I want to be able to hear her voice.
On Saturday I listened to a voicemail she left me more than five years ago, just before my birthday. She wanted to make a donation in my honor, she told me, and if it was all right with me she was going to make it to HIAS, whose acronym she spelled out. Assuming, correctly, that I was unfamiliar with the group's work, she gave a brief description of why it mattered to her: "I know that they helped Grandpa Isadore's family when they came to this country," she said, "and the probability is that they also helped my family when they came across, way back when." To Sylvia, it didn't matter who was at the receiving end of HIAS's aid in 2013. She gave to HIAS until the end of her long life not because its beneficiaries were Jewish, but because we were.
American Jews are not unified in embracing HIAS's redefined mission. Some have argued that HIAS should "return to its roots" by getting out of American politics and going back to helping European Jews, who are once again at risk. But for my grandparents, the ongoing danger of anti-Semitism wasn't reason to retreat from the work of helping others, be they Jewish or not. If anything, that danger required a doubling-down on the Jewish commitment to repairing the world.
"I don't believe in a supreme being up in heaven, acting as judge and savior," my grandmother once wrote, when my cousin asked her in an email about the source of her faith. "God, to me, is indefinable, a sense and feeling of empathy for others, a joyful experience of nature, a sense of responsibility from within." Listening to Sylvia's voice on Saturday, 104 years to the day after she was born to two Jewish immigrants in New York, I was struck by how forthright she was about that responsibility, how direct she made the link between the crucial help her family and Isadore's had received and the imperative they bore to pay it forward. That, to her, was the Jewish thing to do.