What We Knew About Date Rape Then, and What We Know Now
Women have long been reluctant to report their assaults.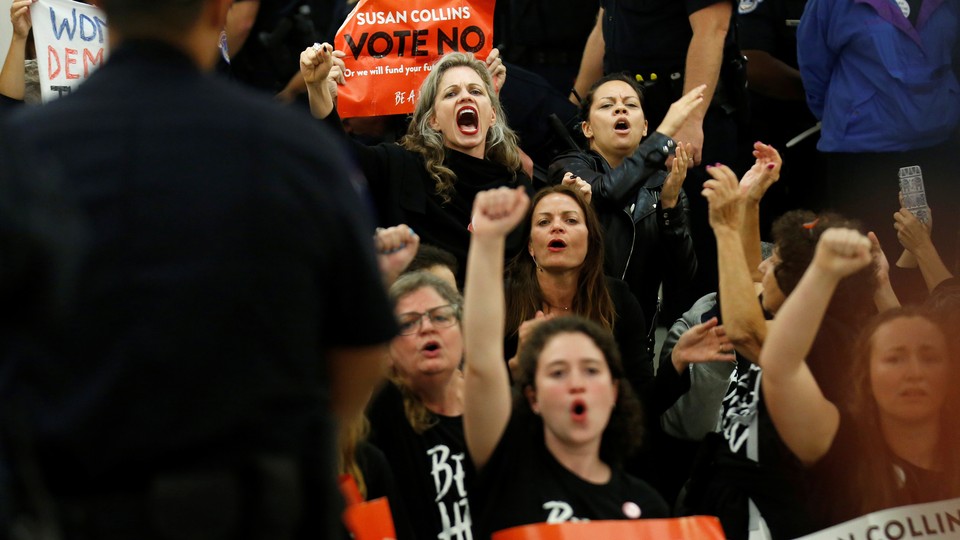 About the authors: Mary Koss is a Regents' Professor in the Mel and Enid Zuckerman College of Public Health at the University of Arizona. Alexandra Rutherford is a professor of psychology at York University in Toronto. She is the author of the forthcoming book The Science and Politics of Gender.
President Donald Trump is among those who believe that if Christine Blasey Ford was sexually assaulted by the Supreme Court nominee Brett Kavanaugh in the early 1980s, and if the attack was "as bad as she says," she would have told someone and a police report would have been filed. This view may seem intuitively correct to some, but the data—and there's a lot of it—suggest otherwise.
Widespread public consciousness about date rape began not long after the alleged assault took place, in the mid-1980s, when social scientists administered large-scale surveys about sexual-victimization experiences among men and women on college campuses. The first of these, the Sexual Experiences Survey, was designed by one of the authors of this article—Mary Koss—and administered in 1984 and 1985 to more than 6,000 college students across 32 institutions in the United States. The results of the survey established the original "one in four" statistic—that one in four women had experienced attempted or completed rape since the age of 14. Subsequent surveys, focusing only on time in college, placed the prevalence rate at one in five.
From the original survey, researchers learned that only 3 percent of women in the 1980s who—like Ford—had a man climb on top of them, hold them down, and attempt unwanted sex acts reported the incident to police. In fact, 42 percent of victims told no one at all.
It is tempting to think that willingness to disclose and report unwanted sexual experiences would be higher today than almost 40 years ago, but that confidence is misplaced. A 2018 survey found that more than 45 percent of college women kept silent about sexual assaults and only 2.6 percent of women who experienced attempted or completed rape reported the incident to police.
In the early 1980s, as today, it would have been highly unusual for Ford to have told anyone. She may not have even had the language of "date rape" at the time.
In fact, the 1984–85 survey found that only 30 percent of respondents who reported having experienced the behaviors constituting date rape or acquaintance rape answered yes to the statement "I believe I was a victim of rape."
In a 2018 study, researchers found that fully half of the sample acknowledged their experience as either sexual assault or rape. This finding was consistent with a meta-analysis of 28 studies involving more than 5,900 female survivors of rape, from 2016. Still, in the era of the #MeToo movement, it is dismaying that the accurate labeling of rape isn't universal.
Another common assumption about what Ford alleges is that, as Trump might put it, even if it happened it wasn't "that bad." Or that it couldn't be "that bad," because it's common.
One member of a panel of Republican women interviewed by CNN asked, "What 17-year-old boy hasn't done this in high school?" The answer then, as now, is that about 75 percent of high-school boys have not attempted unwanted sexual contact, attempted to rape, or raped. Even though sexual assault is a common experience for women, most men are not sexual aggressors.
For researchers, one especially dark spot in the data is that among the minority of men who report attempting sexual assault, an even smaller minority acknowledge the gravity of what they've done. The 1984–85 survey found that 10 percent of those who attempted to force sex acts thought what they did "was definitely rape," and the figure was even lower among those who completed unwanted penetration. Brett Kavanaugh categorically denies that he sexually assaulted Ford; but if he did, maybe he just didn't see himself as doing something wrong.
What is seen as "business as usual" to perpetrators and their defenders, however, is, again, simply not reflective of how the majority of men conduct themselves—let alone how survivors experience their assaults.
Studies on the effects of sexual assault on survivors have found that even when women do not use the terms sexual assault or rape to acknowledge their experiences, they still consistently report feeling victimized or otherwise negatively affected. Rape survivors experience higher than average levels of depression and PTSD. But even in the absence of formal diagnoses, sexual assault takes its toll both at the time it occurs and for decades to come. The recent #WhyIDidntReport movement on social media gives some idea of the shame, humiliation, anxiety, changes in self-perception, and fear that can follow victims for years after an assault.
Sexual assault is damaging, and so is the—wildly incorrect— assumption that if the assault is "bad," then the victim will come forward.