The Growing Partisan Split Over Sexual-Misconduct Allegations
The cases of Al Franken and Brett Kavanaugh show that misconduct is a bipartisan problem—but the liberal and conservative responses are very different.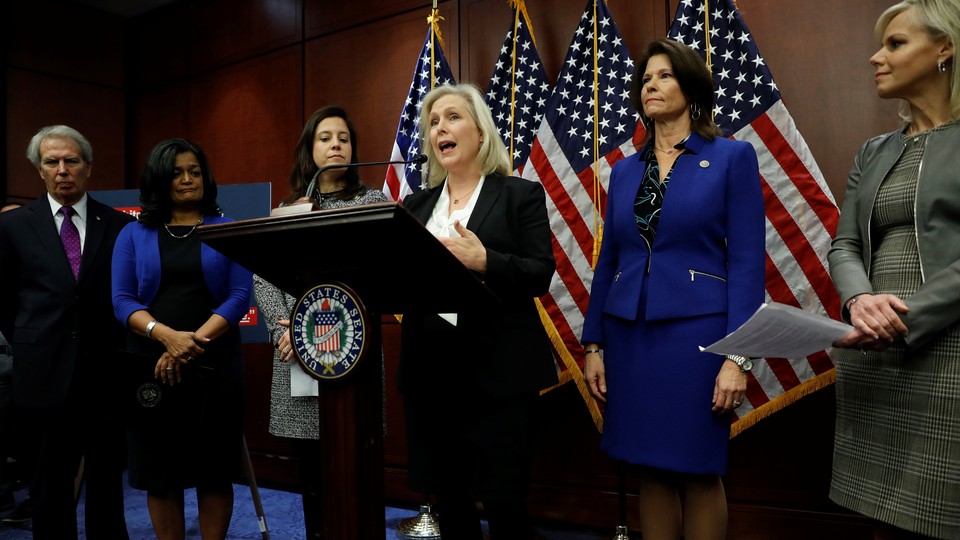 In the year since the #MeToo movement began, Americans have relearned one old truth and learned one new one. The old truth is that, when it comes to perpetrators of sexual harassment, politics doesn't matter. Liberal men and conservative men, socialist men and fascist men, anti-feminist men and avowedly feminist men—some percentage of all these subspecies prey on women. For every Clarence Thomas, there's a Bill Clinton.
The newer truth, which was less clear a year ago, is that while politics may not determine your propensity to abuse women sexually, it does determine your ability to get away with it. This wasn't always the case. Through the Clinton years, and up until #MeToo itself, neither liberal nor conservative men paid much of a price for their sexual misconduct. Regardless of ideology, most harassers got away with it. (Including at the liberal magazine I once edited). The divergence between how liberals and conservatives respond to sexual harassment only really became significant last December, when Al Franken resigned from the Senate.
The Franken resignation, in retrospect, was a historical crossroads. It was a crossroads because Democrats had plenty of excuses for standing by him. His apparent penchant for groping unsuspecting women, while hideous, was milder than the accusations against many other alleged sexual harassers, including the president. He was a champion of women's rights. The ethics committee had not begun an investigation. Even some prominent feminists said he should keep his job. And yet he was forced to resign.
The push came primarily from Kirsten Gillibrand and other women senators. Part of their logic was that unless Democrats kept their own house spotless, they'd lack the moral authority to challenge Trump and other Republican harassers. "For the last decade, Democrats have been pointing the finger at the Republican Party for devaluing women," explained Guy Cecil, former executive director of the Democratic Senatorial Campaign Committee. "This is a requirement to be able to look at them with a straight face and say we're the party that cares about them."
This weekend's accusation that Brett Kavanaugh assaulted a woman in high school shows just how wise that logic was. Republicans desperately want the public to believe the assault charge is a smokescreen: that Democrats are looking for any opportunity to defeat a nominee whose politics they oppose. That's true: Democrats are looking for any opportunity to block Kavanaugh's confirmation. But Democrats can also credibly demand an investigation into the allegations against Kavanaugh because, when it comes to sexual harassment, they have earned the moral high ground. They earned it with Franken. Yes, Kavanaugh's alleged incident occurred while he was in high school. But, if true, it's worse than anything Franken is alleged to have done—and Democrats ditched him without even the benefit of a hearing. When it comes to Kavanaugh, Democrats may be opportunists, but they're not hypocrites.
Will this be enough to stop Kavanaugh's confirmation? Maybe not—since I suspect that at this point Republicans would suffer more from ditching Kavanaugh than sticking by him. After all, the party has already stuck by Trump, Roy Moore and Jim Jordan. At this point, Republicans have already lost the anti-sexual-assault voter. Their best hope in the midterms is to motivate their base, which includes a lot of anti-anti-sexual assault voters. According to a 2015 Public Religion Research Institute poll, more Republicans think, "there is a lot of discrimination" against white men than think "there is a lot of discrimination" against women. Some of those rank-and-file Republicans will feel betrayed if GOP senators turn their backs on Kavanaugh. It will show that they won't stand up against the victimization of men.
But even if Democrats can't use the sexual-assault charges to defeat Kavanaugh, Gillibrand has achieved her goal. In this year in which women are mobilizing politically as never before, she and her fellow female Democrats in the Senate have made accountability for sexual harassment and assault a partisan issue. You know all those studies about how diversity makes organizations smarter? Turns out it's true in political parties, too.