The Journalistic Implications of Ian Buruma's Resignation
Can editors shape a constructive conversation about #MeToo while under pressure to act as the movement's partisans?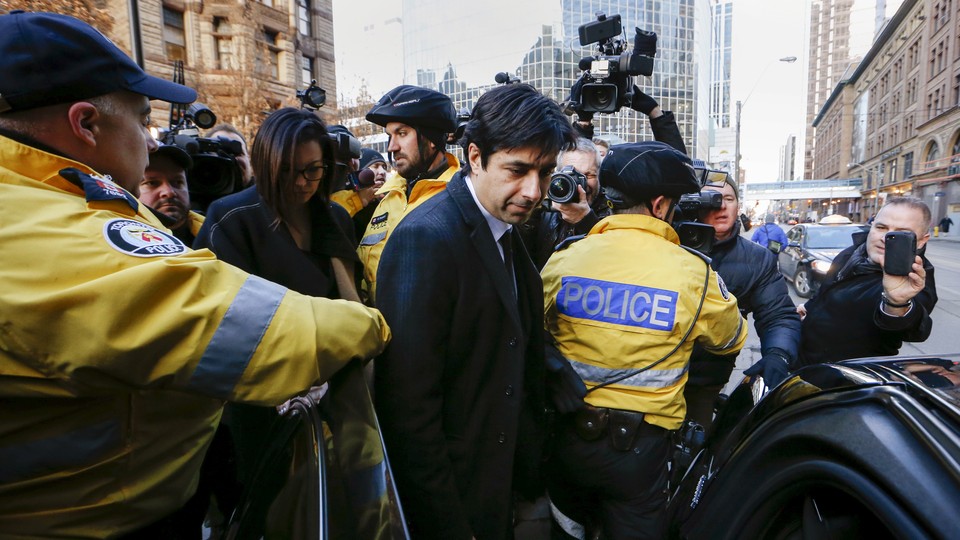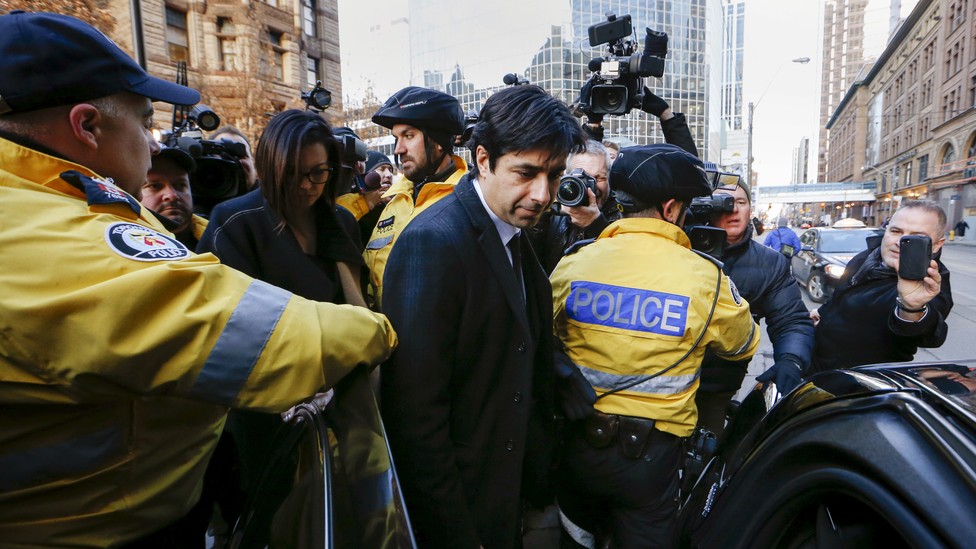 Last week, Ian Buruma resigned his post as editor at The New York Review of Books amid controversy over an essay that he commissioned and ran. That essay, "Reflections From a Hashtag," was a first-person account by the former Canadian Broadcasting Corporation host Jian Ghomeshi of being fired amid allegations of violent sexual misconduct and then acquitted of most of the criminal charges by a Canadian court.
It is unusual for a well-regarded editor at a prestigious intellectual journal to lose a leadership position over just one article. What are the larger implications for American journalism?
More specifically:
What exactly prompted the resignation?
When should it be verboten to publish men accused of sexual misconduct?
How will the resignation affect mainstream-media publications and the work they decide to commission and publish going forward?
---
In the controversial NYRB essay, Ghomeshi began with a brief account of the allegations against him. He was permitted to offer this one:
In October 2014, I was fired from my job at the Canadian Broadcasting Corporation after allegations circulated online that I'd been abusive with an ex-girlfriend during sex. In the aftermath of my firing, and amid a media storm, several more people accused me of sexual misconduct. I faced criminal charges including hair-pulling, hitting during intimacy in one instance, and—the most serious allegation—nonconsensual choking while making out with a woman on a date in 2002. I pleaded not guilty. Several months later, after a very public trial, I was cleared on all counts. One of the charges was separated and later withdrawn with a peace bond—a pledge to be on good behavior for a year. There was no criminal trial.
Does that passage meet adequate standards of accuracy?
The known facts of the matter are complicated enough that I find myself unable to convey them satisfactorily in the space of a single paragraph.
The earliest report on the matter in the Toronto Star cited three accusers alleging nonconsensual violence during sex and a fourth alleging a sexually aggressive comment at work. Canadian authorities ultimately charged Ghomeshi with criminally assaulting six women; more than a dozen others alleged related improprieties. Last March, a court acquitted him of all criminal charges save one––the final charge "was withdrawn on two conditions," notes Jesse Brown, a journalist who covered the matter. "One was that he enter into a peace bond, and the other was that he deliver a public apology to his victim, Kathryn Borel."
Upon the trial's conclusion, the Star reported:
Former CBC host Jian Ghomeshi has been acquitted of one charge of choking to overcome resistance and four charges of sexual assault related to three women. At the end of his 90-minute verdict, where he largely shredded the credibility of the three women, Ontario Court Justice William Horkins was clear that he is not saying "these events never happened."

Instead, the "inconsistencies, questionable behaviour" and the "outright deception" of the court by the three witnesses tainted their evidence. "The harsh reality is that once a witness has been shown to be deceptive and manipulative in giving their evidence, that witness can no longer expect the Court to consider them to be a trusted source of the truth. I am forced to conclude that it is impossible for the Court to have sufficient faith in the reliability or sincerity of these complainants," Horkins said. "At the end of this trial, a reasonable doubt exists because it is impossible to determine, with any acceptable degree of certainty or comfort, what is true and is false."
Brown set forth what he calls the essay's attempt to "whitewash, warn, rewrite, and hide" the facts, citing specific passages and his objections.
An editor's note now appended to the article at the NYRB reads, in part:
The following article, which has provoked much criticism, should have included acknowledgment of the serious nature and number of allegations … Ghomeshi—about whom multiple women had filed harassment complaints—was fired … after executives saw evidence that he had caused physical harm to a woman. Shortly after, more than twenty women accused him of sexual abuse and harassment, which included hitting, biting, choking, and verbal abuse during sex. Many of these allegations were made in respected publications, including The Toronto Star.
It seems to me both that the NYRB editors should have caught and changed indefensibly misleading statements, and that lots of thorny, subjective judgment calls were unavoidable. To cite one: If a person is accused of a crime, then found not guilty, to what degree is he obligated to fully air his accusers' claims when summing them up as background for a personal essay? It would be very hard to settle on a satisfactory standard.
Some observers have argued that the essay failed so egregiously to meet adequate standards of accuracy as to warrant the resignation of the man who commissioned it (whether or not Buruma edited the piece is unclear; the NYRB's publisher has since criticized him for failing to circulate the piece to any of the female editors at the book review).
As a general proposition, it's not worrisome that egregious factual errors might warrant an editor's termination. But what if essays that express popular or uncontroversial perspectives from well-liked authors are held to one factual standard while those expressing dissenting opinions from widely disliked authors are held to a different standard? That would create an incentive for safe, pandering journalism.
In a column staking out a middle ground on the essay, Damon Linker argues that publishing the piece in its original form was "a serious editorial error," but that "the swiftness of Buruma's departure from the magazine is surprising. Editors make mistakes. Normally a slip—even a major screw-up—on a single article would not rise to the level of a fireable offense. But these are not normal times in our culture. On the contrary, these are times when certain errors matter far more than others."
Indeed, many who cheered Buruma's resignation  failed to assess the publication's overall quality, or the overall quality of its #MeToo coverage, during Buruma's tenure; they judged him by that single essay.
"What I found, writing for The Review under Mr. Buruma, was a rare opportunity—or rare in a periodical with significant circulation—to take intellectual and stylistic risks, be offbeat in my opinions and get the last word in editorial scuffles," Laura Kipnis noted in The New York Times. "I also got the chance to enthuse about the impact and necessity of the #MeToo movement in an essay commissioned by Mr. Buruma last November, shortly after the first wave of accused men starting [sic] falling."
In Buruma's telling, he did not, in fact, resign because the essay he published was found so factually misleading as to warrant the end of his tenure. He resigned because of pressure brought to bear by skittish advertisers. Interviewed in Vrij Nederland, he said this of his publisher:
No, he did not fire me.

But he made clear to me that university publishers, whose advertisements make publication of The New York Review of Books partly possible, were threatening a boycott. They are afraid of the reactions on the campuses, where this is an inflammatory topic. Because of this, I feel forced to resign—in fact it is a capitulation to social media and university presses.
The Times later quoted the director of the Columbia University Press confirming that her publishing house expressed concern to NYRB, adding, "To my knowledge no one threatened to pull ads."
The mere possibility that the editor of a prestigious intellectual journal resigned under pressure from advertisers would normally provoke widespread attention and concern from mainstream publications––especially upon confirmation that a major advertiser issued a complaint––given the implications for journalistic independence.
If "resigned due to factual errors" is the best-case scenario, from the perspective of the health of journalism going forward, "resigned to placate advertisers" is among the worst. The NYRB's journalistic mission will suffer insofar as its editors are under the impression, whether mistaken or accurate, that they cannot cross the university presses.
Yet that aspect of the story has been absent from much of the coverage, even at outlets such as the Columbia Journalism Review, where one would most expect it. CJR instead focused on this question: When should it be verboten to publish essays from men who've been accused of sexual misconduct?
Buruma articulated one approach. He believed that it would be worth it for NYRB readers to read a first person account of what it was like "to be, as it were, at the top of the world, doing more or less what you like, being a jerk in many ways, and then finding your life ruined and being a public villain and pilloried," not necessarily "as a defense of what he may have done," but as "an angle on an issue that is clearly very important."
He characterized that angle as relatively unexplored, adding that we ought to be thinking about "what should happen in cases like his, where you have been legally acquitted but you are still judged as undesirable in public opinion, and how far that should go, how long that should last, and whether people should or can make a comeback at all."
He added:
The reason I was interested in publishing it is precisely to help people think this sort of thing through. I am not talking about people who broke the law. I am not talking about rapists. I am talking about people who behaved badly sexually, abusing their power in one way or another, and then the question is how should that be sanctioned. Something like rape is a crime, and we know what happens in the case of crimes.

There are trials and if you are held to be guilty or convicted and so on, there are rules about that. What is much murkier is when people are not found to have broken the law but have misbehaved in other ways nonetheless. How do you deal with such cases? Should that last forever?
I confess that I have no good answer to the questions he wants me to ponder. I have no idea what exactly we ought to do with Ghomeshi. I do know those standards, articulated in Buruma's much-maligned interview with Isaac Chotiner, are typical for an editor. Will an essay present readers with a relatively unfamiliar angle on a subject of importance? Will it draw them into new or deeper engagement with hard questions?
But critics of Buruma believe he should've been using different or at least additional standards when deciding whether to commission the essay.
CJR's headline, "How not to tackle the attempted returns of disgraced men," suggests that it isn't enough to ask what readers might gain from reading an essay––editors should also evaluate essays from disgraced men as PR attempts to reenter society. And they should operate not with the remove of outsider-intellectuals with no stake in what happens to the author, but as community members invested in stigma and averse to undermining the viability of that social tool. To offer a platform to such a social pariah is, according to Buruma's critics, antisocial.
(For a case with similar themes but ideological allegiances flipped, watch Bill O'Reilly try to persuade Jon Stewart that the Obama administration was wrong to provide the rapper Common with the honor and platform of an invitation to the White House because he ought to be stigmatized for sympathizing with convicted cop killers. His success and the quality of art that he might perform was beside the point.)
Writing in The Washington Post, Mili Mitra agrees that editors ought to concern themselves not only with readers, but with just desserts for would-be authors, writing, "What Buruma and the NYRB leadership failed to grasp was that men like Ghomeshi aren't entitled to a nicely packaged redemption arc." She added, "readers won't benefit from having an alleged abuser describe life after being exposed as abusive."
With that last proposition, Michael Moynihan disagrees. On Fifth Column, a consistently thought-provoking group podcast, he commented:
We are at a point that I think is slightly unnerving, in a way: that we can't even hear the ideas of people who might be guilty of something.

I don't deny that they might be guilty of something … OJ Simpson writes a book and it flies off the shelves because people want the perspective of those who are accused  and might be guilty. But we are in this Puritan period that … the way people are being treated, I think some of them probably deserve it, the problem is that a lot of people are being treated this way without due process, the way the right treats people who go to Guantanamo. We don't know if they're terrorists but they were in the wrong place at the wrong time. You don't talk to them and you don't talk about them. They're the worst of the worst.

If you publish their poems you're complicit.

I can read Jian Ghomeshi's piece,  as everybody else can––babies aren't reading The New York Review of Books––and say, hey, this guy sounds like a rat bag. Or not, right? It's worth talking about … Why are we so afraid of hearing from people? I want to hear from Albert Speer. I want to hear from Charles Manson. I want to hear them talk about these things. I don't want people fired for saying we should hear this perspective.

It might be wrong.

But at the very least, if that person is a serial sexual abuser, at the very least we get an incredible record of how people justify this awful behavior.
In contrast, Constance Grady of Vox rejects the notion that exposing readers to a new perspective can justify an essay like the one the NYRB published, arguing that to promote an essay like that "is not a harmless intellectual enterprise in free speech hypotheticals. It has real consequences" because such essays include ideas "fundamental to the widespread narrative that the #MeToo movement has gone too far." (How curious for a journalist to imply that exercising free speech is most defensible when the attendant ideas have no larger consequences.)
In Grady's telling, spotlighting such perspectives reinforces "a system in which men's social status is considered to be more valuable than women's bodily safety … in which accusations of sexual violence are brushed aside as so much shrill hyperbole, and in which powerful men are able to hurt those they have power over with impunity. It's difficult to understand how these essays are doing anything more than striving to return to the system that necessitated the birth of the #MeToo movement."
Her focus on the indirect consequences the essay might have on a larger conflict reminded me of the fallout after the Times op-ed section published "Why We Are on Hunger Strike in Israel's Prisons."
That 2017 essay focused on conditions in Israeli prisons, skipping over the allegation that put its author in one: Initially it identified him as "a Palestinian leader and parliamentarian." Later, an editor's note was appended: "This article explained the writer's prison sentence but neglected to provide sufficient context by stating the offenses of which he was convicted," it stated. "They were five counts of murder and membership in a terrorist organization. Mr. Barghouti declined to offer a defense at his trial and refused to recognize the Israeli court's jurisdiction."
The note followed criticism from conservative web sites like the Washington Free Beacon and Israeli officials such as Deputy Foreign Minister Tzipi Hotovely, who declared, "Barghouti is not a prisoner, he is a convicted murderer and a terrorist. The New York Times has provided a platform to a terrorist without noting the fact that he planned and carried out the cold blooded murder of Jews  simply for having been Jews. This is not a matter of freedom of speech. It is anarchy. When a major newspaper with a reputation for responsible journalism becomes a platform for murderers, it provides legitimacy for terrorism."
To what extent were the exact crimes of that author relevant to a piece about alleged excesses in the punishment that followed?  Should anyone at the Times have been fired for neglecting to include it? Should the Times op-ed editors have refrained from publishing an article that, in their judgment, raised thought-provoking questions about conditions in Israeli prisons, on the theory that the value to readers was outweighed by the societal costs of bolstering a narrative some terrorists would find useful?
What would happen if the standards invoked by Buruma's critics were applied universally? I suspect that some of those critics would come to regret their positions.
In The New Yorker, Jia Tolentino argued that when "otherwise left-leaning" publications disseminate essays by men accused of sexual misconduct, they are "helping to establish a liberal men's-rights discourse in which all the old and terrible structures of male supremacy are rebuilt, coated with a veneer of independent thinking, and fronted by a tactical insistence that everyone involved has the utmost respect for women, is absolutely on the side of equality, and is just asking the complicated questions that must be asked."
For eleven months, she observed at the beginning of her piece, we've been listening to mostly female victims of violence. "This is a deeply unusual situation in the context of human history," she wrote, "and, lately, a set of compensatory forces has appeared to be working to bring the universe back into balance. Women have had their 'moment,' their unprecedented time in the spotlight of cultural favor. The gravitational pull of male power is exerting itself, turning our attention back to the place where it has been trained to linger: the hero's journey of men."
From her analysis, it would seem to follow that to avoid rebuilding "the old and terrible structures of male supremacy," to extend the anomalous period when we are "listening to mostly female victims of violence," and to resist the "gravitational pull" of male power––in sum, to conserve the gains of #MeToo––editors ought to refrain from publishing individuals or perspectives that undermine the narrative with complicating critiques. Rather than trying to neutrally curate a public commons that facilitates dialogue among celebrators and detractors of #MeToo, editors should act as allies who safeguard the movement's interests and viability.
In The Guardian, Moira Donegan asserted that by publishing the essay, the NYRB seemed to suggest that it was "invested in maintaining a system that rendered women disposable and granted impunity to men," revealing Buruma to have "organizational power that exceeds his sensitivity."  She characterized his subsequent Slate interview as revealing his belief that #MeToo has had some undesirable consequences, and goes on to characterize the movement as follows:
For everything else that Me Too has been––an eruption in several high-profile industries, a reckoning of long ignored wrongdoing, an overdue confrontation with the ways that men hurt women––it has also been an intellectual exercise. Women are introducing new information––saying that they have been hurt and that they would like for others to be spared this hurt. Those who listen to them––women, and crucially, men––are being asked to imagine their anger, their fear, their frustration, and their pain, and to adjust their understanding of the world accordingly.

The project that Me Too has advanced is a visionary assertion that injustices can be righted, that men and women can interact with more integrity and more compassion than we have so far…. Buruma [has] refused this project, denying that the world might be otherwise than [he has] always known it, asserting that [his] perceptions are the only correct ones. Those who are too defensive, too incurious, or too bigoted to engage honestly with Me Too are missing out on one of the greatest intellectual feats of our time.
The inescapable implication is that an editor with the "wrong" viewpoint on #MeToo is unfit to lead a prestigious publication.
To quote that viewpoint in Buruma's own words:
I have absolutely no doubt that the #MeToo movement is a necessary corrective on male behavior that stands in the way of being able to work on equal terms with women. In that sense, I think it's an entirely good thing. But like all well-intentioned and good things, there can be undesirable consequences. I think, in a general climate of denunciation, sometimes things happen and people express views that can be disturbing. I wouldn't say that I have an unequivocal view of it.
As I understand it, that viewpoint is commonly held not only in the U.S. population as a whole, but among many male and female journalists. Little wonder that, in private, many media professionals are so much less guarded and more supportive of Buruma than in public.
---
It seems to me that the #MeToo movement should marshal newfound awareness of sexual misconduct to achieve reforms that could reduce its future incidence.
Last year, I suggested that a technology-driven, "third party" approach to identifying serial harassers in the workplace could improve on both traditional HR departments and whisper networks, lower the costs of reporting abuse, and offer added protection for innocents. Non-disclosure agreements that prevent victims from talking openly about their abusers are a common impediment to public exposure. And various industries can adopt changes that cut down on abuses––e.g., a Hollywood studio could mandate that all casting on its projects take place in formal settings with multiple people present.
As yet, however, some of the real, vital gains achieved by #MeToo seem to flow not from structural reforms, but from changing public attitudes, including willingness to stigmatize and and shun badly behaving men.
The desire to safeguard all gains––to avoid a return to an egregiously unjust status quo ante––is understandable, and I very much share it. What's more, I think journalistic institutions should bankroll exposés on abusers like the work that felled Harvey Weinstein, publish commentary by thinkers who critically analyze the cultural factors that enabled so many abuses to go unpunished for so long, and highlight female experiences and perspectives long ignored in public discourse.
But the project of stigmatizing and shunning people touches not just those who did wrong, but those who dissent from group notions of when harsh punishment is warranted for others. Good people get savaged for showing compassion or defending the wrongly accused, especially when they belong to out-groups.
Publications that participate in this project, that repress rather than air dissenting viewpoints, do so at their own peril and to society's detriment. They sacrifice public discourse, which must include all widely held perspectives on a given issue to function well, without actually achieving the social justice gains that are anticipated by the censorious.
After all, an NYRB that occasionally publishes a piece breaking with #MeToo orthodoxy, and therefore appeals to a wider audience, will be more influential than an NYRB where the many essays that persuasively champion #MeToo are read exclusively by the subset of progressives who already agree with that viewpoint. (As a group of prominent writers noted in a statement supporting Buruma, "Given the principles of open intellectual debate on which the NYRB was founded, his dismissal in these circumstances strikes us as an abandonment of the central mission of the review, which is the free exploration of ideas.")
Insofar as social justice progressives succeed in purging dissenting viewpoints from publications where they exercise disproportionate influence, the long-term effect will be to undermine the degree to which any of those venues can function as a digital commons where at least some people with differing perspectives and values converge to converse.
None of this is to champion the NYRB essay.
"Do we now live in such unforgiving times that one problematic essay (or interview) guillotines a job? If so, my fear is that no editor in America will be taking editorial risks ever again," Kipnis writes, taking care to add, "Whatever one thinks of the Ghomeshi essay — my purpose isn't to defend it; I understand why many found it sniveling and dissembling — I suspect that The Review's parting of ways with Mr. Buruma will change the nature and content of intellectual culture in our country."
She is hardly alone in that conflicted conclusion.
"I think editors should be able to make a few mistakes on the job, especially if they don't have a prior history of doing so. I want to see a literary culture that is robust with debate," Meghan O'Rourke wrote. "But it would be false to pretend that the piece Ghomeshi wrote or the answers Buruma gave in that interview added to the debate in any way."
Indeed, the essay didn't add much, and would've been quickly forgotten save for the controversy that met its publication. But I fear that the coerced resignation of the man who commissioned it will do extended damage to public discourse and the profession of journalism. Unless there is more to the story that has been withheld from the public, The New York Review of Books ought to try to hire him back.