Questions Fox News Should Have Asked Brett Kavanaugh
A good political interviewer tries to knock her subject off his talking points.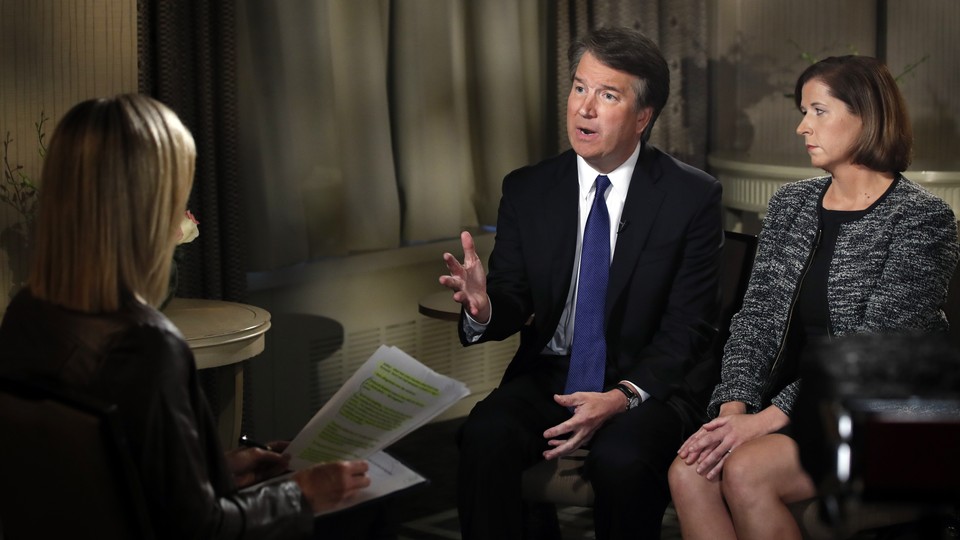 Asked in his Fox News interview whether he's ever enabled "a train of men" to "gang rape" women, Brett Kavanaugh calmly replied, "I've never done any such thing, known about any such thing." It was a strangely clinical answer to such a gruesome question, which Kavanaugh might have scripted himself 20 years ago when, as the associate counsel on the Starr commission, he argued that President Bill Clinton should be forced to respond in detail to Monica Lewinsky's allegations against him. I would like to have heard Kavanaugh explain how it feels to be on the receiving end of such personal sexual excavation. But the friendly Fox News didn't go there.
Martha MacCallum, who has made no secret of her distaste for Democrats, gave the Supreme Court nominee a wide berth to drive home a litany of prepackaged lines, largely unchallenged. Here's how many times Kavanaugh got away with saying:
"I just want a fair process," "fair," or "fairness"—22
"I've never sexually assaulted anyone" or "I've never done any such thing"—12
I've always treated women with "dignity and respect" or "equality"—8
These are what communications strategists call "landing pads" or "key messages"—notions a politician is meant to drive home, usually in more varied language than we saw last night, to make his point. A good politician delivers his "key messages" so personably you don't even notice you're being served canned goods. A good political interviewer, meanwhile, tries to nudge the subject onto something unrehearsed or, when that fails, tries to make it obvious that his replies were prepackaged.
MacCallum could have tried the following: "You've said repeatedly you're determined to clear your name. Then why aren't you demanding an FBI investigation instead of a day of testimony? I didn't hear you answer that question. As a judge, surely you like to weigh all the facts. Why aren't you in favor of taking time to gather all the facts here?"
The trick is to keep asking. Don't let up.
Kavanaugh came off as the A student who's memorized his flash cards before the exam. We learned that in high school Kavanaugh had beer but no sex. He never blacked out. He went to church every Sunday. And he knows he's not perfect. The most revealing admission—that he was a virgin until long after college—elicited no follow-up. He offered that information as proof that he couldn't have been involved during an alleged gang rape. A follow-up question might have been, "Do you believe that silent bystanders of rape bear any responsibility for the assault?" Asking this question doesn't assume Kavanaugh is guilty; it opens up an important conversation with a man who could rule on these questions from the Supreme Court.
To be fair, the most revealing political interviews don't typically happen in the midst of a scandal, in a setting orchestrated by crisis managers (or by ex–TV executives who work in the White House). Think of the first sit-down the then–presidential candidate John Edwards gave about allegations he'd had an affair, and a child, with Rielle Hunter. He lied through his teeth.
But it's up to the interviewer to at least try to knock the subject off his script. That's all about repetition and follow-up. When then-Representative Anthony Weiner was accused of sending pictures of his penis to strangers on Twitter, my former colleague at CNN Dana Bash made the most of her time with him. She repeatedly asked awkward, very awkward, questions and didn't let up. Although Weiner didn't confess on air—a TV reporter's fantasy—he was certainly rattled, and left a record of denials that came back to haunt him.
Because Kavanaugh didn't want to risk that outcome, he sought the most sympathetic outlet, Fox News, and got gentle treatment.
If, as reported, Kavanaugh had prepped for days, surely he was prepared to answer more pointed questions. Such as:
Is this your high-school yearbook page? There are reports that this slang, "FFFFFFourth of July," describes acts of violence against women. Does it? If not, I'd love to give you a chance to clear that up now. What does the slang on this page stand for? Why did you include this slang in your yearbook?
You say you may have met one accuser, Christine Blasey Ford. Did you know her, or not? Surely you've spent a good amount of time thinking about this. What reason do you have for equivocating? If you did know her, how?
Your high-school buddy Mark Judge wrote in his 1997 memoir that a "Bart O'Kavanaugh" passed out drunk and vomited in a car. Was that character based on you? You say you spent your high-school years solely dedicated to studying and doing athletics. Where did Judge and his admitted binge drinking fit into that picture?
You suggested that you did things in high school that make you cringe or cause regret. What did you do in high school that makes you cringe now?
You've said repeatedly you never committed sexual assault. How do you define sexual assault?
Do you believe adults should be held accountable for their actions as teenagers? If not, as a judge, do you think we should release the roughly 53,000 people under the age of 17 currently incarcerated in the United States for actions they took as minors?
There was another missed opportunity, one that goes to a larger question at the heart of this controversy. Kavanaugh has described himself as a victim of character assassination and a smear campaign. He's said these allegations are "a threat to any man or woman who wishes to serve our country." As a judge, a veteran of the Clinton-Lewinsky scandal, and now a man who stands accused of terrible acts, how does he think allegations of sexual assault should be handled when leveled against our nation's leaders? What has he learned in the 20 years since he wrote those probing questions for Clinton?
Again, Fox News didn't go there. And MacCallum didn't point out that 20 years ago, Kavanaugh wrote despairingly that the investigative process was leaving Lewinsky's life in "shambles." He worried that her well-being was getting "lost in the shuffle." How does he think we—the media, politicians, law enforcement—can ensure that Ford doesn't suffer the same fate?
Full disclosure, I knew Brett Kavanaugh when I was a reporter covering the Bush White House for ABC News. I still know several of his close friends who find these allegations impossible to believe. The same friends have described him for years as destined for the Supreme Court. I hope he answers more probing questions in more detail on Thursday. Destiny is about the future. First, he has to deal with his past.